JEAN MERILYN SIMMONS was born on January 31, 1929 to Charles Simmons, a gymnastics instructor and former Olympic athlete, and his wife, Winifred Ada (Loveland) Simmons. The youngest of four children, Jean was a high-spirited child who grew up happily in a working class suburb of London, England and attended the Orange Hill School for Girls in Golders Green.
Shortly after World War II broke out in 1939, Jean and her siblings (Edna, Harold and Lorna) were evacuated to Somerset. In 1943, she returned to London and enrolled, along with her sister Edna, in the Ada Foster School of Dance. Two weeks after she arrived, film producer Val Guest came to the school searching for a young girl to play Margaret Lockwood's teenage daughter in his upcoming film GIVE US THE MOON (1943). Despite her lack of experience, Jean won the role and impressed the producer with her instinctive talent and ability to cry on command.
For the next few years, with the help of dance mistress Ada Foster, Jean secured bit parts in other British productions including MR. EMMANUEL and MEET SEXTON BLAKE (both 1944). She didn't seriously consider acting as a profession however, and instead, completed her teacher's license at age 16. Nevertheless, her performance in THE WAY TO THE STARS (1945) caught the attention of producer Gabriel Pascal (who had launched the film careers of British leading ladies Vivien Leigh and Deborah Kerr), and to Jean's surprise, Pascal offered her a seven-year contract with the J. Arthur Rank Studio. Still just 16 years old, Jean accepted. Shortly thereafter, her father Charles died suddenly at age 57.
Under contract to Rank, Jean's first film appearance (as a harpist in CAESAR AND CLEOPATRA (1946)), did little to further her career. But later that year, director David Lean chose Jean to play the young Estella in his film adaptation of Charles Dickens' GREAT EXPECTATIONS. Featuring a top-notch cast, the film earned rave reviews in Britain and two Academy Awards in the United States, making Jean a noteworthy starlet almost overnight. After seeing the success of the picture, and with a few words of encouragement from Lean, Jean finally began to take her film career seriously. She threw herself into acting lessons, and the studio began to groom her for stardom with numerous publicity appearances. Her next role, that of an Indian princess in Michael Powell and Emeric Pressburger's BLACK NARCISSUS (1947), was hardly challenging or flattering (she was brown-faced with a ring in her nose and spoke no lines), but the Technicolor drama was a hit with critics on both sides of the Atlantic, and Jean couldn't help but benefit from its success.
Over the next year, Jean progressed from supporting player to leading lady, receiving star billing and complimentary reviews for her performance in UNCLE SILAS (1947). At the same time, 18-year-old Jean began to deepen her acquaintance with fellow Rank contract player Stewart Granger, on whom she had harbored a crush since they first met on the set of CAESAR AND CLEOPATRA. The 34-year-old actor was already an established leading man and had recently separated from his wife of nine years, actress Elspeth March, with whom he had two children. (They eventually divorced in 1948.) Although her mother disapproved of the relationship, Jean began to seek Granger's advice on the direction of her career.
When Laurence Olivier approached Jean about playing the role of Ophelia in his upcoming film adaptation of Shakespeare's HAMLET (1948), Granger advised against the film, and Jean (who felt uncomfortable with the material) was inclined to agree. Olivier was not put off however and, perhaps noting Jean's striking resemblance to his wife Vivien Leigh who had played Ophelia on stage with him ten years earlier, the actor-director eventually won her over to the role. The film became the third British film classic of Jean's career, and she was showered with praise for her immediate and heartfelt performance. The laurels included an Academy Award nomination as Best Supporting Actress, the Volpi Cup from the Venice Film Festival as the year's Best Actress, and an appearance on the cover of Time Magazine. In the two years that followed, Jean starred in six less-remarkable films, including THE BLUE LAGOON (1949), ADAM AND EVELYNE (1949) opposite Granger, and SO LONG AT THE FAIR (1950), as well as a failed stage debut opposite Granger in Tolstoy's "The Power of Darkness" (1949). But despite the declining prestige of her films, Jean's star continued to rise, and in 1950 she was voted Britain's most popular movie star. (*1)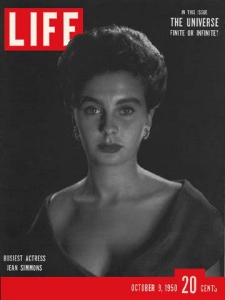 On the cover of the October 9, 1950 issue of LIFE Magazine.
In the fall of 1950, Jean visited the United States to promote TRIO (1950), a collection of three Somerset Maugham stories in which she appeared, and when Life Magazine chose the film as its Motion Picture of the Week, Jean earned a spot on the magazine's cover. A few weeks later, Jean returned to the United States, this time with Gabriel Pascal who had arranged for Jean to appear in his first American production, a film adaptation of George Bernard Shaw's ANDROCLES AND THE LION, which was to be filmed at RKO. Shortly after she arrived however, on December 20, 1950, 21-year-old Jean eloped to Tucson, Arizona and married 37-year-old Stewart Granger (who had signed with MGM and moved to Hollywood the previous year). Upon her return to California, Jean suddenly found her career at a standstill when ANDROCLES AND THE LION ran into production problems and, unbeknownst to Jean, RKO head Howard Hughes purchased the remaining six months of her Rank contract. In July 1951, Simmons (advised by Granger) entered into contentious contract negotiations with RKO, but when Hughes claimed that an oral agreement with Rank precluded her being loaned to any other studio, Simmons and Granger sued RKO. The legal battle raged for over a year, during which time she completed ANDROCLES AND THE LION (1952) and appeared opposite Robert Mitchum in Otto Preminger's noir thriller ANGEL FACE (1952). When the suit was finally settled, RKO had a three-year contract for Jean's services but was obligated to pay the Grangers $250,000 in addition to their legal fees. Furthermore, Jean won the right to work on loan to other studios -- and at a substantial salary. (*2)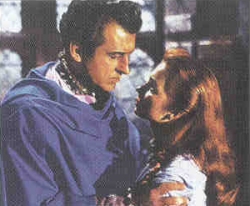 With husband Stewart Granger in YOUNG BESS (1953), the third of their four films together.
The two films Jean made on loan to MGM turned out to be among the best of her early Hollywood career. Under George Curkor's direction, she earned critical acclaim for her performance as Spencer Tracy and Teresa Wright's stage-struck daughter in THE ACTRESS (1953), a film that remains among her personal favorites. Next, Simmons headlined an all-star British cast in producer Sidney Franklin's big-budget costume drama YOUNG BESS (1953) about the coming of age of Queen Elizabeth I. Meanwhile, RKO continued to misuse Jean's talents, and in 1953, Hughes sold the remainder of her contract to 20th Century-Fox who immediately rushed her into a series of widescreen costume dramas in which she had little more to do than look pretty. Among these films were THE ROBE (1953) with Richard Burton, THE EGYPTIAN (1954) with Victor Mature and Edmund Purdom, and DESIREE (1954) with Marlon Brando. Although Jean's classic beauty and elegance did contribute significantly to the appeal of these films, she thought little of the roles: "That's what I call 'poker-up-the-ass' parts. You know, those long-suffering, decorative ladies. I mean, they're very boring." (*3)
In 1955, free from her Fox obligations, Jean and Granger traveled to England where they filmed FOOTSTEPS IN THE FOG (1955), a little-known yet worthy Victorian thriller, for Columbia. Next, in an effort to break out of her serious-costume-drama rut, Jean went against her husband's advice and accepted the role of missionary Sarah Brown in Samuel Goldwyn's film adaptation of the popular Broadway musical GUYS AND DOLLS (1955). Though Jean and Marlon Brando were song-and-dance novices compared to co-stars Frank Sinatra and Vivian Blaine, Goldwyn decided not to dub their singing voices and the resulting effort received a "not bad" critical response and good box office returns. Her musical debut was followed by another break-out role in Fox's HILDA CRANE (1956), in which she played a twice-divorced, liberated young woman who causes turmoil when she returns to her hometown. Though not as commercially successful as other films of the period (such as PEYTON PLACE (1957)) which attempted to expose the virtuous reputation of small-town America in the 1950s, HILDA CRANE (and the positive reviews Jean's performance received) further aided Jean in her attempts to move her career in a new direction.
In June 1956, the Grangers became United States citizens, and the following September, Jean gave birth to a daughter whom she named Tracy after her friend and THE ACTRESS co-star Spencer Tracy. The Grangers were also joined in Hollywood by Stewart's two children, Jamie and Lindsay, whose mother had become ill and was no longer able to care for them. In 1957, Jean and Stewart purchased an 8,000-acre ranch in Nogales, Arizona where the couple set up house and Stewart pursued a keen interest in raising cattle. Over the next three years, despite her residence in Arizona, Jean forged ahead with her career, appearing in a series of high-profile films for various studios, many of which were bolstered above their modest potential by Jean's sincere performances. She made a crucial contribution to Robert Wise's war-time drama UNTIL THEY SAIL (1957) opposite Paul Newman, and gave one of the best performances of her career in William Wyler's epic western THE BIG COUNTRY (1958) with Gregory Peck.
Jean's film career hit its peak in 1960 with the release of three major films. She traveled to Spain to replace Sabine Bethmann as Kirk Douglas' wife in the slave epic SPARTACUS (1960) which featured an all-star cast and proved a runaway success at the box office. Then, in Richard Brooks' ELMER GANTRY (1960), she played evangelist Sister Sharon Falconner opposite Burt Lancaster's Oscar-winning performance as the title character, and was unjustly overlooked for an Oscar nomination herself. Lastly, she traveled to England to appear with friends Cary Grant, Deborah Kerr and Robert Mitchum in the drawing room comedy THE GRASS IS GREENER (1960), giving perhaps the best comic performance of her career.
While in England shooting THE GRASS IS GREENER in June 1960, Jean announced her intention to seek a divorce from Granger, and the suit was filed three weeks later in Arizona. As Granger himself commented to the press, "I don't mind Jean leaving me. It's like a child breaking away from an over-protective parent." (*4) When the divorce was granted, Jean retained custody of Tracy and, on November 1, 1960, married writer-director Richard Brooks who had directed her in ELMER GANTRY. Following the birth (in July 1961) of a second daughter, Kate, named after Katharine Hepburn, Jean took time off from her career to raise her children.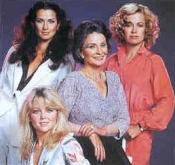 With Veronica Hamel, Catherine Hicks and Lisa Hartman in TV's "The Valley of the Dolls" (1981).
Three years later she returned to the big screen in triumph in ALL THE WAY HOME (1963), but the offers of good roles did not follow as Jean had expected. She continued to work through the end of the 1960s, but her string of lackluster pictures and faltering career depressed Jean and she began to develop an alcohol problem. In 1969, Brooks wrote a film about an alcoholic wife searching for her own identity, based in part on Jean's experiences. Directed by Brooks, Jean starred in THE HAPPY ENDING (1969) and earned her first and only Academy Award nomination as Best Actress for her performance. The Oscar nomination did little to bolster her career however, and Jean's few film and television appearances during the 1970s only confirmed the decline in her career.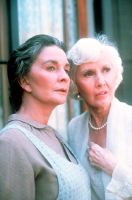 With Barbara Stanwyck in TV's "The Thorn Birds" (1983).
In 1974 as her marriage to Brooks began to falter, Jean chose to move her career in a new direction, accepting the role of Desiree Armfeldt in the successful touring production of Stephen Sondheim's stage musical "A Little Night Music." Jean toured with the show for a year across the United States, and then in April 1975, joined the London cast. Upon returning from England, in 1977, Jean divorced Brooks after 17 years of marriage, but the two remained friends until Brooks' death in 1992.
During the 1980s, Jean focused her attention on television, appearing in a number of high-profile miniseries and TV movies including Jacqueline Susann's "The Valley of the Dolls" (1981) and "The Thorn Birds" (1983), a very popular miniseries based on Colleen McCullough's best-selling novel. Jean campaigned hard for the role of Fiona in "The Thorn Birds," and earned an Emmy award as Outstanding Supporting Actress in a Limited Series or a Special for her performance. She also made two guest appearances on "Murder, She Wrote" in 1984, and played Clarissa Dane in the miniseries adaptation of John Jake's best-selling novel "North and South" (1985) and its sequel, "North and South II" (1986).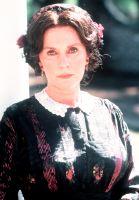 In TV's "North and South" (1986).
In 1986 at the age of 57, Jean publicly confronted her struggle with alcoholism and sought treatment at the Betty Ford Center in Rancho Mirage, California. She then returned to television, appearing in such TV movies as "Perry Mason: The Case of the Lost Love" (1987) and "Inherit the Wind" (1988). Also in 1988, Jean returned to the big screen in two British films, YELLOW PAGES (a disappointing detective comedy originally filmed in 1984 and released in the U.S. as GOING UNDERCOVER) and THE DAWNING (a historical drama set in Ireland and featuring Trevor Howard in his last screen role). In 1989 she was asked to play Miss Havisham in a British miniseries version of "Great Expectations," the Dickens' novel whose 1946 film adaptation had launched Jean on the road to movie stardom.
During the 1990s, Jean continued to work in television, accepting roles that interested her, mostly in TV movies. In 1991 she made a guest appearance on "Star Trek: The Next Generation" and returned to the big screen again for a small role in HOW TO MAKE AN AMERICAN QUILT (1995). In 1994 she was honored by the British Film Institute as a BFI Fellow. After the turn of the new century, her television performances were primarily vocal, and in 2000 she narrated PBS's "American Masters" program on director George Cukor. Simmons lived in California until her death from lung cancer in January 2010.
Footnotes: