Columbia Pictures
Articles | Awards | Bibliography | Gallery | Links | Image Credits | Studio Address
COLUMBIA PICTURES was originally founded in 1920 under the name of C.B.C. Sales Film Corporation by Joe Brandt and the brothers Jack and Harry Cohn (who later changed the company's name to Columbia in 1924 in a effort to "up" the studio's image). Harry Cohn was the studio's longtime president (until his death in 1958) and his brother Jack handled distribution from New York. (The studio was never able to purchase a theatre circuit, but developed a successful distribution network.)
Located on Hollywood's Gower Street, in its early years Columbia had a reputation for producing low-budget westerns and comedies. In fact, it was the success of its B-westerns (especially those of Tim McCoy, Buck Jones and Ken Maynard) and its serials ("Batman" and "Terry and the Pirates" for example) that kept the company profitable during the Great Depression. The studio also seemed to have a knack for successful movies series like the "Blondie" films and those about the jewel thief "Lone Wolf."
The Three Stooges proved a valuable asset to the studio, appearing in 190 comedy short subjects between 1934 and 1959, as did the services of director Frank Capra whom Columbia hired in the late twenties to direct many of the studio's feature-length comedies. In fact, it was Capra and his relatively large-budgeted production of IT HAPPENED ONE NIGHT, starring Clark Gable (on loan from MGM) and Claudette Colbert (on loan from Paramount), that gave the studio its big break into Hollywood respectability. In 1934 it became the first picture ever to win the "Big 5" Academy Awards, taking those for Best Picture, Actor, Actress, Director, and Screenplay (adaptation by Robert Riskin).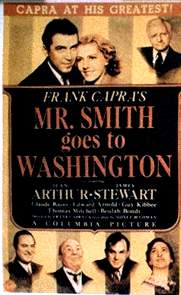 Several other significant Capra films followed, including MR. DEEDS GOES TO TOWN (1936) with Gary Cooper and Jean Arthur, and MR. SMITH GOES TO WASHINGTON (1939) with Arthur and Jimmy Stewart. Columbia also found profitable talents in director Howard Hawks and the witty, debonair Cary Grant who contributed to several of the studio's successful screwball comedies like THE AWFUL TRUTH (1937), HOLIDAY(1938) and HIS GIRL FRIDAY (1940). Rita Hayworth was always considered by Harry Cohn to be the studio's biggest star however, and her pin-up value during World War II helped the studio through what proved to be some rather difficult times. After Frank Capra left the studio in 1939, the notoriously hard-driving Cohn had a difficult time finding quality directors. But Hayworth's musicals such as YOU WERE NEVER LOVELIER (1942), YOU'LL NEVER GET RICH (1941)--both with Fred Astaire-- and COVER GIRL (1944) with Gene Kelly, as well as later film noirs like GILDA (1946) and THE LADY FROM SHANGHAI (1948) helped the studio through the forties. Other contributions included Gene Autry's musicals westerns like THE STRAWBERRY ROAN (1948) and serials such as SUPERMAN (1948) and ATOM MAN VS SUPERMAN (1950), both of which starred Kirk Alyn, in addition to BATMAN (1943) and BATMAN AND ROBIN (1949).
By joining the trend toward television (It founded the television production subsidiary Screen Gems in 1951.) and by backing various independent producers such as Elia Kazan, Fred Zinnemann, David Lean and Otto Preminger, Columbia regained its stature during the 1950s. Its successes included Best Picture winners ALL THE KING'S MEN (1949), FROM HERE TO ETERNITY (1953), ON THE WATERFRONT (1954), and THE BRIDGE ON THE RIVER KWAI (1957), as well as nominees like BORN YESTERDAY (1950) and THE CAINE MUTINY (1954).
After the deaths of the Cohn brothers in the late 1950s, successors Abe Schneider and Leo Jaffe took over leadership of the company and it continued to prosper. Hits of the 1960s included LAWRENCE OF ARABIA (1962), A MAN FOR ALL SEASONS (1966), Spencer Tracy and Katharine Hepburn's last picture together GUESS WHO'S COMING TO DINNER (1967), the musical Best Picture winner OLIVER! (1968) and the surprise blockbuster EASY RIDER (1969) which cost Columbia less that $500,000 to produce but brought in more than $25 million in gross box office revenue.
Columbia did not fare very well during the 1970s and even sold its Gower Street lot in a cost-cutting measure, moving operations to Burbank. In 1982 it was purchased by The Coca-Cola Company which helped pump needed funds into the ailing studio. Coca-Cola even launched a new motion-picture studio called Tri-Star Pictures, and in 1987 the two were merged to form Columbia Pictures Entertainment, Inc. After only a few minor successes however (GHOSTBUSTERS (1984) being one), Coca-Cola decided to get out of the entertainment business, and in 1989 the studio was bought by the Sony Corporation of Japan who officially renamed the parent company of Columbia and Tri-Star, Sony Pictures Entertainment.