Katharine Hepburn
Filmography | Awards | Article | Downloads | Links | Image Credits | THE AFRICAN QUEEN | THE PHILADELPHIA STORY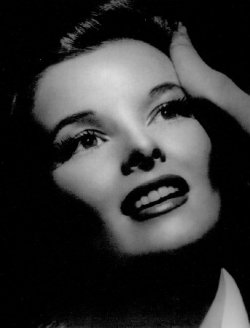 One of the silver screen's most unique and enduring personalities, onscreen and off, Katharine Hepburn's career as a leading lady spanned seven decades, over fifty quality films (running the gamut from screwball comedies and romances to high drama), a record twelve Oscar nominations and four gold statuettes. She formed memorable screen partnerships with the likes of Cary Grant, Spencer Tracy and director George Cukor but outlasted all of them and excelled just as easily on her own. One of the first stars to take control of her career while still working within the confines of the studio system, Hepburn's career suffered its share of ups and downs, but Hollywood learned never to write her off.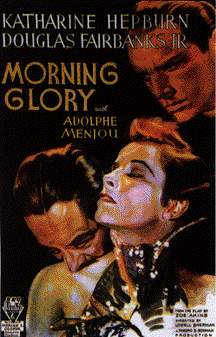 After a screen debut performance in George Cukor's A BILL OF DIVORCEMENT (1932) which earned her favorable notices and the attention of Hollywood, Hepburn joined the ranks of RKO's highest paid stars and her career took off rapidly. For her third film, MORNING GLORY (1933), she won the first of her record four Best Actress Oscars for her portrayal of Eva Lovelace, an aspiring actress, opposite Douglas Fairbanks, Jr. and Adolphe Menjou. Several dramas soon followed with varying degrees of success, among them notables like LITTLE WOMEN (1933) in which she plays Louisa May Alcott's tomboy heroine Jo, and forgettables like THE LITTLE MINISTER (1934) and BREAK OF HEARTS (1935), both of which failed at the box office.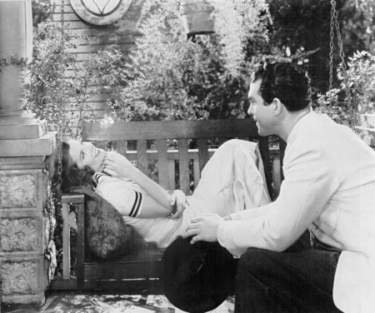 After proving her dramatic merit in a series of melodramas for RKO, Hepburn launched into romantic comedies, beginning with George Stevens' ALICE ADAMS (1935), based on the novel by Booth Tarkington. Featuring Hepburn as a wallflower from a poor family with high social and romantic aspirations, the film co-starred Fred MacMurray (at left).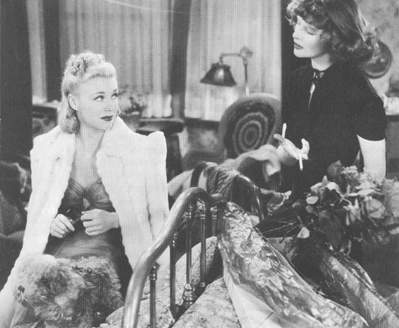 In 1937, Hepburn faced off against fellow RKO contract player Ginger Rogers (right) in STAGE DOOR, the screen adaptation of Edna Ferber and George F. Kauffman's play about a boarding house of aspiring actress who match wits to mask their fears and disappointments. It is in STAGE DOOR that Hepburn delivers her famous line about the calla lilies (see Memorable Quotations below).
Memorable Quotations:
"The calla lilies are in bloom again. Such a strange flower -- suitable to any occasion. I carried them on my wedding day, and now I place them here in memory of something that has died." --as Terry Randall in STAGE DOOR (1937).
"As eggs go, I probably have my points." --as Terry Randall in STAGE DOOR (1937).
"Unfortunately, I learned to speak English correctly." --as Terry Randall in STAGE DOOR (1937).
"Don't be sentimental. Remember, you're a ham at heart." --as Terry Randall in STAGE DOOR (1937).
Go to the next page.
Page 1 | Page 2 | Page 3 | Page 4 | Page 5