Deborah Kerr
Filmography | Awards | Downloads | Links | Image Credits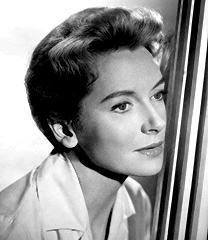 A very classy Scottish leading lady who arrived in Hollywood in 1947 and was nominated six times for Best Actress Oscars, yet never won, Deborah Kerr (whose last name rhymes with "star") is the most-nominated leading actress never to win the Academy Award. She did receive an honorary statuette from the Academy in 1994 however, in recognition of her career achievement as "an artist of impeccable grace and beauty, a dedicated actress whose motion picture career has always stood for perfection, discipline and elegance." Despite her beauty, class and elegance however, this redhead was not above smudging her makeup, or even going without when the part required.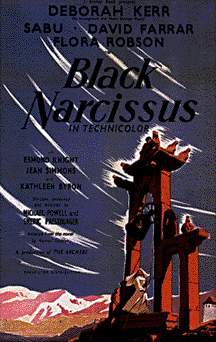 From her first credited film role as a Salvation Army worker in George Bernard Shaw's MAJOR BARBARA (1941), through Sally, the bookkeeper's mistress, in LOVE ON THE DOLE (1941), and three different parts in THE LIFE AND DEATH OF COLONEL BLIMP (1943), Deborah Kerr's early movie career in Britain showcased not only her striking good looks, but also her ability to play a wide variety of roles. In one of the best of these early films, Michael Powell and Emeric Pressburger's BLACK NARCISSUS (1947), Kerr plays Sister Clodagh, the leader of a group of nuns trying to establish a house of God in a former harem in the Himalayas. Although not actually filmed on location in India, BLACK NARCISSUS uses Jack Cardiff's Oscar-winning Technicolor photography, Alfred Junge's Oscar-winning production design, and a stirring score by Brian Easdale to create an unconquerable erotic atmosphere which envelops Sister Clodagh and her fellow sisters as they try to maintain their missionary focus. Kerr herself was recognized by the New York Film Critics Circle as the year's best actress for her performances in BLACK NARCISSUS and the British spy thriller I SEE A DARK STRANGER (1946).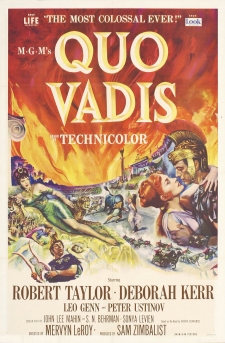 Her successes in Britain brought Kerr to the attention of MGM and its head of production, Louis B. Mayer, who was so impressed with her talents, he bought out the remainder of Kerr's English contract and brought her to Hollywood with one of the highest starting salaries ever paid by MGM -- $3000/week. Kerr soon began to feel constrained by the very lady-like and largely decorative roles she found herself playing however. From the quiet war widow wooed by Clark Gable in THE HUCKSTERS (1947) through a series of serene, even pious women in such historical dramas as QUO VADIS (1951), THE PRISONER OF ZENDA (1952), JULIUS CAESAR (1953) and YOUNG BESS (1953) in which she was finally upstaged by the passionate Jean Simmons (who had also tested her piety in BLACK NARCISSUS), Kerr spent the better part of six years at MGM gaining a reputation with audiences as a dignified, high-minded, even somewhat cold, and very British lady -- a mold she struggled to break out of in the mid-1950s.
Music from QUO VADIS? (1951):

"Prelude" (clip) by Miklos Rozsa (a .MP2 file courtesy Rhino Records).


"Arabesque" (clip) by Miklos Rozsa (a .MP2 file courtesy Rhino Records).


"Ave Caesar" (clip) by Miklos Rozsa (a .MP2 file courtesy Rhino Records).


"Romanza" (clip) by Miklos Rozsa (a .MP2 file courtesy Rhino Records).
(For help opening these files, visit the plug-ins page.)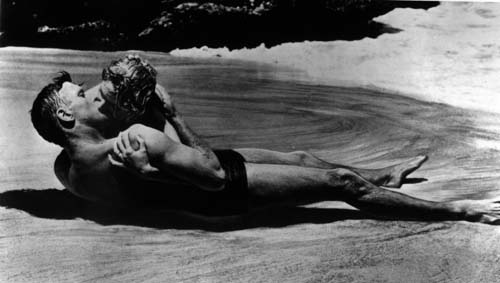 Kerr's passionate kiss with Burt Lancaster in the Hawaiian surf -- one of the most famous embraces in the history of film -- exemplified a new side of her screen persona that audiences had never seen before Fred Zinnemann's World War II drama FROM HERE TO ETERNITY (1953). This adaptation of James Jones' tale of Army life in pre-Pearl Harbor Hawaii toned down some of the novel's racier themes, but conveyed an attitude about military life which still strikes a chord. It earned eight Oscars, and all five of the film's headliner (Burt Lancaster, Montgomery Clift, Kerr, Frank Sinatra and Donna Reed) earned acting nominations. Although Kerr lost in the Best Actress category to Audrey Hepburn for her performance in ROMAN HOLIDAY, the success of FROM HERE TO ETERNITY and her convincing portrayal of an unhappy, licentious American army wife reminded Hollywood of the range of her talents. Though she continued to play the lady-like parts for which she was best known, she began to be offered a few less glamorous, occasionally even racy roles as well.