Otto Preminger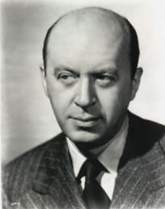 Austrian-born Otto Preminger came to Hollywood from the stage in the 1930s with plans to direct, but after a falling-out with 20th Century-Fox production head Darryl F. Zanuck, was forced to support himself as an actor for a time during World War II. After replacing director Rouben Mamoulian behind the camera of LAURA (1944) however, Preminger's directorial career was back on track, and he went on to make some three-dozen films, earning three Academy Award nominations in the process. Known as a filmmaker with a penchant for being notoriously tough on his actors, Preminger showed a special talent for film-noir crime dramas at Fox in the 1940s, before tackling controversial and frequently taboo subjects such as race, drug addiction and rape in several independent films of the 1950s and '60s.

This page is still under construction.
Multimedia Clips:
(For help opening any of the multimedia files, visit the plug-ins page.)
Further Reading:
Who the devil made it: conversations with Robert Aldrich, George Cukor, Allan Dwan, Howard Hawks, Alfred Hitchcock, Chuck Jones, Fritz Lang, Joseph H. Lewis, Sidney Lumet, Leo McCarey, Otto Preminger, Don Siegel, Josef von Sternberg, Frank Tashlin, Edgar G. Ulmer, Raoul Walsh interviewed by Peter Bogdanovich (New York: Alfred A. Knopf, 1997).
Preminger: An Autobiography by Otto Preminger (Garden City, NY: Doubleday 1977).
Behind the scenes of Otto Preminger; an unauthorized biography by Willi Frischauer (New York: William Morrow, 1974).
The cinema of Otto Preminger by Gerald Pratley (New York: Castle Books, 1971).
All I Want is Everything by Marion Mill Preminger (New York: Funk and Wagnalls, 1957).
More Preminger Links: