William Wyler
Filmography | Awards | Teresa Wright on Wyler | Image Credits | THE LITTLE FOXES | MRS. MINIVER | THE BEST YEARS OF OUR LIVES | ROMAN HOLIDAY | BEN-HUR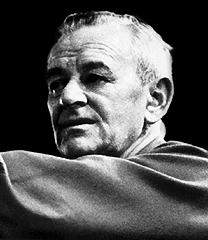 One of the legendary filmmakers of Hollywood's golden age, director William Wyler distinguished himself from his peers through his cinematic achievements rather than by a signature style of filmmaking. Consequently, he holds the distinction among directors for: receiving the most Academy Award nominations (12); having guided the most Oscar-nominated performances (35) and the most Oscar-winning performances (14); having directed the most Best Picture Oscar-nominated (13) and -winning films (3). The only director to have won more Oscars for directing was John Ford, who surpassed Wyler's three statuettes with four of his own.

But before all the honors came the films, and Wyler's resume includes some of the most popular and critically acclaimed films in the history of Hollywood, primarily because he started with good stories and didn't allow any individual's style of craftsmanship or performance to distract from the telling of it.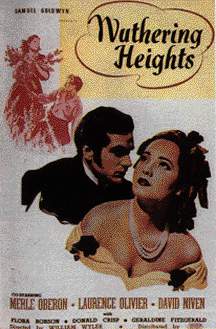 A poster for WUTHERING HEIGHTS, one of seven films Wyler made for independent producer Samuel Goldwyn between 1936 and 1946. Starring Merle Oberon and Laurence Olivier with Donald Crisp and David Niven, WUTHERING HEIGHTS was nominated for the Best Picture Oscar and earned Wyler a Best Director nomination in 1939. Despite its critical plaudits however, the film piqued Wyler, being the scene of a significant 'creative difference' between himself and Goldwyn -- a frequent occurrence over their tenure together. After Wyler had shot the final scene of WUTHERING HEIGHTS, Goldwyn demanded that it be re-shot to include ghostly images of Heathcliff and Cathy walking away together on the moors. Wyler disliked the idea and refused to re-shoot the footage, so Goldwyn finished the film without him. Goldwyn's ending was used in the final print and Wyler never quite got over it.
Music Clip:

"Cathy's Theme" (clip) from WUTHERING HEIGHTS (1939) by Alfred Newman (a .MP3 file).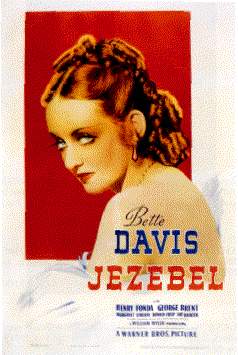 As a director, Wyler was known for retaking a scene over and over again until every aspect of it played just the way he wanted. This approach allowed him to use fewer, longer takes in the finished film, giving individual scenes a feeling of continuity without the frequent cuts that might distract an audience from the developing story. "Forty-Take" Wyler's perfectionism proved trying for his actors however. As a result, very few ever made more than two films with him. One of the most important stars in Wyler's 3-or-more club was Bette Davis who earned Academy Award nominations for each of her three films with Wyler -- JEZEBEL (1938), THE LETTER (1940) and THE LITTLE FOXES (1941) -- each of which, in turn, earned Oscar nominations as Best Picture of their respective years.
Music Clip:

"Waltz" from JEZEBEL (1938) by Max Steiner (a .MP3 file courtesy RCA Victor).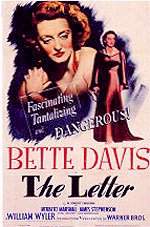 Posters from JEZEBEL (1938) (above) co-starring Henry Fonda, and THE LETTER (1940) (left), another of Wyler's Best Director-nominated films.
Sometimes prone to histrionics when playing forceful, passionate characters, Davis gave some of her best performances under Wyler's strong hand. Though their on-the-set relationship had its ups and downs, and Davis even walked off the set of THE LITTLE FOXES for two weeks over a difference of opinion about how her character should be played, Davis held Wyler in high regard and counted him among her favorite directors.
Music Clip:

"Main Title" from THE LETTER (1940) by Max Steiner (a .MP3 file courtesy RCA Victor).
(For help opening any of the multimedia files, visit the plug-ins page.)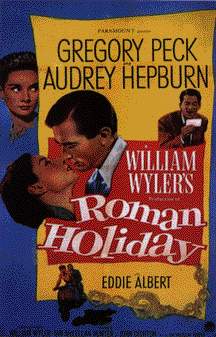 Another member of Wyler's 3-or-more club was Audrey Hepburn whom he directed to a Best Actress Oscar in her American film debut, ROMAN HOLIDAY (1953), a romantic comedy about a princess who spends a day escaping from her royal duties while in the company of a newspaper reporter (played by Gregory Peck). Hepburn's subsequent films for Wyler included the lesbian-themed drama THE CHILDREN'S HOUR (1961) (an adaptation of Lillian Hellman's play, which Wyler had previously filmed as THESE THREE in 1936) and HOW TO STEAL A MILLION (1966), another romantic comedy, this time about a Parisian art heist, co-starring Peter O'Toole.
Incidentally, Teresa Wright, Cathy O'Donnell, Miriam Hopkins and Walter Brennan are the only other actors to have worked with Wyler in 3 or more films.