Teresa Wright
Biography | Filmography | Awards | Articles | Remembering | Bibliography | Gallery | News | Downloads | Links | Image Credits | THE LITTLE FOXES | MRS. MINIVER | SHADOW OF A DOUBT | THE PRIDE OF THE YANKEES | THE BEST YEARS OF OUR LIVES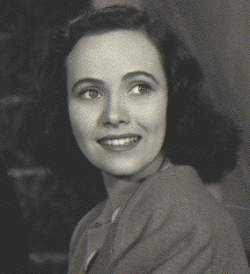 One of Hollywood's truly great acting talents, Teresa Wright received Oscar nominations for each of her first three films and appeared in some of the greatest movies to come out of 1940s Hollywood, including two Academy Award-winning Best Pictures. Though on the surface, many of her characters appeared to be just another sweet girl-next-door, their simple exteriors usually hid a certain spunk which set them apart. And it is this quality which caused so many filmgoers to stop and take notice of what might otherwise have been just another pretty face.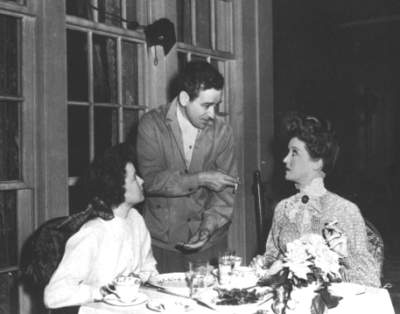 At only 22 years of age, Wright had the difficult task of making her screen debut opposite Bette Davis' Oscar-nominated role as Regina Giddens in Sam Goldwyn's film adaptation of THE LITTLE FOXES (1941), Lillian Hellman's caustic stage play about greed in the new South.

With her performance as Davis' naïve daughter Alexandra, who comes of age over the course of the film, Wright answered the challenge brilliantly and earned a Best Supporting Actress nomination of her own. Also featuring screen newcomers Patricia Collinge and Dan Duryea as well as Hollywood veteran Herbert Marshall, the film received an amazing nine Oscar nominations (including one for Best Picture) but did not succeed in taking any statuettes home.

In the photo above, Wright and Bette Davis receive tips from William Wyler on the set of THE LITTLE FOXES (1941), the first of three films Wright would make with the acclaimed director.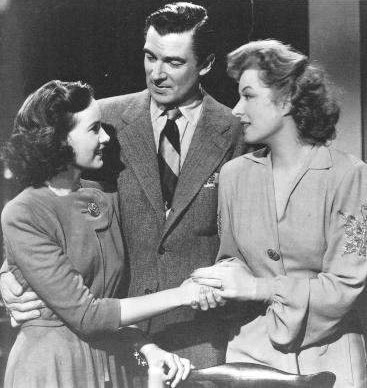 After her success in THE LITTLE FOXES (and at the behest of Wyler), Wright was loaned to MGM to appear in the director's next film, MRS. MINIVER, the Best Picture of 1942 and the film for which Wright won a Best Supporting Actress Oscar. This war-time drama about an English family trying to carry on with everyday existence during the Battle of Britain is one of my all-time favorite movies and also stars Walter Pidgeon and Greer Garson (pictured with Wright at left).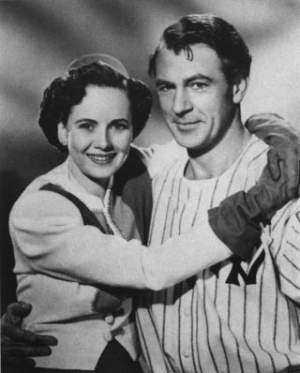 Having delivered two impressive performances in supporting roles, Wright finally ascended to the position of leading lady when she was chosen by Samuel Goldwyn to appear opposite Gary Cooper (at right) in Sam Wood's THE PRIDE OF THE YANKEES (1942), a biopic of the New York Yankees' legendary first baseman, Lou Gehrig. In addition to her Best Supporting Actress nomination for MRS. MINIVER in 1942, Wright also received a nomination in the Best Actress category for her portrayal of Lou's wife Eleanor Gehrig in this, another of my favorite movies, and a film that is still ranked as one of the best baseball movies ever made. (*1)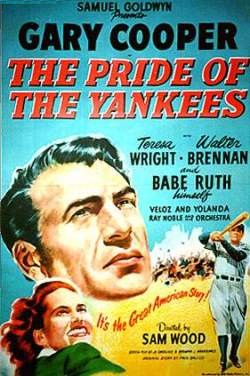 Academy Awards Trivia:
Along with Fay Bainter (1938), Jessica Lange (1982), Sigourney Weaver (1988), Holly Hunter (1993), Emma Thompson (1993) and Julianne Moore (2002), Wright shares the honor of being the only performers ever nominated as both Best Actress and Best Supporting Actress in the same year. Like Bainter and Lange, Wright won the Supporting Actress statuette (for MRS. MINIVER) in lieu of that for Best Actress. (Hunter is the only actress to win in the Best Actress category when nominated in both, and Weaver, Thompson and Moore didn't win either Oscar.)
What is more, Wright's accomplishment of earning nominations for each of her first three films is unequaled in the history of the Academy Awards. (*2)
Footnotes:
Go to the next page.
Page 1 | Page 2 | Page 3 | Page 4 | Page 5 | Page 6 | Page 7 | Page 8