Teresa Wright
Biography | Filmography | Awards | Articles | Remembering | Bibliography | Gallery | News | Downloads | Links | Image Credits | THE LITTLE FOXES | MRS. MINIVER | SHADOW OF A DOUBT | THE PRIDE OF THE YANKEES | THE BEST YEARS OF OUR LIVES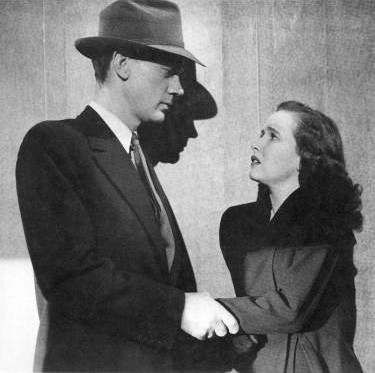 From supporting actress and leading lady, Wright's career continued its meteoric rise in 1943 when she earned above-the-title star billing for her role as Young Charlie Newton in Hitchcock's thriller (and his personal favorite of his films) SHADOW OF A DOUBT. Wright's tormented portrayal of a small-town girl who discovers the truth about her Uncle Charlie (Joseph Cotten, at left) but is forced to hide it from her family while struggling to ensure her own survival is one of her best performances.

Furthermore, though sometimes overshadowed by his more stylized films of the 1950s, in addition to being Alfred Hitchcock's favorite, SHADOW OF A DOUBT is also one of the director's best films. Oddly enough, very worthy performances by Wright, Cotten and Patricia Collinge (who plays Wright's mother) were all overlooked for Academy Award nominations, and only the film's original story by Gordon McDonnell was recognized.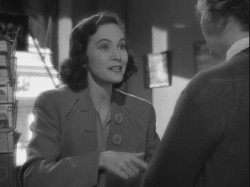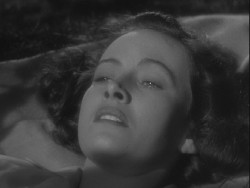 One of Wright's most appealing qualities as an actress is her ability to react, and inherent in those reactions are the facial expressions with which she adds depth and personality to her performances. Above, two very different reactions to her Uncle Charlie: first, excitement when Mrs. Henderson at the telegraph office informs her that he is coming to visit just as she was about to send him a telegram; and later, hate as she recovers from a near-fatal carbon monoxide accident and looks up to find him kneeling over her.
Memorable Quotations: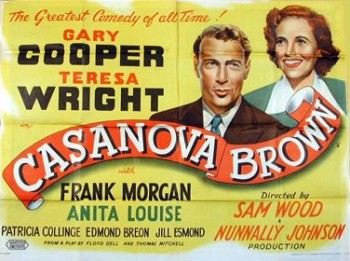 In 1944, Wright was re-teamed with her YANKEES co-star Gary Cooper and director Sam Wood for CASANOVA BROWN, a romantic comedy about a recently-divorced couple who discover they are going to have a child. Based on a play called "The Little Accident" (co-written by Thomas Mitchell) the film was nominated for three Academy Awards.

Although Wright received co-star billing in this film, Cooper and his antics as an inexperienced father get the most screen time, and little of the comic responsibility falls on Wright's shoulders. For her part, she sheds a few tears but is favored with frequent close-ups by veteran cinematographer John Seitz, and of all her films, Wright is perhaps her most simply beautiful in CASANOVA BROWN, leaving the audience to wonder why we don't get to see more of her. Despite that disappointment however (and a few moments in which the humor falls flat), the film makes a pleasant, if unspectacular, little romantic comedy, further enlivened by supporting players Patricia Collinge and Frank Morgan.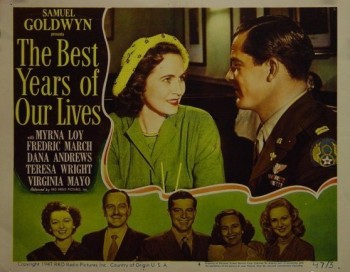 After a brief hiatus from the big screen, Wright made a triumphant return in another of my all-time favorite movies and one of the greatest films ever made, the Best Picture of 1946, THE BEST YEARS OF OUR LIVES, directed by William Wyler (their third and final film together) and also starring Fredric March, Myrna Loy, Dana Andrews, Virginia Mayo, Cathy O'Donnell and Harold Russell.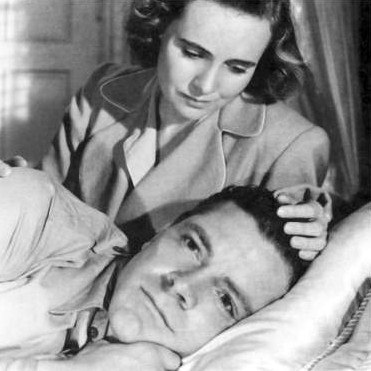 In the still at right, Wright comforts returning veteran Dana Andrews after a nightmare about the war -- one of the most poignant and moving scenes in BEST YEARS. In another of the film's great moments, the final scene, Wright again proves her talent for expressive reaction when, without a word, she conveys all of Peggy Stephenson's emotions using just her eyes and the expression on her face. Magnificent!

Film critic James Agee even singled out Wright's performance as particularly noteworthy in his review of THE BEST YEARS OF OUR LIVES for The Nation (December 28, 1946): "I cannot ... resist speaking briefly ... of Teresa Wright. Like Frances Dee, she has always been one of the very few women in movies who really had a face. Like Miss Dee, she has also always used this translucent face with delicate and exciting talent as an actress, and with something of a novelist's perceptiveness behind the talent. And like Miss Dee, she has never been around nearly enough. This new performance of hers, entirely lacking in big scenes, tricks, or obstreperousness -- one can hardly think of it as acting -- seems to me one of the wisest and most beautiful pieces of work I have seen in years. If the picture had none of the hundreds of other things it has to recommend it, I could watch it a dozen times over for that personality and its mastery alone."
Go to the next page.
Page 1 | Page 2 | Page 3 | Page 4 | Page 5 | Page 6 | Page 7 | Page 8