Harold Russell
Filmography | Awards | Articles | Bibliography | Links | Downloads | Image Credits | THE BEST YEARS OF OUR LIVES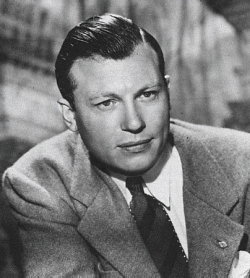 A Canadian-born, Boston-raised paratroop sergeant in World War II, Harold Russell lost both hands in a demolition accident and later appeared in an Army Signal Corps documentary entitled "Diary of a Sergeant" in which he acted out the various phases of the rehabilitation process of an amputee. Director William Wyler saw the film while preparing THE BEST YEARS OF OUR LIVES (1946) and cast Russell as the film's disabled returning veteran. For his performance, Russell won both the Academy Award as the year's Best Supporting Actor and a second, honorary Oscar "for bringing hope and courage to his fellow veterans." He is the only actor ever to win two Oscars for the same role.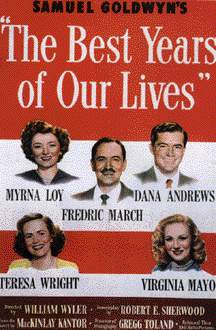 Voted the Best Picture of 1946, THE BEST YEARS OF OUR LIVES tells the story of three veterans (Fredric March, Dana Andrews and Russell) who return home to the same Midwestern town after World War II and try to put their lives back together again, readjusting to their families and civilian life. Each representing different age groups, socio-economic backgrounds, military ranks and branches of the service, the men are both supported and further challenged by the women in their lives -- among them Myrna Loy, Teresa Wright, Virginia Mayo and Cathy O'Donnell. Though this kind of story has been told many times since, BEST YEARS remains an extremely powerful and moving film, and Russell's immeasurable contribution to the movie includes some of its most potent scenes.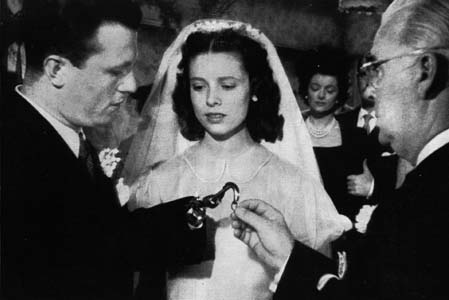 Romantically paired with fellow screen novice Cathy O'Donnell (above), Russell's character, Homer Parish, is the youngest of the returning veterans and the only one who returns with a physical disability. Though he proposed to his high school sweetheart, Wilma, in his letters during the war, he has second thoughts about the marriage since his injury, believing Wilma only wants to marry him out of pity. The importance of his own adjustment as well as his acceptance of her adjustment to his hooks is one of the many subtle, poignant truths beautifully illustrated by THE BEST YEARS OF OUR LIVES.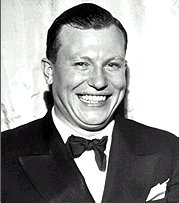 Russell at the 1947 Academy Awards (left).
After winning his two Oscars for his performance in BEST YEARS, Russell left Hollywood and returned to New England where he wrote his autobiography, Victory in My Hands (1949), and went into business while spending a good deal of time working for various handicapped and veterans' causes. After several appearances on TV's "China Beach," Russell returned to the big screen in 1980's INSIDE MOVES, a film about handicapped people who congregated in a bar and form an informal support group, and again in DOGTOWN (1997) in which he played a small town cigar store owner. Russell died on January 29, 2002 at the age of 88.
Filmography | Awards | Articles | Bibliography | Links | Downloads | Image Credits | THE BEST YEARS OF OUR LIVES