Patricia Collinge
Biography | Filmography | Awards | Bibliography | Downloads | Links | Image Credits | SHADOW OF A DOUBT | THE LITTLE FOXES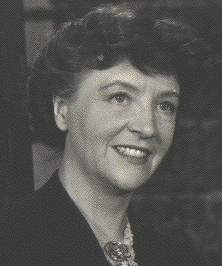 An accomplished stage actress, Patricia Collinge made only seven films in her brief Hollywood career, and typically played sincere, sympathetic, and at times eccentric characters. Although few, her performances were always memorable and even earned her an Oscar nomination in 1941.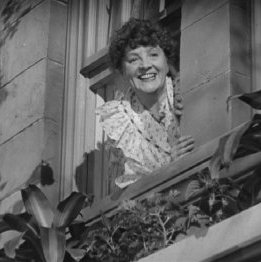 Going west to reprise her Broadway role as Birdie Hubbard in William Wyler's film version of Lillian Hellman's THE LITTLE FOXES (1941), Collinge turned in a Best Supporting Actress-nominated performance in this, her film debut. With the exception of Bette Davis and Teresa Wright, most of Collinge's fellow players had also been recruited from the stage version, and despite excellent performances from all, including Davis, Wright, Herbert Marshall and Dan Duryea, I would venture to say that Collinge's abused, alcoholic Aunt Birdie steals the picture from the rest of the Hubbard family.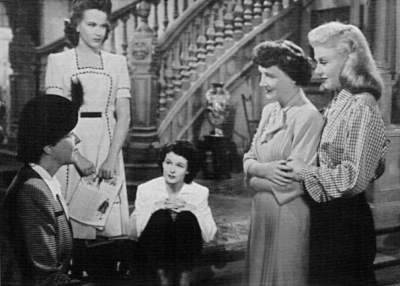 A still from TENDER COMRADE (1943) with Mady Christians, Kim Hunter, Ruth Hussey, Collinge and Ginger Rogers, five women who decide to live together while their husbands are away fighting World War II.

Rogers is definitely the star of TENDER COMRADE, and the drama is pretty mushy, but this film is a fascinating piece of social history and was even condemned by HUAC during the 1950s as a piece of communist propaganda!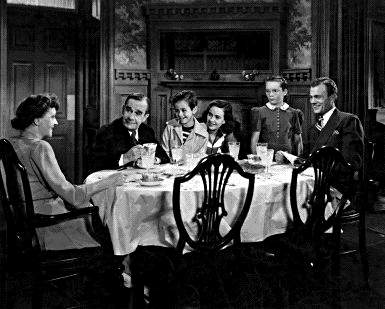 Collinge again teamed with Teresa Wright in the second of their three films together, Alfred Hitchcock's masterpiece SHADOW OF A DOUBT (1943). Here on the far left, Collinge plays Emma Newton, a small-town housewife (to Henry Travers) and mother of three (Charles Bates, Teresa Wright and Edna Mae Wonacott), whose younger brother (Joseph Cotten) comes to visit and turns their "ordinary, little" world upside down.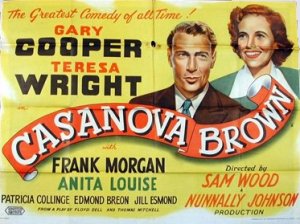 Collinge played mother to Teresa Wright for a second time in their third and final film together, Sam Wood's CASANOVA BROWN (1944) also starring Gary Cooper. Though not a commercially successful film, this romantic comedy told the story of a young couple who get divorced only to discover they are going to have a child. The picture is fun overall, and Collinge is a delight as the mother-in-law who analyses astrological charts and tea leaves to judge whether or not her new son-in-law is suitable.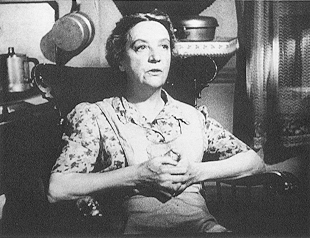 In 1951, after an almost six year absence from the big screen, director Fred Zinnemann invited Collinge to play the controlling and over-protective mother of a G.I. who brings home an Italian war bride in TERESA. A departure from her established screen persona, Collinge's character is possessive, demeaning and essentially unpleasant -- definitely a change of pace in her career.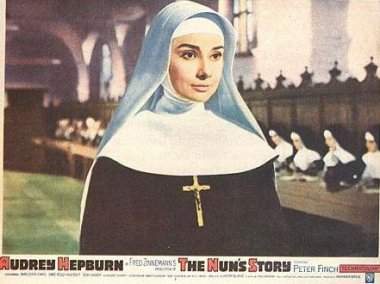 In her final film, Fred Zinnemann's THE NUN'S STORY (1959), Collinge played a bit part as Sister William. This film adaptation of Kathryn Hume's novel about a nun who begins to question her commitment to the order while serving as a nurse in the Belgian Congo, starred Audrey Hepburn in a breakout dramatic role.

"Main Title" (clip) by Franz Waxman (a .MP3 file courtesy Varese Sarabande).
Biography | Filmography | Awards | Bibliography | Downloads | Links | Image Credits | SHADOW OF A DOUBT | THE LITTLE FOXES