Shadow of a Doubt (1943)
Cast | Crew | Awards | Articles | Bibliography | Downloads | Links | Image Credits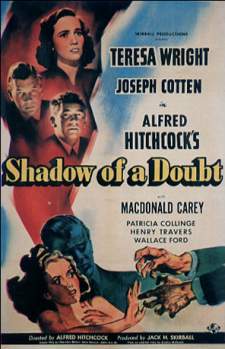 Arguably Alfred Hitchcock's best film and Teresa Wright's best performance, SHADOW OF A DOUBT (1943) is a low-key thriller about a murderer who comes to live with his sister's family in "peaceful, quiet Santa Rosa" in an effort to elude the police, and his young niece who finds him out. Filmed primarily on location in Santa Rosa, California, SHADOW OF A DOUBT is often regarded as Hitchcock's first truly "American" movie, and his success in creating a credible small-town atmosphere populated by "typical American" characters makes the evil which intrudes upon this sunny utopia all the more frightening. With a screenplay by playwright Thornton Wilder (whose "Our Town" had just made an Everytown, U.S.A. out of Grover's Corners, New Hampshire) and author Sally Benson (whose "Kensington Stories" had turned the Smiths of St. Louis into the all-American family), the film portrayed a way of life with which audiences of the time were familiar.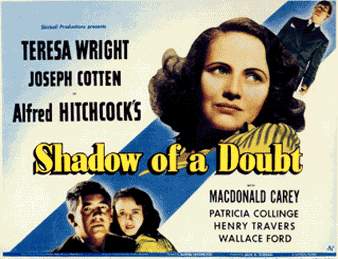 Though it was only her fourth film, Teresa Wright received top billing in SHADOW OF A DOUBT, and her performance demonstrates that she was worthy of the honor. As Young Charlie Newton, the small-town girl who is forced to mature quickly a few short days after her uncle Charlie (for whom she was named) comes to visit, Wright is so convincing, the audience can't help but relate to her harrowing situation.

What is most impressive about Wright's performance is the incredible development of her character from a naïve, small-town girl who adores her uncle, to a mature, disillusioned young woman who hates him so much she's ready to kill him herself. And unlike so many other Hitchcock films in which the female characters play predominantly passive, victim roles, SHADOW OF A DOUBT's heroine comes of age over the course of the film and relies on her own inner-strength to overcome the challenges facing her -- a characteristic typical of World War II-era heroines.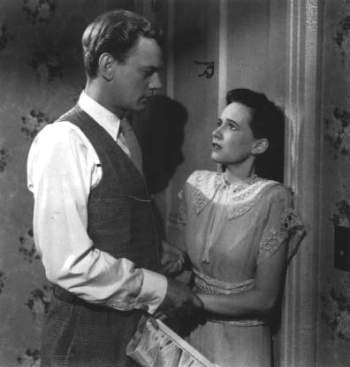 Clean-cut, charming and debonair Joseph Cotten also turns in an excellent performance as Uncle Charlie. Like his niece, the audience has a hard time reconciling his personal charisma and devotion to his sister (Patricia Collinge) with the ever-increasing evidence that he may be the film's notorious "Merry Widow Murderer" and his dark, warped view of the world:
"Do you know the world is a foul sty? Do you know if you ripped the fronts off houses you'd find swine?"
Memorable Quotations:
"I know a wonderful person who'll come and shake us all up. All the time there's been one right person to save us." --Young Charlie Newton.
"The ones that say they don't want anything always get more in the end." --Ann.
"We're not just an uncle and a niece. It's something else. I know you. I know you don't tell people a lot of things. I don't either. I have a feeling that inside you there's something nobody knows about . . . something secret and wonderful. I'll find it out." --Young Charlie Newton.
"I can't face the world in the morning. I must have coffee before I can speak." --Uncle Charlie.
"What's the use of looking backward? What's the use of looking ahead? Today's the thing. That's my philosophy. Today." --Uncle Charlie.
"The whole world's a joke to me." --Uncle Charlie.
"What does he do? Oh, he's just in business, you know, the way men are." --Emma Newton.
"I guess I don't like to be an average girl in an average family." --Young Charlie Newton.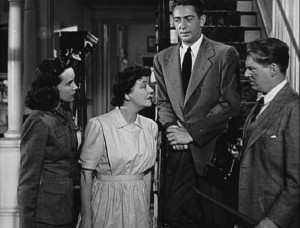 Much has been written over the years about Hitchcock's use of "twos" in SHADOW OF A DOUBT: two Charlies, two detectives in Philadelphia, two railroad station scenes, two young children, two dinner table scenes, two toasts, two church scenes, two garage scenes, and the "Till Two" bar, among others. Thus, it should come as no surprise that two questionnaire men (Macdonald Carey and Wallace Ford, at left) come to interview the Newtons.