The Pride of the Yankees (1942)
Cast | Crew | Awards | Articles | Bibliography | Downloads | Links | Image Credits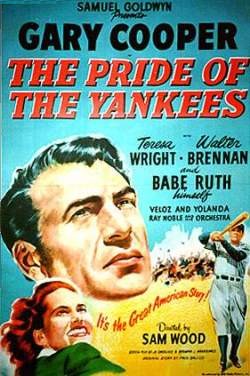 This is the story of a hero of the peaceful paths of everyday life.

It is the story of a gentle young man who, in the full flower of his great fame, was a lesson in simplicity and modesty to the youth of America.

He faced death with that same valor and fortitude that has been displayed by thousands of young Americans on the far-flung fields of battle. He left behind him a memory of courage and devotion that will ever be an inspiration to all men.

This is the story of Lou Gehrig.

-- Damon Runyon
Prologue to PRIDE OF THE YANKEES

Nominated for eleven Academy Awards in 1943, THE PRIDE OF THE YANKEES is still regarded by many today as the finest baseball movie ever made. It chronicles the life and career of the New York Yankees' legendary first baseman and batting champion, Lou Gehrig, who made history by playing in 2,130 consecutive games over the course of a 14-year major league career. After battling a debilitating nerve disease called amyotrophic lateral sclerosis (ALS) which forced him out of the game early in 1939, Gehrig died in 1941 at the age of 37. However, newsreel footage of his farewell speech, made upon his retirement in 1939, helped immortalize the quiet personality as a hero and all-American role model rather than just a streak of statistics, and (at the suggestion of story editor Niven Busch) producer Sam Goldwyn decided to make a movie of Gehrig's life. The resulting biopic, which features several of Gehrig's real-life teammates playing themselves (among them Bill Dickey, Bob Meusel, Mark Koenig, Bill Stern and Babe Ruth) has become almost as immortal among baseball fans as Gehrig himself.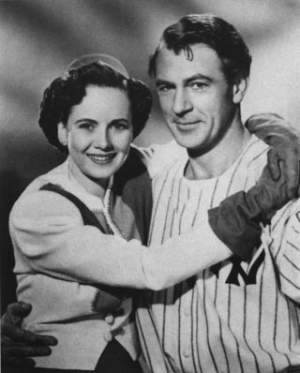 But more than just a baseball movie or the patriotic story of a first-generation American rising from immigrant poverty to make a name for himself in "the land of opportunity," THE PRIDE OF THE YANKEES is a love story. Made during World War II and targeting a predominantly female home-front audience, it focuses on the human side of its subject rather than the great American pastime he plays, and somehow over the course of the film, Gary Cooper as Lou and Teresa Wright as his wife Eleanor, manage to turn a seemingly ordinary, everyday relationship into a beautiful romance. (And both received Oscar nominations for their performances.)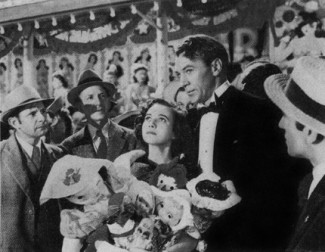 Also in line with its war-time origins, as the prologue suggests, THE PRIDE OF THE YANKEES attributes Gehrig's heroism not to his physical prowess, but to his qualities as a man -- courage, valor, simplicity, modesty and devotion. For this reason, Hollywood veteran Gary Cooper was chosen to play Gehrig in the film.

Despite his shortcomings as a ballplayer, Cooper's established screen persona -- as the honest, laconic, and all-American star of such films as MEET JOHN DOE and SERGEANT YORK (both 1941) -- as well as his physical resemblance to Gehrig, made him an obvious choice. Though many of Gehrig's baseball records have since been broken, his legend and example remain intact, thanks in no small part to the humanity with which the creators of THE PRIDE OF THE YANKEES chose to approach his life story and Cooper's performance in the role. Sports fans need have no fear however -- there is still plenty of baseball in the film.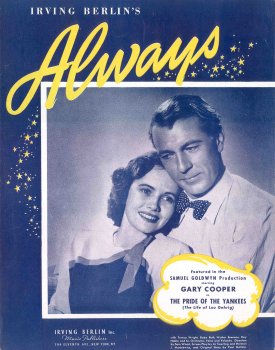 One of the key cinematic components of the romance in THE PRIDE OF THE YANKEES is Irving Berlin's love song "Always" (a favorite of both Lou and Eleanor Gehrig and Sam Goldwyn) which permeates the film.

"Always" (clip) (a .WAV file).
I'll be loving you always.
With a love that's true, always. When the things you've planned
Need a helping hand,
I will understand, always... always.
Days may not be fair always.
That's when I'll be there, always.
Not for just an hour.
Not for just a day.
Not for just a year,
But always.
Memorable Quotations:
"People have to live their own lives. Nobody can live it for you. Nobody could have made a ball player out of Uncle Otto, and nobody can make anything but a ball player out of me." --Lou Gehrig.
"All baseball players are good for nothing -- loafers in short pants!" --Mrs. Gehrig.
"Omit flowers, please." --Hank Hanneman.
"How's Tanglefoot? Has he come to yet, or can't you tell?" --Eleanor Twitchell.
"What does it mean when a girl says you remind her of a Newfoundland puppy?" --Lou.