Greer Garson
Biography | Filmography | Awards | Article | Bibliography | Downloads | Links | Image Credits | MRS. MINIVER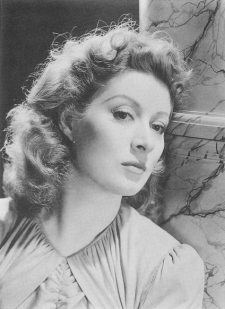 One of MGM's most popular and successful leading ladies of the 1940s, English-born Greer Garson received her first Best Actress nomination in 1939, an incredible five nominations in a row between 1941 and 1945, and a seventh before her career was through. She also acted in six Best Picture-nominated films. But even more important than all her honors, Garson's films are a joy to watch. Although at times the material she had to work with was not up to par, and audiences seemed unable to accept her in low-brow roles after the noble women that made her famous, Garson never gives a bad performance -- ever. Each of her characters is marked with a sincerity which never betrays to the audience that Garson is just acting, and many-a mediocre script was rescued by her extensive talents.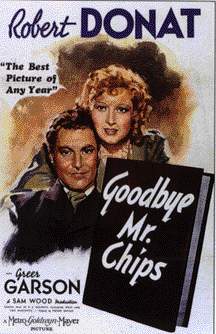 A poster from her film debut, the Best Picture-nominated GOODBYE, MR. CHIPS (1939) for which Garson received the first of her seven Academy Award nominations. (Her co-star, Robert Donat, won for Best Actor that year.) Although not appearing until forty-five minutes into this story of a shy Latin professor at an English boys school, Garson steals the heart of the picture as she brings a touch of romance into Mr. Chipping's lonely life. And in testament to the power of her performance in such a small role, Garson received her Oscar nomination in the Best Actress category, rather than the Best Supporting Actress category, as would have been more appropriate for a role of this size.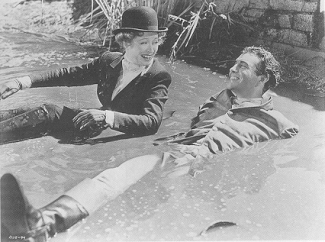 Encouraged about Garson's prospects, MGM quickly cast her opposite Robert Taylor (left) and Lew Ayres in the half-baked romantic comedy REMEMBER? (1939) about a husband and wife who are given a memory-erasing medication when their marriage goes on the rocks. The poor writing and direction as well as the slapstick antics (such as the mud puddle at left) did not sit well with critics or audiences, and the film flopped badly.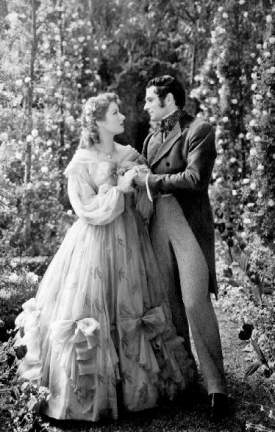 Eager to reestablish Garson's respectability and reputation, MGM next cast her as Elizabeth Bennett opposite Laurence Olivier's Fitzwilliam Darcy in the studio's prestigious 1940 adaptation of Jane Austen's PRIDE AND PREJUDICE. Though not a huge box-office success, the critical reviews of the film were favorable and Garson and Olivier's open-mouthed kiss created quite a sensation. Today, although Garson and Olivier's performances still stand up, the film's short-comings are amplified by a script which attempts to condense all the novel's characters and episodes into a two-hour screenplay.
Go to the next page.
Page 1 | Page 2 | Page 3 | Page 4 | Page 5 | Page 6