ANGELA MAXINE O'BRIEN was born in Los Angeles, California on January 15, 1937 to Gladys Flores O'Brien. (Her father, Lawrence O'Brien, a circus performer, died shortly before she was born.) Introduced by her mother to a modeling career at age three, by 1941 the little girl had broken into motion pictures in a bit role as an aspiring dramatic actress (so young that she has to stand on a table while auditioning for James Gleason) in MGM's musical extravaganza BABES ON BROADWAY (1941) starring Judy Garland and Mickey Rooney.
Having gained the notice of studio executives, Angela was signed by MGM and given her first starring vehicle, JOURNEY FOR MARGARET (1942) with Robert Young. During production of the film, with everyone on the set calling her Margaret, Angela decided to change her name legally, and Margaret O'Brien she officially became. The part of Margaret White, a terrified London war orphan, made her an overnight star, but good dramatic parts for such a young actress were scarce and Margaret played more typical child roles in the Greer Garson-Walter Pidgeon vehicle MADAME CURIE and DR. GILLESPIE'S CRIMINAL CASE with Lionel Barrymore, two of five feature-length films she made in 1943 in addition to a civil defense short film starring James Cagney.
In 1944 Margaret was loaned to 20th Century-Fox to appear with Orson Welles and Joan Fontaine in JANE EYRE and then returned to MGM where she made one of her most memorable pictures, MEET ME IN ST. LOUIS. Though Margaret was a not a song and dance sensation the way Shirley Temple had been in the 1930s, her musical contributions to this film were memorable, and she delighted audiences in her role as Judy Garland's eccentric and adventuresome little sister Tootie who has a penchant for mischief and burying her dolls in the cemetery. Her performance in MEET ME IN ST. LOUIS earned Margaret a special juvenile Oscar from the Academy of Motion Picture Arts and Sciences and established her as one of the ten biggest moneymaking stars of the mid-1940s. (*1)
In addition to her mature acting ability, one of Margaret's most famous qualities was her ability to cry onscreen. She is frequently quoted as having asked directors who told her to cry whether they wanted the tears "inside or out," and if "out," whether they should go all the way down or stop halfway. Though magazines of the period report that to provoke tears, her directors would tell her that Maggie, her cocker spaniel, had died, in a 1993 interview with Classic Images Magazine Margaret described her inspiration differently:
"How they really got me to cry is kind of interesting. June Allyson also did a lot of dramatic films -- we were known as The Town Criers of MGM. We were always in competition: I wanted to cry better than June, and June wanted to cry better than me. The way my mother got me to cry was if I was having trouble with a scene, she'd say: 'Why don't we have the make-up man come over and give you false tears?' Then I'd think to myself, 'They'll say I'm not as good as June,' and I'd start to cry." (*2)
Needless to say, the MGM lot was not a normal childhood environment, but Margaret seemed to thrive amidst all the activity. Only permitted to work four hours a day, she attended the studio's little red schoolhouse with the likes of Elizabeth Taylor and Roddy McDowall. She also frequently entertained her adult co-stars and other studio bigwigs in her dressing room and lunched with them in the studio commissary. Despite her glittery surroundings, Margaret's mother raised her as a devout catholic and tried to see that she had non-movie kids to play with.
After MEET ME IN ST. LOUIS, the quality of Margaret's scripts varied. Some of the better films included MUSIC FOR MILLIONS (1944) with Allyson and OUR VINES HAVE TENDER GRAPES (1945) with Edward G. Robinson, while less successful ventures included a western, BAD BASCOMB (1946), and the 1948 melodrama BIG CITY. In search of better material, MGM turned to some literary classics the following year, with more fruitful results. In 1949 Margaret played Beth March opposite June Allyson's Jo in MGM's Technicolor production of Louisa May Alcott's LITTLE WOMEN as well as Mary Lennox in the film adaptation of Mary Hodges Burnett's THE SECRET GARDEN. However, when Disney requested to borrow her services for ALICE IN WONDERLAND (1951) (which was originally planned as partially live-action), Margaret declined, to MGM's dismay (as the studio stood to profit immensely from loaning her out). Subsequently, having exhausted MGM's collection of starring vehicles for her, when Margaret's contract expired at the end of 1949, it was not renewed.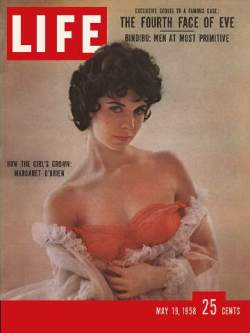 Margaret O'Brien on the cover of the May 19, 1958 issue of LIFE Magazine captioned: "How The Girl's Grown."
Now a teenager, Margaret's film career began to taper off. HER FIRST ROMANCE (1951) which she made for Columbia failed to establish a teen romantic image for her, and in the next fifteen years she made only three films. Shortly after the end of her MGM contract however, O'Brien made the foray into television. She made a number of appearances throughout the 1950s and '60s in such anthology series as "Playhouse 90," "The Lux Video Theatre," "The June Allyson Show," and "Studio One." In 1958, she reprised her role as Beth March in CBS's musical version of "Little Women" also featuring Florence Henderson. Her mother died suddenly that same year.
In 1960, a pilot for a sitcom of her own entitled "Maggie" failed to find an audience, but O'Brien continued to make television appearances in episodes of "Perry Mason," "Combat!," "Love, American Style," and "Marcus Welby, M.D." She also began to take on some stage roles, appearing in summer stock and tour productions of Barefoot in the Park, Under the Yum Yum Tree and A Thousand Clowns. During the 1970s, Margaret continued her work in television, appearing in such mini-series as "Testimony of Two Men" (1976), and in 1977 her film earnings, which had been set aside for her in trust, were finally turned over to her.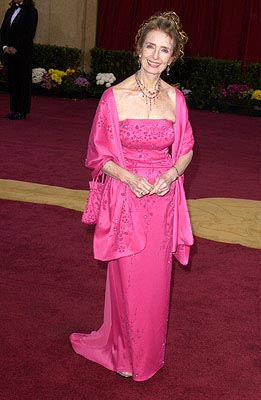 Margaret O'Brien on the Red Carpet at the 75th Annual Academy Awards.
In 1959, Margaret married Harold Allen, Jr., an artist, though the couple were divorced in 1968. She subsequently married Ray Thorsen in 1974, and although that marriage too ended, the couple did have a daughter, Mara Tolene, born in 1977. Beginning in 1979, Margaret served as a civilian aide to the Secretary of the Army for Southern California. In 1981, she returned to films with a brief appearance in AMY (held from release until 1984), and in 1994 had a supporting role in the direct-to-video horror spoof, SUNSET AFTER DARK.
In 1995, O'Brien found herself in the headlines again when two baseball memorabilia collectors found her Oscar at a swap meet in Pasadena, California, bought it, and returned it to her. The Oscar had been stolen from her in 1954. In 2001, she donated the statuette to the Sacramento AIDS Foundation to be auctioned off as a fundraiser, but withdrew the Oscar from the auction when the Academy of Motion Picture Arts and Sciences protested.
Margaret continues to make occasional stage and television appearances and is frequently consulted for television specials about her former co-stars and the heydays of MGM. She currently resides in California, and in 2003, appeared on the 75th Annual Academy Awards during a segment of the telecast honoring previous Oscar winners.