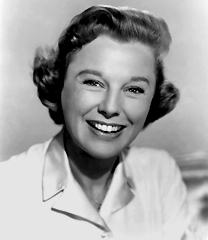 Though one of Hollywood's most popular actresses of the late 1940s and early 1950s, June Allyson was atypical among movie stars of the period. Under contract for eleven years to Hollywood's most glamorous studio, MGM, whose roster of stars included Ava Gardner and Lana Turner, Allyson was perhaps the least glamorous leading lady on the lot. Her blonde pageboy haircut, modest, Peter Pan collars, sandpapered voice with a low squeak, and squinty smile made her one of America's favorite girls-next-door. The perky optimism and wholesomeness she exuded onscreen contributed to the appeal of all her characters, be they spunky tomboys, supportive wives or even lonely war widows (whose heart-aching plight was easily evinced by the absence of Allyson's usual joie de vie). And at a studio whose headliners included Judy Garland and Gene Kelly where Allyson could hardly be considered a singing or dancing talent, her infectious energy and bright personality not only launched her film career in a series of musical shorts in the late 1930s, but also carried her through almost a dozen feature-length movie musicals. Her acting talents lacked the range necessary to transition her into the more gritty, "method acting" movies that eventually came to dominate the screen in the late 1950s, but what she could do, she did well, and as a result, in the immediate post-war years, June Allyson was exactly what every red-blooded, all-American G.I. wanted to come home to.

This page is still under construction.
Music Clips:
(For help opening any of the multimedia files, visit the plug-ins page.)
Memorable Quotations:
"I think I'm asking you to marry me. I think if I cry, maybe you'll do something about it." --as Nancy Frazer in HIGH BARBAREE (1947).
Further Reading:
June Allyson by June Allyson with Frances Spatz Leighton (New York: G.P. Putnam, 1982).
The Golden Girls of MGM by Jane Ellen Wayne (New York: Carroll & Graf, 2003).
More June Allyson Links: