Orson Welles
Awards | Downloads | Links | Image Credits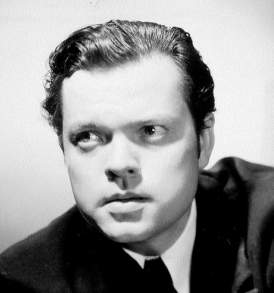 Though little appreciated in his time, Orson Welles is today one of classic Hollywood's most acclaimed cinematic visionaries and was once nominated for Academy Awards in four separate categories for his contribution to one film (see below). Always an outsider to the studio system which dominated filmmaking at the time however, Welles never condescended to play by Hollywood's rules and his arduous four-decade career was pocked with moments of brilliance, excess and waste.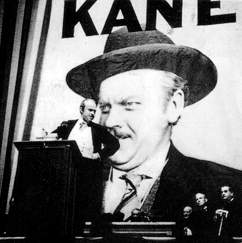 Welles as Charles Foster Kane in his masterpiece, CITIZEN KANE (1941). Welles produced, directed and starred in this classic which was nominated for nine Academy Awards, four of which Welles shared in: Best Actor, Best Director, Best Original Screenplay and Best Picture. The film won only one of the Oscars for which is was nominated however, that for the screenplay co-written by Welles and Herman J. Mankiewicz.
Memorable Quotations:
"Rosebud." --as Charles Foster Kane in CITIZEN KANE (a .WAV file).
"You long-faced, over-dressed anarchist!" --as Charles Foster Kane in CITIZEN KANE (a .WAV file).
"Make up an extra copy of that picture and send it to the Chronicle." --as Charles Foster Kane in CITIZEN KANE (a 20KB .WAV file).
"I'd make my promises now if I wasn't so busy arranging to keep them." --as Charles Foster Kane in CITIZEN KANE.
"In Italy, for thirty years under the Borgias, they had warfare, terror, murder, bloodshed, but they produced Michelangelo, Leonardo da Vinci and the Renaissance. In Switzerland, they had brotherly love; they had 500 years of democracy and peace -- and what did that produce? The cuckoo clock." --as Harry Lime in THE THIRD MAN (1949).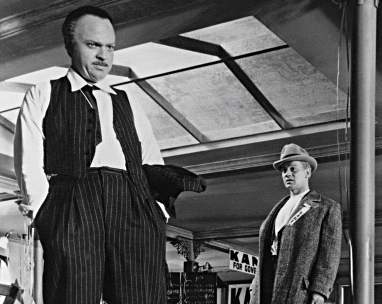 Charles Foster Kane with reporter Jedediah Leland (Joseph Cotten) who commented, "That's all he really wanted out of life, was love. That's Charlie's story: how he lost it. You see, he just didn't have any to give." A friend of Welles from The Mercury Theatre, Cotten collaborated with him on seven more films after CITIZEN KANE (1941).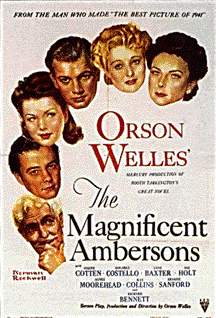 THE MAGNIFICENT AMBERSONS (1942), an adaptation of Booth Tarkington's novel, was directed by Welles and starred Cotten as well as Anne Baxter and Agnes Moorehead. Although severely re-edited by officials at RKO who cut approximately three reels of footage from Welles' original rough cut, AMBERSON'S still features first-rate performances by its cast, as well as intriguing stylized photography. It received four Oscar nominations including one Best Picture and another for its black-and-white cinematography.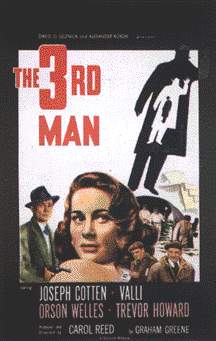 Orson Welles has the distinction of having appeared in both the Greatest American Film of all-time (according to the American Film Institute's 1998 poll) CITIZEN KANE (1941), and the Greatest British Film of all-time (according to the British Film Institute's 1999 poll) THE THIRD MAN (1949), directed by Carol Reed.
THE THIRD MAN, Welles' sixth film with Joseph Cotten and the fourth co-starring the two, is an unconventional film-noir mystery classic also starring Alida Valli and Trevor Howard. It received three Oscar nominations in 1950 (when it finally became eligible for the Academy Awards, having been screened in Los Angeles County, California).
Incidentally, the other films Welles made with Cotten were the World War II spy film JOURNEY INTO FEAR (1942), the Niven Busch western DUEL IN THE SUN (1946) (although Welles was only the narrator), TOUCH OF EVIL (1958) also starring Charlton Heston, Janet Leigh and Marlene Dietrich, THE TRAGEDY OF OTHELLO: THE MOOR OF VENICE (1952), and TOO MUCH JOHNSON (1938), a short film and one of Welles' earliest directing ventures.