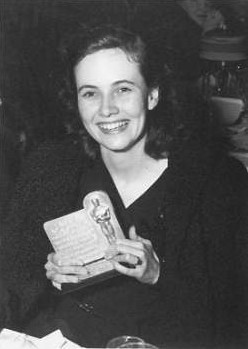 Wright and her Best Supporting Actress Oscar at the 1943 Academy Awards. Back then supporting actors and actresses received plaques instead of full statuettes.
MURIEL TERESA WRIGHT was born on October 27, 1918 in New York City to Arthur Wright, an insurance agent, and his wife Margaret Espy. After moving around as a small child, young Muriel attended elementary school in New Jersey and graduated from Columbia High School in Maplewood, New Jersey in 1938. An only child who had always been inclined toward play-acting and make-believe, Muriel was inspired by an occasion to see Cornelia Otis Skinner perform some monologues as well as a trip to New York to see Helen Hayes in "Victoria Regina," and became a leading actress in her school plays. Though at first she resented encouragement to pursue a career in acting because she felt people were implying that she wasn't smart enough to do anything else, by graduation she had changed her mind.
After apprenticing for two summers at the Wharf Theatre in Provincetown, Massachusetts, Muriel moved to New York. There was already a Muriel Wright registered with Actors Equity however, so Wright took her middle name, Teresa, as a stage name. In the fall of 1938, after a short period pounding the pavement, Wright auditioned for Thornton Wilder's "Our Town" and won the position of understudy to the role of Emily in which Dorothy McGuire (who had replaced Martha Scott) was starring. Wright understudied McGuire for the remainder of the production's Broadway run, and after finally making her professional stage debut playing the role of Rebecca during a special Washington D.C. performance of "Our Town," she joined the traveling company of the play, eventually taking over the lead role during a tour of New England in the spring of 1939.
After spending the summer of 1939 with the Barnstormers of Tamworth, New Hampshire playing mostly juvenile parts (thanks to her small stature), Wright returned to New York where she won the role of the ingénue, Mary Skinner, in Oscar Serlin's production of "Life With Father." She remained in the cast for over a year, after which time she made the decision to answer Samuel Goldwyn's call to go west and make movies. She went on her own terms however, contracted specifically to play Bette Davis' daughter in the screen adaptation of Lillian Hellman's THE LITTLE FOXES (1941). Further, a now-famous clause in her contract made clear that Wright had come to Hollywood to act, not to "pose for photographers in a bathing suit." Her insistence on establishing a foundation for her career through her performances and not through publicity photos was relatively unheard of in Hollywood at the time, and some skeptical fan magazines even speculated she was avoiding the cheesecake photographers because there was something physically wrong with her. But the strategy paid off when her performance in THE LITTLE FOXES earned Wright an Academy Award nomination for Best Supporting Actress, alongside her co-star Patricia Collinge.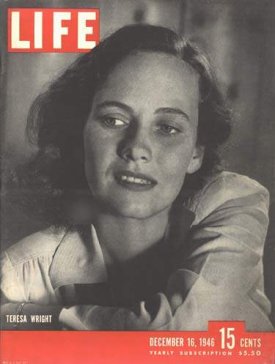 Wright on the cover of the December 16, 1946 issue of LIFE Magazine.
Though neither took the prize, Wright won the following year for her portrayal of Carol Beldon in MRS. MINIVER (1942), her second film, and was also nominated in the Best Actress category the same year for her performance as Eleanor Gehrig in THE PRIDE OF THE YANKEES opposite Gary Cooper. Thus, after only three movies, Teresa Wright had earned three Oscar nominations (a feat as of yet unequaled in the history of the Academy Awards) and become a major Hollywood name.
Under a long-term contract with Samuel Goldwyn, other outstanding films followed throughout the 1940s. In 1943, Wright was loaned to Universal Pictures to play Young Charlie Newton in Alfred Hitchcock's SHADOW OF A DOUBT and received top billing over her co-star Joseph Cotten. And after two films made on loan to Paramount, she returned to the Goldwyn Studios to appear in the producer's Oscar-winning Best Picture of 1946, THE BEST YEARS OF OUR LIVES, directed by William Wyler and also featuring Dana Andrews, Fredric March and Myrna Loy. Wright also made a noteworthy western, Raoul Walsh's PURSUED (1947), with Judith Anderson and Robert Mitchum. However, shortly after filming ENCHANTMENT (1948), her contract with producer Samuel Goldwyn was terminated during a dispute over pre-release publicity for the film. Undaunted, Wright again surprised the Hollywood establishment when she issued a statement declaring that she welcomed the termination and looked forward to working for other producers who would probably pay her less but would also treat her with more respect. Now a free-lancer, she continued to make movies through the end of the 1950s, including Fred Zinnemann's THE MEN (1950) with Marlon Brando in his screen debut, and George Cukor's comedy THE ACTRESS (1953) in which (at age 34) she played wife to 53-year-old Spencer Tracy and mother to aspiring ingénue Jean Simmons (then age 24). Despite her continued successes however, Wright's break with Goldwyn did have a long-term effect on her career, and most of her free-lance projects of the 1950s lacked the quality and prestige of her previous films.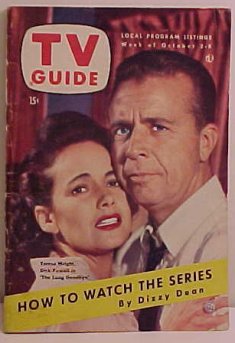 Wright with Dick Powell on the cover of TV Guide for an October 7, 1954 episode of Climax.
During the early 1950s, Wright became quite active in the new medium of television and temporarily retired from the big screen after THE RESTLESS YEARS (1958). Her dozens of small screen appearances included guest roles on such series as Schlitz Playhouse of Stars, The US Steel Hour, The Star and the Story, The 20th Century-Fox Hour, Ford Television Theatre, Four Star Playhouse and Climax. In 1957, Wright earned an Emmy nomination for her portrayal of Annie Sullivan in the Playhouse 90 production of "The Miracle Worker" (which was later adapted into a stage play and a 1962 motion picture). That success was followed by a second Emmy nomination for her performance as the title character in "The Margaret Bourke-White Story" on Sunday Showcase (1960), another true story, this time about a famed Life Magazine photographer struck down with Parkinson's disease.
In 1957, Wright returned to Broadway, playing for a year in William Inge's "The Dark at the Top of the Stairs," and she kept consistently busy on stage through the early 1990s. Among her many regional theatre and touring productions have been such classics of the American theater as "The Heiress," "Mary, Mary," "Bell, Book and Candle," "The Country Girl," "The Glass Menagerie," "The Effects of Gamma Rays on Man in the Moon Marigolds," "Tea and Sympathy" and "Long Day's Journey Into Night" as well as a 1987 production of Shakespeare's "All's Well that Ends Well." She also appeared in the original Broadway production of Robert Anderson's "I Never Sang for My Father" (1968) and the successful Broadway revivals of "Death of a Salesman" (1975) co-starring George C. Scott, Eugene O'Neill's "Ah, Wilderness" (1975) with Geraldine Fitzgerald, "Morning's at Seven" (1980-1981) also starring Maureen O'Sullivan, and "On Borrowed Time" (1991) again with George C. Scott.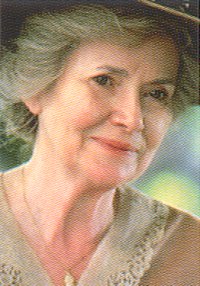 Wright in PBS's "American Short Stories: The Golden Honeymoon" (1980 TV).
Continuing her success in television, Wright received a third Emmy nomination for her performance in the episode of CBS' Dolphin Cove entitled "The Elders" (1989) and starred in a number of notable made-for-TV movies including The Golden Honeymoon (1980) co-starring James Whitmore, Bill: On His Own (1983) with Mickey Rooney, The Fig Tree (1987) and Lethal Innocence (1991). In recent years, she has also guest starred in episodes of Murder, She Wrote (1988) and Picket Fences (1996) as well as in made-for-TV movies like Perry Mason: The Case of the Desperate Deception (1990) and the 1994 TBS mini-series A Century of Women.
Wright returned to the big screen occasionally beginning in 1969 to play character roles in such films as THE HAPPY ENDING (1969), ROSELAND (1977), SOMEWHERE IN TIME (1980) and THE GOOD MOTHER (1988). In her most recent film appearance, she starred as Miss Birdie, Matt Damon's eccentric landlady, in Francis Ford Coppola's adaptation of John Grisham's THE RAINMAKER (1997). Married to screenwriter and novelist Niven Busch for ten years ending in 1952, Wright has two children, a son born in 1944 and a daughter born in 1947. She subsequently married playwright Robert Anderson in 1959, and although they remained friends, they divorced in the early 1970s.
Wright spent most of the last ten years of her life living quietly in New England and making occasional public appearances related to her best-known films of the 1940s, including speeches at symposiums about Alfred Hitchcock and occasional appearances at New York Yankees' games for events associated with her role in THE PRIDE OF THE YANKEES (1942). (She became an avid Yankees baseball fan after being asked to throw out the first pitch at a game on July 4, 1998, and rarely missed watching them on TV thereafter.) In 2003, Wright appeared on the 75th Annual Academy Awards during a segment of the telecast honoring previous Oscar winners. She died on March 6, 2005 at the age of 86.