Joseph Cotten
Downloads | Image Credits | Links | SHADOW OF A DOUBT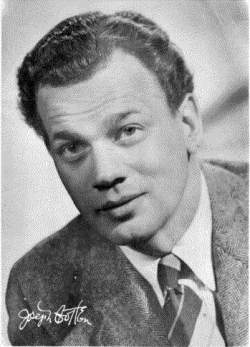 A soft-spoken leading man who played a number of good guy roles throughout his career, many of whom suffered at the hands of their more malicious fellow characters, male or female. But Joseph Cotten also proved extremely versatile and effective as thwarted lovers or artists, sturdy detectives or servicemen, and even played an occasional bad guy himself.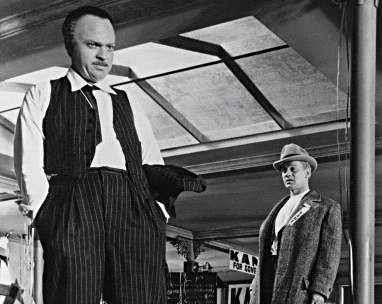 Cotten came to Hollywood with Orson Welles in the early 1940s as a member of Welles' New York theatre group, The Mercury Players and in 1941, made his feature film debut in Welles' now-legendary tale of the rise and fall of newspaper tycoon CITIZEN KANE. Cotten played Kane's abused friend Jedediah Leland.
Memorable Quotations:
"That's all he really wanted out of life, was love. That's Charlie's story: how he lost it. You see, he just didn't have any to give." --as Jedediah Leland in CITIZEN KANE.
"He never gave himself away. He never gave anything away. He just... left ya a tip, hm?" --as Jedediah Leland in CITIZEN KANE (a .WAV file).
"But it will end. It's starting to clear. In the morning when the sun rises, sometimes it's hard to believe there ever was a night. You'll find that too." --as Brian Cameron in GASLIGHT.
"Try to understand that . . . well, I think every woman should understand that the returning soldier's not the man she knew and loved before he went away; nor is the woman the same." --as Allen Quinton in LOVE LETTERS (1945).
"Well, you don't expect me to let a woman die because I owe you $187, do you?" --as Dr. Louis Moline in BEYOND THE FOREST (1949).
"I've heard there may be a life after this one. If it's true, I may see you down there." --as Chris Hale in WALK SOFTLY, STRANGER (1950).
"Have you ever covered a Civil War? It's like trying to make love in a revolving door." --as Hawthorne in THE ANGEL WORE RED (1960).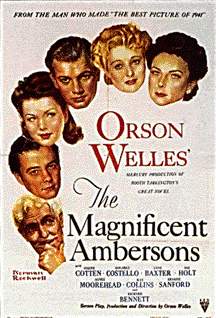 The following year, Cotten again teamed with Welles in the director's 1942 adaptation of Booth Tarkington's novel THE MAGNIFICENT AMBERSONS, also featuring Agnes Moorehead, Anne Baxter, Dolores Costello and Tim Holt. Cotten played Eugene Morgan in the film, an eccentric inventor and spurned suitor who returns years later to court the now-widowed daughter of the rich, powerful Amberson family, but must confront opposition from her grown son. Though praised today for its notable cinematography and performances, THE MAGNIFICENT AMBERSONS suffered over forty minutes of cuts at the hands of RKO management who also tacked on an abrupt new ending, rendering the film merely a hint of what might have been.
Video Clip from THE MAGNIFICENT AMBERSONS:
"Dancing" with Ray Collins, Dolores Costello, Anne Baxter and Tim Holt (a .AVI file courtesy RKO Pictures/Turner Entertainment).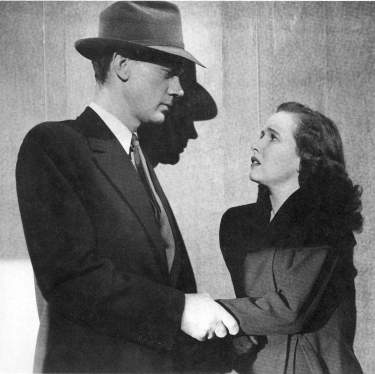 In 1943, Alfred Hitchcock turned Cotten's established screen image as an often-victimized leading man on its head when he cast him as Uncle Charlie in SHADOW OF A DOUBT opposite Teresa Wright (at left). The move added a new dimension to Cotten's reputation and resulted not only in one of his most memorable performances, but also in one of Hitchcock's best films and one of my personal favorites.