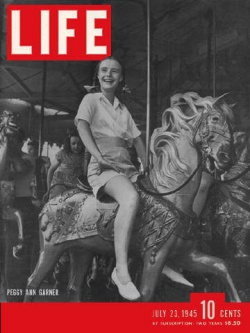 Garner riding a carousel on the cover of the July 23, 1945 issue of LIFE Magazine.
PEGGY ANN GARNER was born on February 3, 1932 in Canton, Ohio to William Garner, an English-born attorney, and his wife Virginia. Virginia Garner was very much a stage mother and introduced young Peggy Ann to modeling and summer stock before she was six years old.
In 1938 Peggy Ann moved with her mother to Hollywood where she made her film debut in LITTLE MISS THOROUGHBRED with Ann Sheridan. The following year she began drawing attention for her roles as little Melinda Mason in the fourth of the twenty-eight "Blondie" movies, BLONDIE BRINGS UP BABY (1939), and as Ellen, Carole Lombard's blonde baby, in IN NAME ONLY (1939) with Cary Grant.
After another successful performance as Shelia in the Best Picture-nominated THE PIED PIPER (1942), Garner earned the role of the title character (as a young girl) in JANE EYRE (1944). The film featured a stellar cast including Joan Fontaine as the adult Jane, Orson Welles as Rochester, Agnes Moorehead as Mrs. Reed (Jane's only living relative and the woman who sends her away to the dreaded Gateshead school), Sara Allgood as Bessie (the kind housekeeper), fellow rising child star Elizabeth Taylor as Helen Burns (Jane's only friend at Gateshead), and young Margaret O'Brien as Adele (who appears in the second half of the film and hence has no scenes with Taylor and Garner).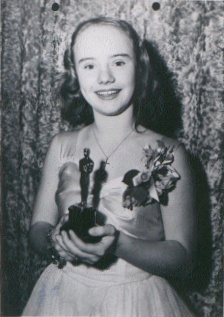 Garner with her special juvenile Oscar in 1946.
But it was her portrayal of Francie Nolan in Elia Kazan's adaptation of the Betty Smith novel A TREE GROWS IN BROOKLYN (1945) that guaranteed Garner's place in history. Her performance in the film rivaled those of her veteran co-stars Dorothy McGuire, James Dunn and Joan Blondell in its depth and sincerity, and because of it, Garner was awarded a special juvenile Oscar as the Best Child Actress of the year -- the only Academy Award of her career. While she continued to make films throughout the rest of the decade, now a teenager, Garner had difficulty finding the good dramatic roles (for a person her age) that had best showcased her talent. Other notable films of this later period however, included DAISY KENYON (1947) with Henry Fonda, Dana Andrews and Joan Crawford, as well as THE SIGN OF THE RAM (1948) with Dame May Whitty.
In 1951 Garner married Richard Hayes, but the two divorced in 1953. She subsequently married actor Albert Salmi in 1956 by whom she had a daughter, Catherine, but that marriage also ended in divorce in 1963. Garner made only four films after 1949, the last being Robert Altman's A WEDDING (1978). She made her Broadway debut in 1950 however, and appeared in several productions both in New York and on the road. She also did quite a bit of television work in the '50s and early '60s, appearing in episodes of such series as "Bonanza," "Alfred Hitchcock Presents," "Perry Mason," and "The Big Valley." In the 1960s Garner worked as a real estate broker and later as a sales manager for a car dealership during the 1970s. She died of pancreatic cancer on October 16, 1984 at the age of 53 in Woodland Hills, California.