Cary Grant
Biography | Filmography | Awards | Downloads | Links | Image Credits | THE PHILADELPHIA STORY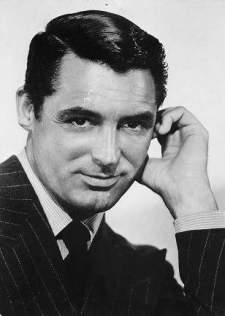 He could be smooth, classy, and debonair, dressed to the nines with a look and a line to both mesmerize and hold at bay any female around; yet, his cool exterior could also spontaneously evaporate, leaving behind a tumbling, bumbling bespeckled paleontologist or a brash, energetic newspaper editor with a lightning-fast wit and an unshakable deadpan. In the history of movies, only Cary Grant has managed to combine charm, chaos, charisma and gothic good looks into such an unique and universally appealing screen personality. From screwball comedies to romantic dramas to suspense thrillers, he created characters who were simultaneously singular and familiar. He was an everyman to whom every other man looked up -- a cinema god who somehow kept his feet on the ground.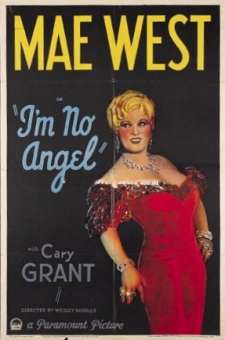 Before he became a funny man himself, Cary found himself on the receiving end of some of Mae West's most risqué remarks. In fact, it was Cary whom she asked to "come up sometime and see me" in SHE DONE HIM WRONG, the first of two films he made with the legendary Depression-era sex symbol under his contract to Paramount in 1933. After playing opposite West again in I'M NO ANGEL (1933), he appeared in a string of less remarkable programmers for the studio and his career stalled. When his contract expired in 1937, Cary did not renew it, deciding instead to play the field and see what life could be like as a free agent -- a bold career move for a barely established actor, but one that would prove very favorable and profitable for him in just a few short years.
Memorable Quotations:
"I guess love is a wonderful thing." --as Jack Clayton in I'M NO ANGEL (1933).
"When a man is wrestling a leopard in the middle of a pond, he's in no position to run." --as David Huxley in BRINGING UP BABY (1938).
"Well you look perfectly idiotic in those clothes!"
"These aren't my clothes!"
"Well, where are your clothes?"
"I've lost my clothes!"
"Well, why are you wearing these clothes?"
"Because I just went GAY all of a sudden!" --as David Huxley in BRINGING UP BABY (1938).
"The only way you'll get me to follow another of your suggestions is to hold a bright object in front of my eyes and twirl it." --as David Huxley in BRINGING UP BABY (1938).
"When I find myself in a position like this, I ask myself, 'What would General Motors do?' and then I do the opposite!" --as Johnny Case in HOLIDAY (1938).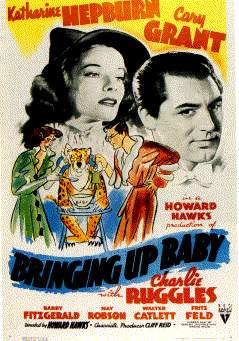 Although their initial outing together, SYLVIA SCARLETT (1935), was hardly a smash hit, Cary Grant became Cary Grant in a series of screwball comedies opposite Katharine Hepburn, beginning with Howard Hawks' BRINGING UP BABY (1938) in which he plays a paleontologist harassed by an exuberant young heiress (Hepburn) who falls in love with him. When her dog George (played by Asta of THIN MAN fame) steals one of his valuable dinosaur bones and they set off through the Connecticut countryside to find it, the madcap adventures are just beginning.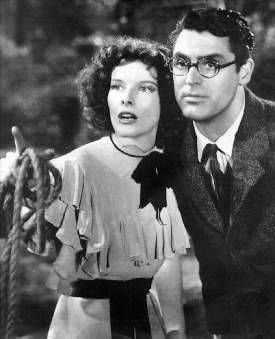 Kate and Cary trying to catch their leopard in BRINGING UP BABY (1938).
"I can't give you anything but love, baby.
That's the only thing I've plenty of, baby.
Dream awhile, scheme awhile,
You're sure to find,
Happiness and I guess
All those things you always pined for.
Gee, it's great to see you looking swell, baby.
Diamond bracelets Woolworth's never sell, baby........"