Audrey Hepburn
Biography | Filmography | Awards | Article | Downloads | Image Credits | BREAKFAST AT TIFFANY'S | FUNNY FACE | MY FAIR LADY | ROMAN HOLIDAY
Biography: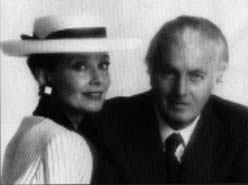 One of Audrey's most frequent co-stars was her wardrobe designer, Hubert de Givenchy, who created many of her costumes for films like FUNNY FACE, CHARADE, BREAKFAST AT TIFFANY'S and HOW TO STEAL A MILLION.
EDDA VAN HEEMSTRA HEPBURN-RUSTON was born on May 4, 1929 in Brussels, Belgium. Her parents, Baroness Ella Van Heemstra and Joseph Hepburn-Ruston, divorced in 1935 after her father was suspected of embezzling some of his wife's wealth. After a brief period with her father in England, Hepburn returned to Arnhem, Holland to live with her mother. She vigorously studied dance at the Arnhem Conservatory of Music and Dance during World War II despite the fact that by 1942 her family's estate had been completely seized by the Nazis. After many harrowing experiences during the war including near starvation, Hepburn and her mother moved to London when she was 17 so she could study ballet at the Notting Hill Gate School. When it finally became apparent that Audrey was too tall to become a professional dancer, she began to pursue a stage career.
While filming MONTE CARLO BABY (1951) (one of a few British films in which Hepburn had a small role), she was noticed by the French novelist Collette who decided to cast her in the title role of her new play Gigi which opened on Broadway in November 1951. By 1953 she had made her American film debut and become a star with her Academy Award-winning performance in William Wyler's ROMAN HOLIDAY with Gregory Peck. Though she was nominated four more times as Best Actress for her roles in SABRINA (1954) opposite Humphrey Bogart, THE NUN'S STORY (1959), BREAKFAST AT TIFFANY'S (1961), and WAIT UNTIL DARK (1967), Audrey received her only other Academy Award, The Jean Hersholt Humanitarian Award, posthumously for her work with UNICEF. Her son Sean Hepburn Ferrer (born July 17, 1960) accepted it on her behalf.
Hepburn found the most success over the course of her career in sophisticated romantic comedies, often opposite much older leading men. Besides ROMAN HOLIDAY, some of these included Stanley Donen's musical FUNNY FACE (1957) with Fred Astaire, LOVE IN THE AFTERNOON (1957) opposite Gary Cooper, and the suspenseful romantic comedy CHARADE (1963) with Cary Grant. Later in her career however, she began to be cast alongside younger leading men like Albert Finney in TWO FOR THE ROAD (1967) and Peter O'Toole in William Wyler's comedy crime caper HOW TO STEAL A MILLION (1966). Hepburn also played some more dramatic roles in WAR AND PEACE (1956) in which she starred with husband (from 1954 to 1967) Mel Ferrer, THE NUN'S STORY (1959) and the Best Picture of 1964, George Cukor's lavish musical MY FAIR LADY, also starring Rex Harrison.
Hepburn made only a few pictures after 1967. Following her divorce from Ferrer, Hepburn married the prominent Italian psychiatrist Dr. Andrea Dotti with whom she had a second son, Luca, born February 8, 1970; but this marriage too ended in divorce in 1982. In 1988 Hepburn was invited to become a Goodwill Ambassador for UNICEF and she traveled from Ethiopia to Thailand bringing attention to the plight of the world's starving children. President George Bush even presented her with the Presidential Medal of Freedom for her work in 1992. Hepburn concentrated on her charitable works for UNICEF up to the end of her life when, on January 20, 1993, she died of colon cancer.
Biographical information from Cinemania '95 and Audrey: A Life in Pictures by Carol Krenz.
Return to the Audrey Hepburn main page.