Cary Grant
Biography | Filmography | Awards | Downloads | Links | Image Credits | THE PHILADELPHIA STORY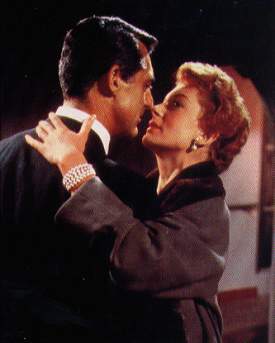 During the 1950s, the performance of Cary's films at the box office became somewhat hit-or-miss. Although he himself had remained independent of the major studios since 1937, his career was not immune to the decline of the studio system which had dominated the industry through the end of the 1940s. One of his major hits of the decade, however, was AN AFFAIR TO REMEMBER (1957), a romance first filmed as LOVE AFFAIR by director Leo McCarey in 1939 with Irene Dunne and Charles Boyer. Cary's co-star in the widescreen, color remake was Deborah Kerr.
"Can't you think of sometime spiteful, something mean that you could do?
Must you be so darn delightful? You make it easy to be true."
Still More Memorable Quotations:
"I have two ex-wives, a mother and several bartenders depending on me." --as Roger Thornhill in NORTH BY NORTHWEST (1959).
"A submarine's not designed to be co-educational." --as Commander Matt Sherman in OPERATION PETTICOAT (1959).
"Thank you, ladies. They won't be needing you any more. The epidemic is over." --as Commander Matt Sherman in OPERATION PETTICOAT (1959).
"We sank a truck!" --as Commander Matt Sherman in OPERATION PETTICOAT (1959).
"See, when a girl's under 21, she's protected by law. When she's over 65, she's protected by nature. Anywhere in between, she's fair game." --as Commander Matt Sherman in OPERATION PETTICOAT (1959).
"You see, a man's conscience is generally in direct opposition to his best interests." --as Philip Shayne in THAT TOUCH OF MINK (1962).
"Wow, when you come on, you come on, don't you?" --as Adam Canfield in CHARADE (1963).
"Do women think it feminine to be so illogical, or can't they help it?" --as Alexander Dyle in CHARADE (1963).
"Will you shut up, lady!" --as Walter Eckland in FATHER GOOSE (1964).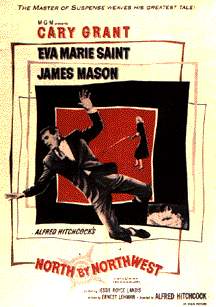 At the end of the 1950s, Cary was reunited with director Alfred Hitchcock for NORTH BY NORTHWEST (1959), also starring James Mason, Eva Marie Saint, Leo G. Carroll and Martin Landau.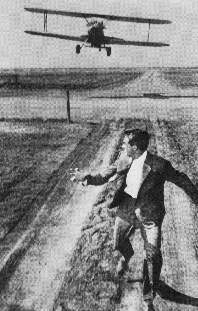 The famous chase scene -- Cary vs. the Crop Duster --in Hitchcock's NORTH BY NORTHWEST (1959). Another of the famous settings in this film is, of course, Mt. Rushmore in South Dakota.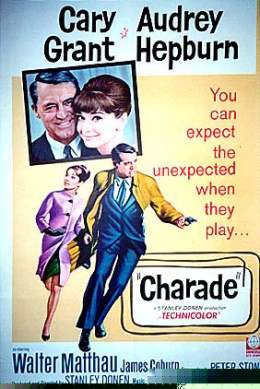 By the mid-1960s, audiences of all ages were still in love with Cary, but he himself had become wary of appearing opposite leading ladies who were less than half his age. Thus, when director Stanley Donen approached him about starring in writer Peter Stone's comedy-mystery CHARADE (1963) with Audrey Hepburn (which had been written especially for Cary), despite the stellar screenplay, Cary was reluctant. After a few script changes which reversed the romantic pursuit and called for Audrey to do the chasing, Cary acquiesced, and the result is one of the most delightful all-around fun films of Cary's career. Comedy, mystery, action, romance and adventure all rolled into Paris.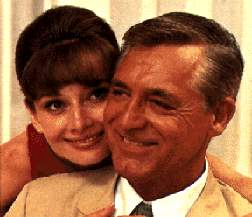 Cary with Audrey on the set of CHARADE (1963). Oddly enough, as great as this film is, Cary didn't care for the final result because despite the script changes, he thought he looked too old to be romancing Hepburn (25 years his junior).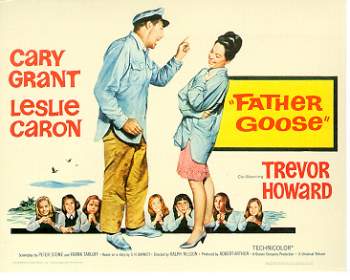 In one of his final films, FATHER GOOSE (1964), Cary finds himself responsible for Leslie Caron and her brood of female pupils fleeing from the Japanese during World War II.
Page 1 | Page 2 | Page 3 | Page 4
Biography | Filmography | Awards | Downloads | Links | Image Credits | THE PHILADELPHIA STORY