The Thin Man Movies
Filmography | Awards | Downloads | Image Credits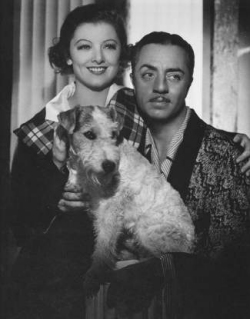 Spawned by the successful combination of screwball comedy and murder mystery in MGM's surprise hit THE THIN MAN (1934), The Thin Man Movies followed the sophisticated exploits of society detective Nick Charles (William Powell), his wife Nora (Myrna Loy) and their faithful dog Asta in a series of six films over thirteen years. Although the movies featured such up-and-coming MGM supporting players as Jimmy Stewart, Donna Reed, Maureen O'Sullivan (Tarzan's "Jane"), Penny Singleton (later "Blondie"), Virginia Grey, Gloria de Haven and Gloria Grahame, it was the chemistry between the series' stars, Powell and Loy, that kept audiences coming back year after year, even when the quality of the scripts themselves began to wane.

This page is still under construction.
Further Reading:
The Thin Man by Dashiell Hammett (New York: A.A. Knopf, 1934).
It's a print!: detective fiction from page to screen by William D. Reynolds and Elizabeth A. Trembley (Bowling Green, OH: Bowling Green State University Popular Press, 1994).
Screen couple chemistry: the power of 2 by Martha Nochimson (Austin, TX: University of Texas Press, 2002).
Investigating couples: a critical analysis of The Thin Man, The Avengers, and The X-files by Tom Soter (Jefferson, N.C.: McFarland, 2001).

More The Thin Man Links: