Howard Hawks
Awards | Bibliography | Links | Image Credits | THE BIG SLEEP
An Ivy League-educated storyteller who worked his way up from assistant prop man to become a screenwriter, director and producer, all before the movies could even talk, Howard Hawks eventually became one of the most consistent and commercially successful independent directors of the Studio System era, excelling in films ranging from screwball comedies and musicals to westerns, action-adventures and film noir crime dramas. And though his talents went largely unacknowledged by the Academy of Motion Picture Arts and Sciences -- likely due to his discreet style, which had a tendency to call attention to the personalities and performances of his stars rather than the the visual framework in which they appeared -- Hawks did receive an Honorary Oscar for career achievement in 1974.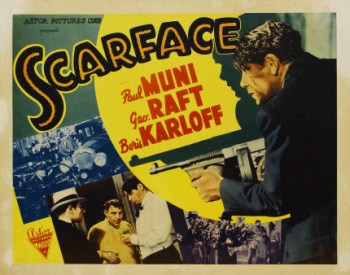 Beginning with THE ROAD TO GLORY (1925), Hawks directed a handful of silent films for Fox Film Corp. before the movies began to talk and his career really took off. For the Prohibition-era crime drama SCARFACE (1932), Hawks and screenwriter Ben Hecht interviewed colleagues of Chicago gangster Al Capone and based much of the surprisingly violent plot on the stories they recounted. Starring Paul Muni as title character Tony Camonte, SCARFACE depicts a bloody turf war between Camonte's gang and that of a bootlegger (Boris Karloff), as well as Camonte's struggles to keep control of his organization and his sister (Ann Dvorak) who has fallen in love with his best friend (George Raft). Although SCARFACE was part of a wave of gangster films made during the early 1930s -- foremost among them, LITTLE CAESAR (1930) and THE PUBLIC ENEMY (1931) -- and was not the most commercially successful of the genre, owing to its shocking violence, it exhibits an artistry and visual style which would become less explicit in his films as Hawks' career progressed.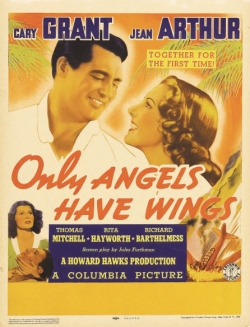 Having briefly trained as a flier during his service in World War I, Hawks' personal passion for aviation provided settings and scenarios for several films over the course of his career, beginning with THE AIR CIRCUS (1928), his first talking picture (although he didn't direct its talking scenes). Though Hawks' THE DAWN PATROL (1930), about the internal conflicts of a British squadron in France in 1915, was later remade by Warner Bros. in 1938 with Errol Flynn, shelving his version for several decades, the remake used much of Hawks' original screenplay, co-written with Seton Miller and Dan Totheroh, and based on the Oscar-winning story "The Flight Commander" by John Monk Saunders.

But foremost among his aviation pictures is ONLY ANGELS HAVE WINGS which Hawks wrote, produced and directed for Columbia Pictures in 1939. Starring Cary Grant as a tough-as-nails flier in charge of a flock of American pilots running a dangerous South American air mail route, and Jean Arthur as the wayward moll who falls in love with him but can't understand his callous attitude toward life and death, ONLY ANGELS HAVE WINGS is as much about male friendships in the face of constant risk and the pilots' personal and professional jealousies as it is about flying or Grant's off-and-on relationship with Arthur. Featuring strong supporting performances from the likes of Thomas Mitchell and Richard Barthelmess as well as an early screen appearance by Rita Hayworth, ONLY ANGELS HAVE WINGS earned Academy Award nominations for its black-and-white cinematography and special effects.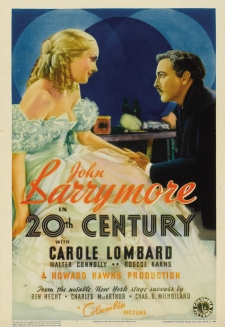 Many of Hawks' most enduring films are his screwball comedies, a genre many film historians give him credit for launching with TWENTIETH CENTURY (1934) (named after the famous New York-Chicago train), which tells the story of a fanatic Broadway producer (John Barrymore) who turns a shop girl (Carole Lombard) into a star and lets her go before becoming obsessed with getting her back. Hawks produced and directed the film, based on the hit play by Charles MacArthur and Ben Hecht, and imbued the theatrical farce with the quick pacing that would come to characterize the best of his screwball comedies.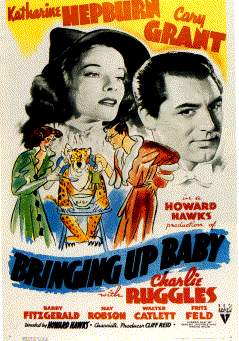 After making a handful of dramas for various studios, Hawks went to RKO to make another comedy, this time based on a short story he'd read in Collier's Magazine about an heiress (to be played by Katharine Hepburn) and a scientist (Cary Grant) chasing a dog in an effort to retrieve a valuable dinosaur bone. Despite its present-day status as a comedic masterpiece (it was ranked #14 on the AFI's list of the 100 Greatest Screen Comedies), at the time of its release, BRINGING UP BABY (1938) was a box office disaster, and Hawks lost his subsequent film assignment at RKO, the action-adventure GUNGA DIN (1939), as a result. Hawks later blamed BABY's commercial failure on the fact that he hadn't included a "normal" character against which to contrast the zaniness and eccentricities of everyone else in the film. However, there was a practical explanation as well. Katharine Hepburn had been labeled "box office poison" by a group of exhibitors shortly before BABY's release, and as a result, RKO did not put the full weight of the studio publicity machine behind the film, believing it a lost cause from the start.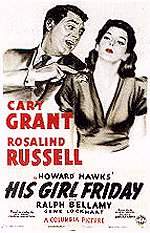 Hawks' subsequent comedy with Cary Grant, a remake of Charles MacArthur and Ben Hecht's THE FRONT PAGE (1934), renamed HIS GIRL FRIDAY (1940), fared much better. For this version of the story of a big-city newspaper editor who'll stop at nothing to keep his star reporter from getting married, Hawks came up with the idea of changing the character of the reporter from a man to a woman, introducing an entirely new dynamic to the already bewildering relationship between the two. After several of Hollywood's top screwball comediennes turned down the newly feminized role, Hawks cast Rosalind Russell as Hildy Johnson, Grant's star reporter and ex-wife, and a comedic masterpiece was born. Recognizing the instant chemistry between his two stars, Hawks allowed Grant and Russell to ad-lib some of their banter as long as they kept up to Hawks' pace. Hawks also tacked inconsequential words onto the beginning and end of the characters' lines so they could overlap their dialog without obscuring the parts of the lines that the audience needed to understand. The resulting film is one of the great gems of the screwball comedy genre.