Fred Astaire
Biography | Filmography | Awards | Articles | Bibliography | News | Links | Downloads | Image Credits | Screen Teams: Ginger Rogers and Fred Astaire | FUNNY FACE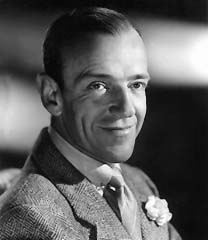 A lot of adjectives come to mind when one mentions Fred Astaire: debonair, poised, elegant, captivating. And nouns too, especially grace, sophistication and talent. He wasn't particularly handsome, nor did he have a singing voice comparable to so many of the romantic crooners of his day. But Astaire didn't need those standbys -- he could dance like no one else. His films with Ginger Rogers transformed the movie musical forever, and in them he proved that he wasn't just a dancer -- he was a talented light comedian too.

Astaire also had a way of singing songs as if he were carrying on a conversation -- making every word of every lyric matter. Composers like Gershwin, Berlin and Porter were inspired to write their best for him, because they knew his delivery would bring their tunes to life. Often imitated, but ne'er to be duplicated, Fred Astaire was one of a kind.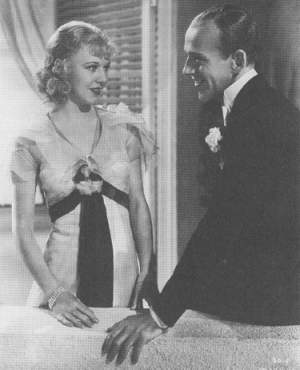 Fred Astaire came to Hollywood in the early 1930s to begin a new stage of his life-long career as an entertainer -- motion pictures. After a brief debut in DANCING LADY (1933) with Joan Crawford, RKO paired Astaire with one of their established second-lead comediennes, Ginger Rogers, and after one dance in a film called FLYING DOWN TO RIO (1933) in which both had supporting roles, the most famous duo ever to dance across the silver screen was established. Their string of nine musicals for RKO continued after RIO with THE GAY DIVORCEE (1934). At left is a publicity still from the film, the first to feature Fred and Ginger as the leads. And over the next six years, Fred would make only one picture without his most famous leading lady.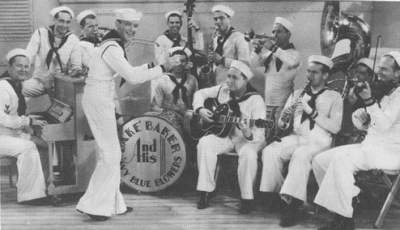 In FOLLOW THE FLEET (1936), the fifth film of the series, Fred plays a dancer- turned- sailor who runs into his old partner (Ginger) while on leave in San Francisco. As you might expect, dance and romance ensue.
In this scene, Bake Baker (Fred) leads his band, the "Navy Blue Blowers," in an on-board concert. But as it turns out, he spends more time dancing than directing. FOLLOW THE FLEET is the most laidback and informal musical of the series -- no top hats at all.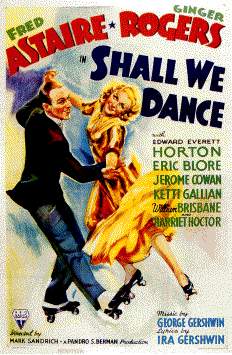 SHALL WE DANCE (1937) is not the strongest Astaire-Rogers film dance-wise, but it does feature a coherent plot and a wonderfully original number called "Let's Call the Whole Thing Off" which Ginger and Fred dance on roller skates. After this, the pair would make two more musicals for RKO and then wait almost a decade before they met for the tenth and final time in MGM's THE BARKLEYS OF BROADWAY (1949).
For more on their films together, see the Classic Screen Teams: Ginger Rogers and Fred Astaire section.
Memorable Quotations:
Go to the next page.
Main Page | Page 2 | Page 3 | Page 4 | Page 5 | Page 6