My Fair Lady (1964)
Cast | Crew | Awards | Articles | Lyrics | Bibliography | Gallery | Downloads | Links | Image Credits
MY FAIR LADY opens outside the Royal Opera House at Covent Garden in London where a performance of "Faust" has just let out, and a few wealthy theatergoers find themselves sheltering from a sudden downpour on a curb alongside members of the working class. A disturbance develops when Cockney flower girl Eliza Doolittle finds out a strange gentleman has been secretly writing down what she has been saying as she attempted to sell violets to the exiting theatre patrons. Believing the man to be a detective, Eliza vehemently denies any wrongdoing and begins wailing, whereupon Henry Higgins reveals he is a language professor, not a detective, and her only crime is "the cold-blooded murder of the English tongue." He soon launches into an academic diatribe about the inattention being paid to proper speech by English educators, singing "Why Can't the English Teach Their Children How To Speak?" At the end of the downpour, having made his point, Professor Higgins tosses Eliza a few shillings and goes home.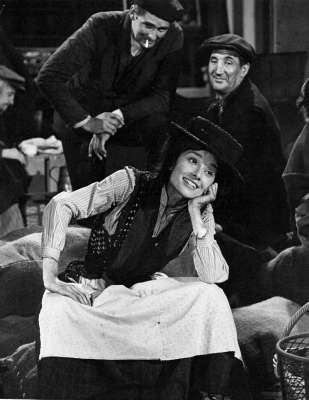 Thinking back on Professor Higgins' comment that, with a few English lessons, in six months he could pass her off as a duchess at the embassy ball, Eliza begins to let her imagination run wild and sings "Wouldn't It Be Loverly?"

"Wouldn't It Be Loverly" (clip) sung by Marni Nixon (a .MP3 file courtesy Sony Music Entertainment).

"Wouldn't It Be Loverly" (outtake) (clip) sung by Audrey Hepburn (a .MP3 file courtesy Sony Music Entertainment).
(For help opening the multimedia files, visit the plug-ins page.)
Although Audrey Hepburn had done her own singing in FUNNY FACE (1957) and BREAKFAST AT TIFFANY'S (1961) and had every intention of doing so again, during the filming of MY FAIR LADY, it became clear to the producers that Lerner and Loewe's almost-operatic songs for Eliza were beyond the scope of Hepburn's vocal power and range. Soprano Marni Nixon was brought in to re-record the songs, some of which (like "Wouldn't It Be Loverly?") had already been filmed, requiring Nixon to dub her version of the number to the existing footage. In most cases however, Nixon was able to pre-record the song using guidance from both Hepburn and director George Cukor as to character motivation and the way the song should be interpreted. For those numbers, Hepburn simply lip-synced to Nixon's playback during filming.
As famous as Nixon's "ghost singing" in MY FAIR LADY eventually became, it was hardly the first time such a situation had occurred. Hollywood's biggest studios employed trained voices to fill in for non-singing stars in such famous movie musicals as STATE FAIR (1945), THE HARVEY GIRLS (1946), THREE LITTLE WORDS (1950), SHOW BOAT (1951), THE BAND WAGON (1953), CARMEN JONES (1954), LES GIRLS (1957), SOUTH PACIFIC (1958), GIGI (1958), PORGY AND BESS (1959) and FLOWER DRUM SONG (1961). Nixon herself had already leant her voice to Deborah Kerr in THE KING AND I (1956) and Natalie Wood in WEST SIDE STORY (1961).
Although Nixon's dubbing work was always uncredited, she did not wish to remain an anonymous ghost. Deborah Kerr herself told columnist Hedda Hopper that Nixon was supplementing her singing in THE KING AND I (*2), and in 1962 after winning a legal battle for soundtrack royalty rights, Nixon revealed her WEST SIDE STORY work as part of a campaign demanding that ghost singers receive screen credit. Anxious to avoid further controversy over their casting choice, Warner Bros. included a confidentiality clause in Nixon's contract that barred her from disclosing her work on MY FAIR LADY. Only days before the film's New York premiere in October 1964 however, Nixon gave an interview and the story was out.
A few months later, when Audrey Hepburn failed to receive a Best Actress nomination for her performance in MY FAIR LADY, many of Hepburn's supporters blamed the flurry of adverse publicity surrounding Nixon's disclosure for rekindling the original casting controversy. And when Julie Andrews won the Best Actress Oscar for her film debut performance in MARY POPPINS, the anecdote's place in Academy Awards trivia books was assured. As gracious off screen as she appeared on, Audrey Hepburn attended the Academy Awards ceremony in April 1965 and even presented Rex Harrison with his Best Actor Oscar.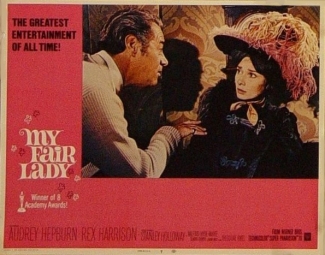 Attracted by Professor Higgins' boast that he could teach her to speak better English and get her a job in a flower shop, Eliza arrives at 27A Wimpole Street in a taxi, dressed in her best and prepared to pay a shilling for English lessons. Completely impervious to her airs, Professor Higgins callously and repeatedly insults her, calling her "deliciously low," "horribly dirty" and a "draggle-tailed guttersnipe."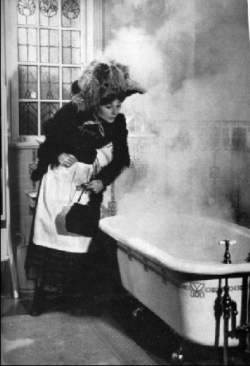 "I ain't dir'y! Ah washed ma face 'n 'ands before I come, I did." --Eliza.
Higgins' friend, Colonel Pickering (Wilfred Hyde-White), bets the professor all the costs of the experiment that his proposed makeover of Eliza will fail to convince anyone, and Higgins' accepts the challenge. As the insults continue, Eliza makes up her mind to leave but instead finds herself bribed with chocolates and virtually abducted into Professor Higgins' house. She is next subjected to the ultimate humiliation of being bundled off to the bathroom by the housekeeper, Mrs. Pearce (Mona Washbourne), sanitized against her will, and wrapped in brown paper until some new clothes can be purchased for her.
"Ooo! Wha's this? Is this where ye wash clothes?" --Eliza.
More Memorable Quotations:
"Ah'm a good girl, Ah am." --Eliza (a .WAV file).
"Eliza, you are to stay here for the next six months learning how to speak beautifully, like a lady in a florist shop. If you are good and do whatever you're told, you shall sleep in a proper bedroom, have lots to eat, and money to buy chocolates and take rides in taxis.
"But if you are naughty and idle, you shall sleep in the back kitchen amongst the black beetles, and be walloped by Mrs. Pierce with a broom stick!
"At the end of six months, you shall be taken to Buckingham Palace in a carriage beautifully dressed. If the king finds out that you're not a lady, the police will take you to the Tower of London where your head will be cut off as a warning to other presumptuous flower girls. But if you are not found out, you shall have a present of seven-and-six to start life with as a lady in a shop.
"If you refuse this offer, you will be the most ungrateful, wicked girl, and the angels will weep for you." --Professor Higgins.
(For help opening the multimedia files, visit the plug-ins page.)
Footnotes:
Go to the next page.
Page 1 | Page 2 | Page 3 | Page 4 | Page 5 | Page 6