My Fair Lady (1964)
Cast | Crew | Awards | Articles | Lyrics | Bibliography | Gallery | Downloads | Links | Image Credits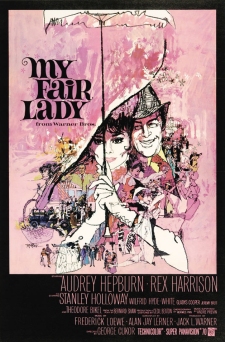 In Greek mythology, Pygmalion, the king of Cyprus, found so much fault in womankind that he resolved to live unmarried. But after painstakingly sculpting a statue of a beautiful woman that he named Galatea, he came to regard his creation as so perfect that he fell in love with her. In 1913, Irish playwright George Bernard Shaw adapted the myth to modern-day England and used his play about a phonetics professor's efforts to refine the speech and manner of a cockney flower girl for life among the gentry as a platform for social critique, demonstrating the artificiality of class distinctions in turn-of-the-century British society. In 1956, songwriters Alan Jay Lerner and Frederick Loewe musicalized Shaw's "Pygmalion," and when film producer Jack L. Warner saw the Broadway premiere of MY FAIR LADY, he immediately began making plans for the most lavish movie musical in the history of Warner Bros.
Despite the fact that MY FAIR LADY was met with immediate critical acclaim and eventually became one of the most commercially successful plays in the history of international musical theatre, when Warner Bros. paid a record $5.5 million for the screen rights, it was by no means certain that the film's success was predestined. In fact, the production was embroiled in controversy from the moment it was announced that English soprano Julie Andrews, who had made flower girl Eliza Doolittle famous in the New York and London stage shows, had been passed over in the film's casting for Audrey Hepburn.
As Jack Warner later explained in his autobiography: "Why did I choose Audrey Hepburn instead of Julie Andrews, the original Eliza (for 'My Fair Lady')? There was nothing mysterious or complicated about that decision. With all her charm and ability, Julie Andrews was just a Broadway name known primarily to those who saw the play. But in Clinton, Iowa and Anchorage, Alaska, and thousands of other cities and towns in our 50 states and abroad you can say Audrey Hepburn, and people instantly know you're talking about a beautiful and talented star. In my business I have to know who brings people and their money to a movie theatre box office. I knew Audrey Hepburn had never made a financial flop..." (*1)
Warner Bros. paid Hepburn a flat salary of $1 million for her work on MY FAIR LADY, making her only the second actress in the history of Hollywood to receive a seven-figure sum for a single film. (Elizabeth Taylor as CLEOPATRA (1963) was the first.)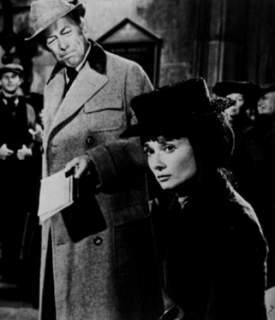 After some hesitation on the part of the producers, Rex Harrison was asked to reprise his Tony award-winning stage performance for the film, and the success of both the stage and screen versions of MY FAIR LADY made irascible phonetics professor Henry Higgins the most famous role of Harrison's long career.

"Row at Covent Garden" between Eliza and Professor Higgins (a .AVI file courtesy 20th Century-Fox).
(For help opening the multimedia files, visit the plug-ins page.)
Despite the fact that Harrison's singing voice was closer to speaking on pitch than actual singing, the actor refused to pre-record his musical numbers for the film, explaining that he had never sung the songs the same way twice and thus couldn't pre-record them and convincingly lip-sync to a playback during filming as musical stars had been doing in Hollywood since the dawn of talking pictures. (For more information on lip-syncing, read the Tech Talk article on Recording Musical Numbers for Musical Films.) In order to permit Harrison to sing his songs live during filming, the Warner Bros. Studio Sound Department, under the direction of George Groves, implanted a wireless microphone in Harrison's neckties, marking the first time in film history that a wireless mic was used to record sound during filming. Both the sound department and Harrison earned Academy Awards for their efforts.
In fact, in the history of movie musicals, only GIGI (1958) has earned more Oscar recognition than MY FAIR LADY. Of the twelve Academy Awards for which the film was nominated in 1964, MY FAIR LADY took home eight statuettes including Best Director (George Cukor), Scoring, Costumes, Art/Set Direction, Color Cinematography and Best Picture of the Year. (In 1958, GIGI had earned nine.)
Memorable Quotations:
"Yes, you squashed cabbage leaf; you disgrace to the noble architecture of these columns; you incarnate insult to the English language! I could pass you off as the Queen of Sheba." --Professor Higgins.
"Not a brass farthing." --Eliza.
"And remember, that's your handkerchief and that's your sleeve. And don't confuse the one with the other if you want to become a lady in a shop." --Professor Higgins (a .WAV file).
"By George, Eliza. The streets will be strewn with the bodies of men shooting themselves for your sake before I've done with you." --Professor Higgins.
(For help opening the multimedia files, visit the plug-ins page.)
Footnotes:
Go to the next page.
Page 1 | Page 2 | Page 3 | Page 4 | Page 5 | Page 6