My Fair Lady (1964)
Cast | Crew | Awards | Articles | Lyrics | Bibliography | Gallery | Downloads | Links | Image Credits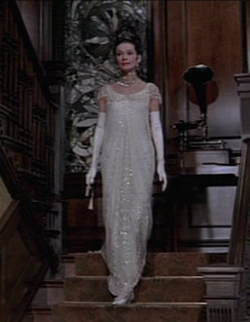 After the setback at Ascot, Pickering attempts to call off the experiment, but Higgins will hear nothing of it. In due time, the day of the embassy ball arrives. Higgins and Pickering go shopping for Eliza, renting dazzling jewelry to compliment the simple, flattering, beaded French design they have chosen for her. When she walks down the stairs fully dressed and coiffed, even Higgins is forced to pay her a compliment: "Not bad. Not bad at all."
Bolstered by a glass of port, Higgins and Pickering escort Eliza out the front door, and the almost three-hour film breaks for the Intermission.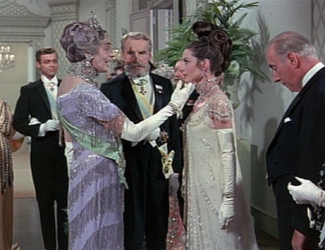 Nervously glancing at Higgins and Pickering for reassurance, Eliza is taken in hand by Mrs. Higgins and quickly becomes the belle of the ball. The Queen of Transylvania (played by Cukor's friend, Baroness Rothschild) even invites Eliza to dance with her son, the Prince.

"Charming. Quite Charming." --Queen of Transylvania.
"Miss Doolittle, ma'am." --Ambassador (a .WAV file).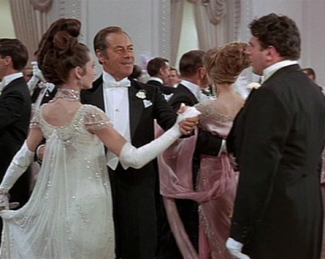 "Thank goodness for Zoltan Karpathy. If it hadn't been for him, I'd have died of boredom... That blackguard uses the science of speech more to blackmail and swindle than teach!" -- Professor Higgins.
Higgins becomes so confident in Eliza's performance that he even introduces her to Karpathy (Theodore Bikel), a Hungarian language expert who exposes aristocrats of dubious heritage.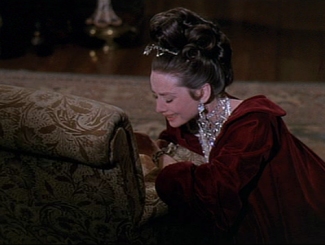 At the end of the evening, Higgins, Pickering and Eliza return home from the ball where the gentlemen laugh, congratulate each other heartily and "thank God it's all over," completely ignoring Eliza and her continuing anxieties.

"An Immense Achievement" (a .AVI file courtesy 20th Century-Fox).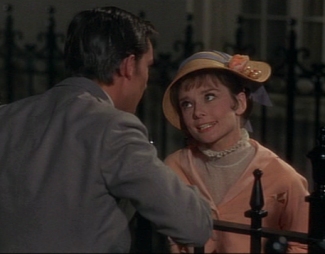 Fed up with Higgins' disregard for her feelings, Eliza hurls his slippers at him, packs her things and leaves in the middle of the night. On the front porch, she discovers Freddie, still enamored with her, still waiting. When he begins to make love to her by reciting verses, she informs him she has heard enough words: "Don't talk of stars burning above. If you're in love, show me!" She then heads back to Covent Garden.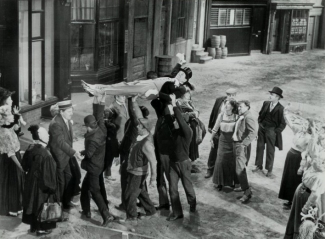 Her old friends no longer know her however, and instead Eliza finds her father decked out in a morning suit, doling out money to old friends.
"Why do you think I'm dressed up like a ruddy pallbearer? Your stepmother wants to marry me. Now I'm respec'able, she wants to be respec'able." --Alfie.
As it turns out, Professor Higgins delivered Alfie "into the hands of middle class morality" by recommending him to a wealthy American anxious to support worthy moralists and moral reform societies in England. Despairing the burdensome responsibilities his newfound wealth has brought him, Alfie is determined to live it up one last time before his wedding the following morning. "There're drinks and girls all over London," Alfie sings, but "Get Me To the Church On Time".
Video Clip:
"All Finished Here" (a .AVI file courtesy 20th Century-Fox).
*This clip is a prime example of why you have to see this film in the widescreen (letterboxed video or DVD) version. Notice how there are three characters in the scene, but when resized for television, the picture only accommodates two of them. Thus, when Eliza talks to Freddie, the pan-and-scan operator swings to the right to include Freddie, and when Eliza talks to Alfie, the pan-and-scan swings to the left to show Alfie. The sweeping camera movement required by the pan-and-scan to keep the picture in context with the dialogue is terribly distracting, whereas if this clip were of the widescreen version, all three characters would be visible from the start, and you would see them continuously throughout the scene as the filmmakers intended.
(For help opening the multimedia files, visit the plug-ins page.)
Go to the next page.
Page 1 | Page 2 | Page 3 | Page 4 | Page 5 | Page 6