George Stevens
Awards | Downloads | Image Credits | Links | SWING TIME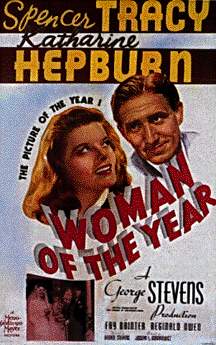 In 1942, Stevens made his third and final picture with the actress who had set him on the path to directorial success just seven years earlier -- Katharine Hepburn. In MGM's WOMAN OF THE YEAR (1942), Stevens directed Kate in her first ever film with veteran actor Spencer Tracy. The romantic comedy features Tracy as a sports reporter who succeeds in deflating the ego of Hepburn (a noted political commentator) long enough for romance to develop. The scene in which Hepburn attends her first baseball game is one of several highlights, and under Stevens' guidance, she earned a Best Actress nomination for the performance. Following their combined success in WOMAN OF THE YEAR, Hepburn and Tracy would go on to make eight more films together, becoming one of the most popular on-screen twosomes in movie history.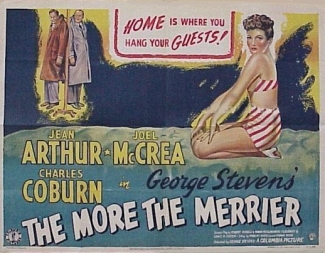 Also earning an Oscar nomination for her performance in a Stevens romantic comedy was squeaky silver screen comedienne Jean Arthur who, when forced to share her wartime apartment with Joel McCrea and Charles Coburn, cries so hard the audience just can't stop laughing. THE MORE THE MERRIER was Stevens' fourth major box office hit in a row and the recipient of six Oscar nominations.
Soon after completing THE MORE THE MERRIER in 1943 (a film for which he received both a Best Director and a Best Picture Oscar nomination -- the first of five times he would be so honored), Stevens joined the U.S. Army Signal Corps. With the rank of major, he led the special motion picture unit assigned to photograph the activities of the Sixth Army during World War II, including the Normandy beach landings on D-Day in June 1944, the Allies marching into Paris in August 1944, and the liberation of the Dachau concentration camp in Germany in April 1945. Some of the footage Stevens and his men shot is the only known color footage of the war in Europe, and almost twenty years after his death in 1975, Stevens' son George Stevens Jr. compiled much of his father's wartime work into a made-for-TV documentary entitled "George Stevens: D-Day to Berlin" (1994).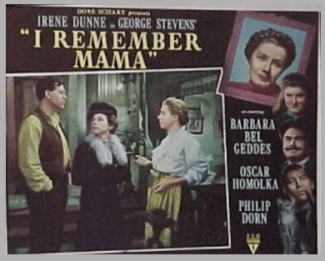 After being discharged from the army as a Lt. Colonel in 1945, Stevens took some time off before returning to filmmaking. Eventually, in 1948, he directed Irene Dunne to an Academy Award nomination for her performance as the head of a Norwegian family living in turn-of-the-century San Francisco in I REMEMBER MAMA. Based on the novel by Kathryn Forbes (played by Barbara Bel Geddes), the film was praised for its warm family atmosphere and light comic touches.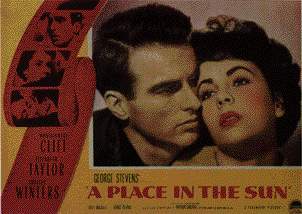 After another three years, Stevens won his first Best Director Academy Award for his 1951 adaptation of Theodore Dreiser's novel An American Tragedy, A PLACE IN THE SUN. Starring Elizabeth Taylor, Montgomery Clift and Shelley Winters with Anne Revere and Raymond Burr, it received a total of six Oscars and was nominated for Best Picture. Haunting and heart-wrenching, A PLACE IN THE SUN is quite possibly Stevens' greatest filmmaking achievement.
Music Clip:
"Suite" (clip) by Franz Waxman (a .MP3 file).
(For help opening any of the multimedia files, visit the plug-ins page.)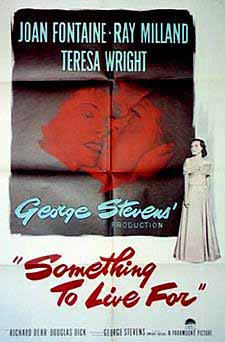 Though not a great box-office success due in part to its depressing subject matter, Stevens both produced and directed SOMETHING TO LIVE FOR (1952) starring Joan Fontaine, Ray Milland and Teresa Wright, the story of a recovering alcoholic who lets his commitment to helping a fellow alcoholic separate him from his own supportive wife and family.