George Stevens
Awards | Downloads | Image Credits | Links | SWING TIME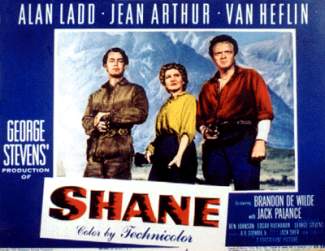 In 1953, Stevens returned to the western genre for the first time in almost two decades, directing and producing the critically acclaimed drama SHANE. Nominated for six Academy Awards including Best Picture and Best Director, the film took home a statuette for Best Color Cinematography. Also starring Alan Ladd, Jack Palance and Van Heflin, SHANE marked the final film appearance of silver screen star Jean Arthur.
Music Clip:
"Opening" (clip) by Victor Young (a .MP3 file).
(For help opening any of the multimedia files, visit the plug-ins page.)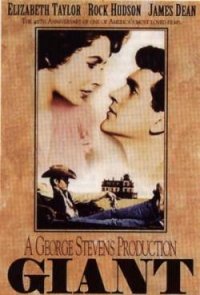 Three years later, Stevens produced and directed another western, GIANT (1956), a $5 million epic about the multi-generational romances of a Texas cattle family, based on the novel by Edna Ferber and starring three of the biggest stars of the mid-1950s, Elizabeth Taylor, Rock Hudson and James Dean. His work on the film earned Stevens his second Best Director Oscar, but his statuette was the sole award the film received from its amazing ten Academy Award nominations. In the Best Picture category, GIANT lost to another star-studded epic, AROUND THE WORLD IN EIGHTY DAYS (1956), though half-a-century later, GIANT has better weathered the test of time.
Music Clip:

"Theme - Giant" (clip) by Dmitri Tiomkin (a .MP3 file).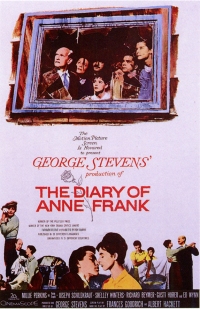 Following his western epic GIANT, Stevens spent three years preparing to tackle the more intimate and highly sensitive subject matter of THE DIARY OF ANNE FRANK (1959). This story of eight Jews hiding from the Nazis in a secret annex in wartime Amsterdam was adapted from a stage production based on the diary of a young holocaust victim who chronicled in detail her almost two years in hiding. Starring a then-unknown Millie Perkins in the title role and featuring Oscar-nominated supporting performances by veterans Shelley Winters and Ed Wynn, ANNE FRANK received somewhat mixed reviews from critics who felt Perkins' lack of acting experience detracted from the film as much as her fresh simplicity added to it. Nevertheless, Stevens' accomplishments were rewarded yet again by the Academy which bestowed eight Oscar nominations on the film.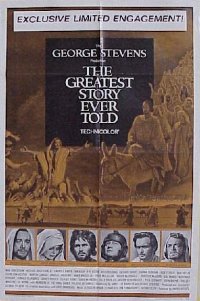 In one of the most extensive undertakings of his career, Stevens spent years preparing and filming a star-studded epic about the life of Jesus Christ, THE GREATEST STORY EVER TOLD (1965). Featuring dozens of recognizable Hollywood faces including Charlton Heston, Angela Lansbury, Roddy McDowell, Sidney Poitier, Dorothy McGuire, John Wayne and Claude Rains, the film's original 4+ hour running time was eventually edited down to 3.5 for general release, but even the cuts couldn't correct the film's fundamental flaw -- the distracting impact of seeing so many stars in cameo roles. This criticism aside however, GREATEST STORY is still quite an achievement.
Music Clip:

"Theme" (clip) by Alfred Newman (a .MP3 file).
Further Reading:
Giant: George Stevens, a life on film by Marilyn Ann Moss (Madison, Wis.: University of Wisconsin Press, c2004).
George Stevens: interviews edited by Paul Cronin (Jackson: University Press of Mississippi, c2004).
A theory of American film: the films and techniques of George Stevens by Bruce Petri (New York: Garland Pub., 1987).
George Stevens, an American romantic by Donald Richie (New York: Garland Pub., 1985, c1970).
Page 1 | Page 2 | Page 3
Awards | Downloads | Image Credits | Links | SWING TIME