George Stevens
Awards | Downloads | Image Credits | Links | SWING TIME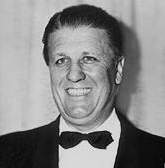 Beginning his career as an assistant cameraman and gag writer for low-budget westerns and Laurel & Hardy comedy shorts in the 1920s and early 1930s, George Stevens eventually progressed through the ranks to become one of classic Hollywood's most reliable producer-directors, earning five Academy Award nominations as Best Director and winning the Oscar twice. Though his films lack a signature visual style, they are marked by compelling performances and notable cast chemistry. Further, their engaging all-American story lines and subtle sentimentality make Stevens one of the Hollywood's foremost chroniclers of the pursuit of the American Dream.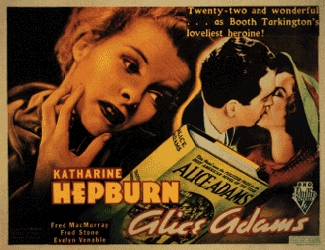 Stevens' earliest directorial efforts were comedy shorts made for producer Hal Roach at Universal, but he soon moved to RKO where he was permitted to direct a few feature-length comedies. In 1935, RKO star Katharine Hepburn chose Stevens to direct her in ALICE ADAMS, from Booth Tarkington's novel about a lower-middle class girl with big dreams. Kate's vote of confidence and the film's success launched Stevens career.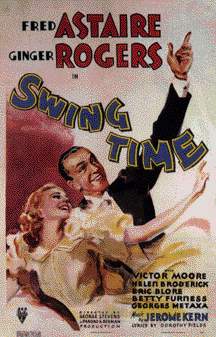 The following year, Stevens was chosen to lead the studio's most famous screen team, Fred Astaire and Ginger Rogers, in the sixth of the dancing duo's nine musicals for RKO, SWING TIME (1936). By all standards one of the best films in the series, SWING TIME features plenty of light comedy and such memorable musical numbers as "Pick Yourself Up," "The Way You Look Tonight" and "Never Gonna Dance." It was Ginger's favorite of her films with Astaire and the best of the four musicals Stevens' directed over the course of his career.

"Original Theatrical Trailer" with Ginger Rogers, Fred Astaire, Victor Moore, Helen Broderick and Eric Blore (a .MOV file).
(For help opening any of the multimedia files, visit the plug-ins page.)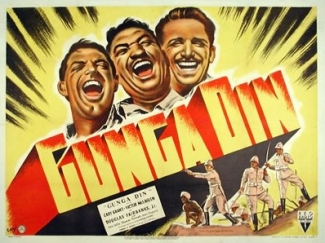 Stevens' also brought a light touch to GUNGA DIN (1939), an action-adventure film based on Rudyard Kipling's poem about British soldiers trying to stop a native uprising in 19th century colonial India. Starring Cary Grant, Victor McLaglen and Douglas Fairbanks Jr., GUNGA DIN is as fun-loving and red-blooded a war story as exists on film. The plotline may no longer be politically correct, but its adventure value still holds.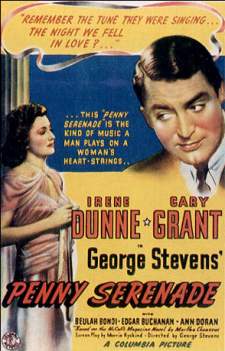 Beginning with the romantic comedy VIVACIOUS LADY (1938), Stevens began to exert more creative control over his films, producing them as well as directing them, and significantly increasing his stature among Hollywood directors of the time. Soon afterwards, he left RKO to freelance, choosing and developing his own projects (often for several years) at a variety of studios for the remainder of his career.
In 1941, Stevens directed Cary Grant to his first Oscar nomination for his performance as a cocksure newspaperman who struggles to become a responsible family man in Columbia's romantic drama PENNY SERENADE. Co-starring Irene Dunne along with Beulah Bondi and Edgar Buchanan, the film successfully combined touching comic, tear-jerking tragic and heart-warming romantic elements into an all-around crowd pleaser and box-office success.