Alfred Hitchcock
Filmography | Awards | Teresa Wright on Hitchcock | Downloads | Image Credits | Links | SHADOW OF A DOUBT | REBECCA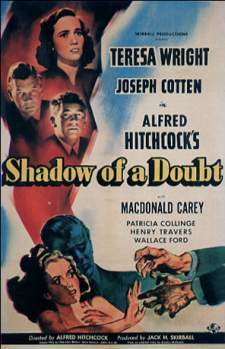 In 1943, Hitchcock teamed with playwright Thornton Wilder and went on location in Santa Rosa, California to create SHADOW OF A DOUBT (1943), one of his most neglected masterpieces. Featuring Teresa Wright as a young woman who fears her Uncle Charlie (Joseph Cotten) may be a hunted murderer, and also showcasing memorable character performances by Patricia Collinge and Hume Cronyn, SHADOW OF A DOUBT, Hitchcock often remarked, was the director's personal favorite of all his films.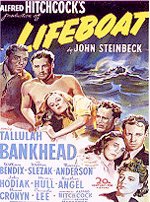 His next film, LIFEBOAT (1944), told the story of a group of shipwrecked passengers stranded in a lifeboat, and starred Tallulah Bankhead alongside William Bendix, Walter Slezak, John Hodiak and Hume Cronyn. It is unique among Hitchcock's films (and films of the period) because all the action is confined to a single set. (Incidentally, this isolated staging required Hitchcock to make his cameo in a newspaper ad.)
Music Clip:

"Disaster" (clip) from LIFEBOAT (1944) by Hugo Friedhofer (a .MP3 file).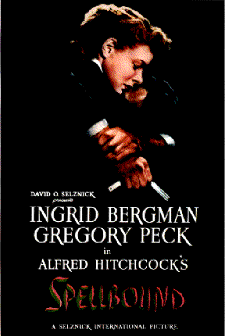 In the first of three films Hitchcock would make with David O. Selznick's Swedish import Ingrid Bergman, SPELLBOUND (1945), the director delved into the still-fledgling science of psychoanalysis and hired surrealist artist Salvador Dali to work as art director on the film's famed dream sequence. Though its simplistic approach to analysis dates SPELLBOUND a little, the film is still a fascinating piece of movie making, and co-stars Gregory Peck in one of his earliest screen roles.
Music Clip:

"The Dream Sequence" (clip) from SPELLBOUND (1945) by Miklos Rozsa (a .MP3 file).
(For help opening any of the multimedia files, visit the plug-ins page.)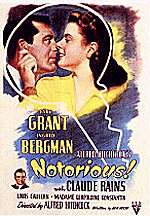 Hitchcock's second film with both Ingrid Bergman and Cary Grant, NOTORIOUS (1946), proved to be another smashing critical and box-office success, this time about the daughter of a convicted Nazi spy who agrees to go undercover for the American government in Rio di Janeiro and spy on her father's former associates, including Claude Rains. The key featured on the poster at left is an important prop in NOTORIOUS, and in 1979 when Hitchcock was honored by the American Film Institute with the organization's Lifetime Achievement Award, Ingrid Bergman presented the key to Hitchcock as a token of good luck.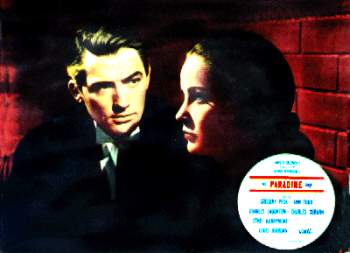 Hitchcock's last film under his contract with Selznick was THE PARADINE CASE (1947), the story of a defense attorney (Gregory Peck) who becomes obsessed with the guilt or innocence of his client (Alida Valli), a women accused of murdering her husband.
Music Clip:

"The Paradine Case" (clip) by Franz Waxman (a .MP3 file).
Go to the next page.
Page 1 | Page 2 | Page 3 | Page 4 | Page 5