Olivia de Havilland
Biography | Filmography | Awards | Article | Bibliography | Links | Downloads | News | Image Credits | GONE WITH THE WIND | Screen Teams: Errol Flynn & Olivia de Havilland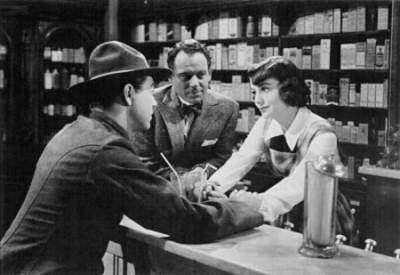 The film which really heralded de Havilland's return however, was TO EACH HIS OWN (1946), the story of a young girl whose wartime romance leads to unwed motherhood and a lifelong struggle to be near the child she can never acknowledge as her own.

In the film, de Havilland's character evolves through both world wars and ages almost thirty years from the early scenes in 1917 America (as in the still above with Phillip Terry and Bill Goodwin) to its finale in 1944 London. Her outstanding character development earned de Havilland her first Oscar as Best Actress of the year. Read an extensive article on TO EACH HIS OWN by Jack Shadoian for more on the film and its director, Mitchell Leisen.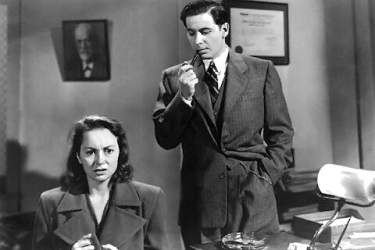 A still with Dr. Mark Kirk (Leo Genn) in THE SNAKE PIT (1948), one of Hollywood's first films to deal seriously with the issue of mental breakdown. De Havilland plays Virginia Stuart Cunningham (the mental patient) in this drama, which also features Celeste Holm and Beulah Bondi.

THE SNAKE PIT was nominated for six Academy Awards including Best Picture and Best Actress (de Havilland), but only took home the statuette for sound recording. While an interesting look at life in a mental institution, one is not completely sure at the end of the picture what its objective was. There is no denying that de Havilland gives a convincing and impressive performance however, and THE SNAKE PIT marked another high point in her career after the two less-remarkable films that followed TO EACH HIS OWN (1946) (DEVOTION (1946), a biopic of the Brontė sisters which she had made before her break with Warners, and THE DARK MIRROR (1946) in which she plays identical twins suspected of murder).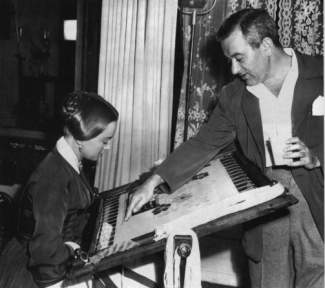 Following her triumph in THE SNAKE PIT, de Havilland saw the play version of Henry James' novel Washington Square in New York, decided she wanted to make the film, and set out to get the screen rights. She personally picked William Wyler (at right, giving her needlepoint instruction on the set) to direct and produce THE HEIRESS (1949), and de Havilland's instinct for a good story and compelling character served her well.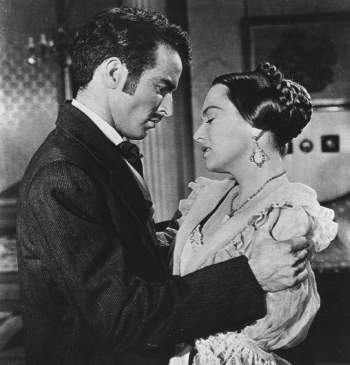 Her portrayal of the socially inept spinster Catherine Sloper who falls in love with gold- digger Morris Townsend (Montgomery Clift, left) over the objections of her stern father (Ralph Richardson) won de Havilland her second Best Actress Oscar, and the film itself received seven other nominations (including Best Picture) and three artistic awards. In the years that followed, the pace of de Havilland's film work slowed as she became disenchanted with the future of the movie industry and pursued other interests.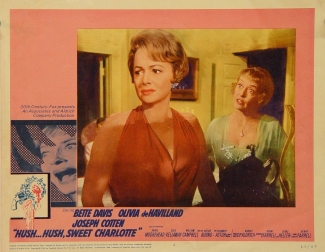 In one of her last major films, HUSH... HUSH, SWEET CHARLOTTE (1965), de Havilland took over the role of Bette Davis's cousin Miriam when Joan Crawford became ill. This campy thriller about a Louisiana recluse with skeletons in her closet, featuring an all-star cast including Joseph Cotten, Mary Astor and Agnes Moorehead, was quite popular in its day and introduced an interesting twist to the usual Olivia-the-good, Bette-the-bad type casting of the two former Warner Bros. icons.
Page 1 | Page 2 | Page 3 | Page 4 | Page 5
Biography | Filmography | Awards | Article | Bibliography | Links | Downloads | Image Credits | Her Address | GONE WITH THE WIND | Screen Teams: Errol Flynn & Olivia de Havilland