Olivia de Havilland
Biography | Filmography | Awards | Article | Bibliography | Links | Downloads | News | Image Credits | GONE WITH THE WIND | Screen Teams: Errol Flynn & Olivia de Havilland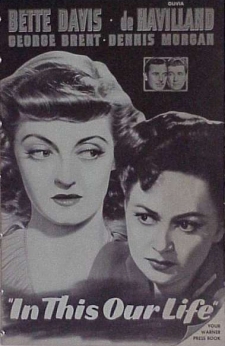 By 1942, de Havilland had begun asserting herself in her differences of opinion with the studio over roles, and she frequently found herself on suspension for refusing scripts. Among those films she did choose to make was IN THIS OUR LIFE, in which de Havilland and Bette Davis received co-star billing over their male counterparts George Brent and Dennis Morgan. Loosely based on Ellen Glasgow's Pulitzer Prize- winning novel, IN THIS OUR LIFE continued the by-now standard juxtaposition of Olivia-the-good and Bette-the-bad. This time Bette ran away with the film (and sister Olivia's husband) with a histrionic, over-the-top performance as a spoiled younger daughter who frames a young black man for a hit-and-run which she committed. De Havilland's performance is noteworthy but the film is most interesting for its treatment of race relations in the early 1940s.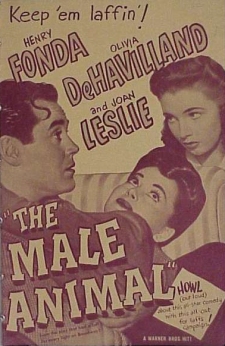 Back to comedy, de Havilland co-starred with Henry Fonda, Joan Leslie and Jack Carson in the film adaptation of Elliott Nugent and James Thurber's Broadway success, THE MALE ANIMAL (1942), about a college professor (Fonda) defending his teaching methods against an anti-communist inquisition. If this plotline doesn't sound terribly funny, it's not. The humor comes from a integrated subplot in which former football star Carson rekindles his romance with old flame de Havilland (Fonda's wife). Although de Havilland has a few good moments in this film, the mixture of comedy with a subject no longer considered a laughing matter dates the film a little and detracts from its overall effect. Ten years later it was updated and filmed as a musical with Ronald Reagan, Virginia Mayo and Gene Nelson called SHE'S WORKING HER WAY THROUGH COLLEGE (1952).
More Memorable Quotations:
"I'll wager ten minutes after you were born you were telling the doctor what to do!" --as Abbie Irving in DODGE CITY (1939).
("Libby, it's positively unmaidenly!" --Gene Lockhart as Samuel Bacon Esq.)
response to her father: "After today that won't matter." --as Libby Bacon in THEY DIED WITH THEIR BOOTS ON.
" 'zactly!" --as Amy Lind in THE STRAWBERRY BLONDE.
"An outmoded, silly convention started by the cavemen and encouraged by the florists and jewelers. After all, what's marriage?" --as Amy Lind in THE STRAWBERRY BLONDE.
"Parks are for the very rich or the very poor." --as Roy Timberlake in IN THIS OUR LIFE.
"Out of everywhere into nowhere. Is that a poem or a wish?" --as Roy Timberlake in IN THIS OUR LIFE.
"I-- love-- you." --as Catherine Sloper in THE HEIRESS.
"Yes, I can be very cruel. I have been taught by masters." --as Catherine Sloper in THE HEIRESS.
"We don't have time for regrets now, Drew, and there is a lot to regret." --as Miriam Deering in HUSH... HUSH, SWEET CHARLOTTE.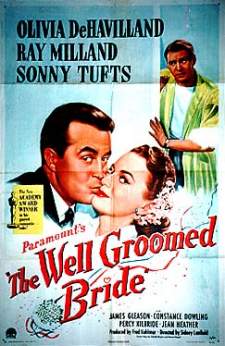 After a two-year court battle by which she won release from her seven-year contract with Warner Bros., de Havilland began free-lancing in late 1945 and chose to return to the silver screen in a romantic comedy for Paramount called THE WELL-GROOMED BRIDE (1946). Also featuring Ray Milland and James Gleason, the film tells the light-hearted story of a girl who stubbornly insists on champagne for her wedding, but it failed to find an audience and proved a box-office disappointment.
Go to the next page.
Page 1 | Page 2 | Page 3 | Page 4 | Page 5