Jean Simmons
Biography | Filmography | Awards | Article | Bibliography | Downloads | Links | Image Credits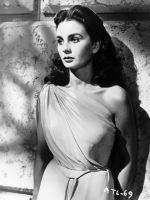 At the end of 1950, Simmons left Britain and went to Hollywood to play Lavinia in ANDROCLES AND THE LION (1952) at RKO which bought the remaining six months of her Rank contract. But the production ran into numerous setbacks and Simmons ended up sitting around for almost a year, first waiting and later battling RKO in the courts for release from the contract she claimed had expired. The case was settled out of court, and the resulting arrangement (by which she made three more films for RKO and three films on loan) juxtaposed some of the most worthwhile films of Simmons' early Hollywood career with some of the most forgettable.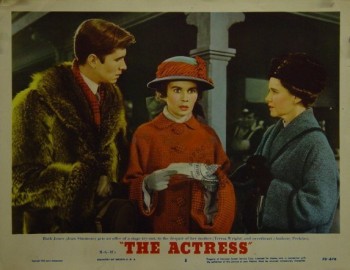 Interspersed among such disappointing RKO programmers as ANGEL FACE (1952) and AFFAIR WITH A STRANGER (1953), Simmons appeared in much more noteworthy productions on loan to MGM. In George Cukor's THE ACTRESS (1953), based on an autobiographical play by Ruth Gordon, she played Spencer Tracy and Teresa Wright's stage-struck daughter and earned critical recognition even if the film didn't succeed financially. (At left, with Wright and Anthony Perkins).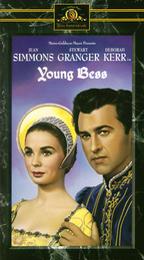 Also for MGM, Simmons played the title role in YOUNG BESS (1953), about the youthful days of Queen Elizabeth I. Leading an all-star cast of British imports, including (Simmons' real-life husband) Stewart Granger, Deborah Kerr and Charles Laughton, Simmons successfully personified Elizabeth's adolescence and burgeoning womanhood, introducing hints of a new maturity to her established screen persona. She also managed to hold her own amidst Oscar-nominated sets and costumes, and opposite Laughton in his early scenes as her father, King Henry VIII, a notable accomplishment for an actress of any age, let alone one not yet 25.
After Simmons satisfied her RKO commitments, studio head Howard Hughes sold the remainder of her contract to 20th-Century Fox where Simmons played a stunning (though rather uninteresting) Roman maiden in THE ROBE (1953). Also starring Richard Burton (left) and Victor Mature, THE ROBE was a prestige costume drama based on Lloyd C. Douglas' novel about a Roman centurion who presides over Christ's crucifixion. The film was a box office sensation, earned five Oscar nominations including one as Best Picture and actually ranks among the better religious screen stories, but today it is most notable as the first film ever shot in Fox's anamorphic widescreen Cinemascope process.

"Main Title" (clip) by Alfred Newman (a .MP3 file).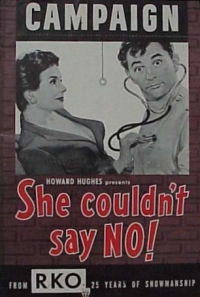 The last of Simmons' films at RKO, SHE COULDN'T SAY NO (1954) is a (very) light romantic comedy about a wealthy young woman who returns to the small town where she was born (Progress, Arkansas) and tries to do good by spreading money around -- much to the chagrin of the local doctor, Robert Mitchum. Although they weren't given much to work with, Simmons and Mitchum manage to keep things diverting for an hour and a half, and the film actually provided Simmons' audiences with a nice change of pace after two years of seeing her primarily in costume dramas.
Go to the next page.
Page 1 | Page 2 | Page 3 | Page 4 | Page 5 | Page 6 | Page 7