Jean Simmons
Biography | Filmography | Awards | Article | Bibliography | Downloads | Links | Image Credits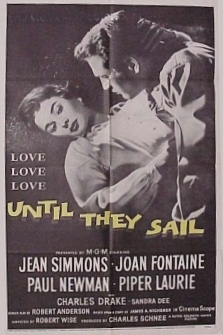 In yet another notable picture, this time for MGM, Simmons played Barbara Leslie Forbes in UNTIL THEY SAIL (1957), a homefront story by James Mitchener about four sisters living in New Zealand during World War II. Co-starring Joan Fontaine, Piper Laurie, Sandra Dee and Paul Newman, UNTIL THEY SAIL's screenplay by Robert Anderson suffers a little in its attempt to describe the experiences of four characters over a five-year period -- almost too much to cover in a 94-minute film --, but its post-war take on wartime morality is well-presented and exceedingly interesting from a social history standpoint. Simmons also has a number of very poignant dramatic moments, and her sincere performance gives the otherwise melodramatic, tear-jerking story a certain credibility which holds the film together.
Memorable Quotations:
"You may kiss me if you like... Now you are to go home." --as Young Estella in GREAT EXPECTATIONS.
"Flirting bores me." --as Miss Bishop in TRIO (1950).
"I'm going to be somebody wonderful -- like you read about. And nobody can stop me, not even my own family." --as Ruth Gordon Jones in THE ACTRESS.
"If I knew one single man that wanted a mistress, I'd go in Boston and be kept!" --as Ruth Gordon Jones in THE ACTRESS.
"I'd rather die than be lonely all my life." --as Elizabeth I in YOUNG BESS.
"I don't pretend to be a siren, Mr. Blakeley, but I don't happen to be a hermit either." --as Carolyn Parker in AFFAIR WITH A STRANGER (1953).
"Do I look fuzzy to you?" --as Corby Lane in SHE COULDN'T SAY NO.
"You taste just like chocolate." --as Corby Lane in SHE COULDN'T SAY NO.
"Oh, I always seem dazed at first. You'll get used to me." --as Corby Lane in SHE COULDN'T SAY NO.
"Can't you believe in a love that asks for nothing?" --as Meryt in THE EGYPTIAN.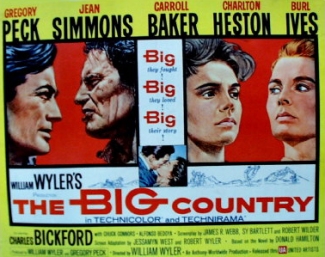 The following year, Simmons was tapped by William Wyler to play the pivotal role of Julie Maragon in his landmark western THE BIG COUNTRY (1958), about two cattle barons feuding over water rights. Co-starring Gregory Peck, Carroll Baker, Charlton Heston, Charles Bickford and Burl Ives, THE BIG COUNTRY is not just another widescreen Technicolor western and has been vastly underrated over the years.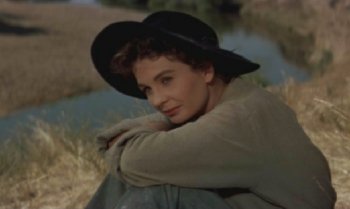 More complex than the usual testosterone tale of good versus evil in the Old West, THE BIG COUNTRY is a fascinating statement on bravery, violence and revenge made all the more impressive by Wyler's shot selection, Franz Planer's cinematography and Jerome Moross' lyrical score.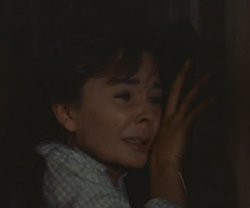 Although Simmons and Wyler did not get on together, she did some of her best work in THE BIG COUNTRY, and in some of the film's most pivotal scenes. The body language with which she expresses her indecision about selling her grandfather's ranch (above) and her intensity of emotion while under attack by Chuck Connors (left) make these scenes in THE BIG COUNTRY among the best of her career.
Music Clips from THE BIG COUNTRY (1958):
"The Big Muddy" (clip) by Jerome Moross (a .MP3 file).
"The Welcoming" (clip) by Jerome Moross (a .MP3 file).
"Main Title" (clip) by Jerome Moross (a .MP3 file).
(For help opening any of the multimedia files, visit the plug-ins page.)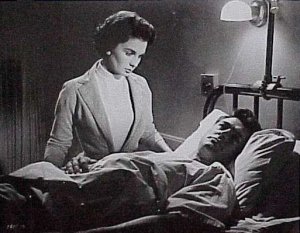 Simmons returned to soapy melodrama in THIS EARTH IS MINE (1959), co-starring Rock Hudson (with Simmons at left), Dorothy McGuire and Claude Rains. Based on a novel by Alice Tisdale Hobart, the film is the story of a winemaking dynasty crippled by Prohibition and anxious to consolidate its vineyard holdings by marrying Simmons off to a neighboring landowner. Though intelligently written and respectably acted, it is once again Simmons' performance which saves the film from drowning in its own suds.
Go to the next page.
Page 1 | Page 2 | Page 3 | Page 4 | Page 5 | Page 6 | Page 7