Fred Astaire
Biography | Filmography | Awards | Articles | Bibliography | News | Links | Downloads | Image Credits | Screen Teams: Ginger Rogers and Fred Astaire | FUNNY FACE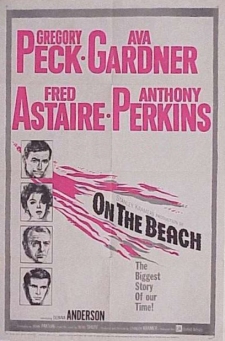 Astaire made his dramatic film debut in ON THE BEACH (1959), a doomsday drama starring Gregory Peck, Ava Gardner and Anthony Perkins. Set in 1964, the film begins with the premise that atomic war has destroyed every continent on earth except Australia where submarine commander Peck takes his crew to wait for the fallout to destroy all human life. Astaire plays a nuclear scientist trying to monitor the rising levels of radiation, and both he and the film received very positive reviews. Neglecting to lay blame for the start of the war or to finger the participants, ON THE BEACH was a major Cold War box office success world-wide -- including in Communist Russia.
Memorable Quotation:
"The war started when people accepted the idiotic principle that peace could be maintained by arranging to defend themselves with weapons they couldn't possibly use without committing suicide." --as Julian Osborne in ON THE BEACH (1959) (a .WAV file).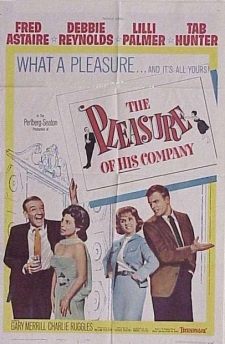 Astaire returned to lighter fare in THE PLEASURE OF HIS COMPANY (1961) playing Debbie Reynolds' long-absent father who returns for her wedding, but, in an attempt to reconcile and make up for lost time, almost charms her away from her fiancé, Tab Hunter. Lilli Palmer plays Astaire's (remarried) ex-wife and the second object of his reconciliation attempt -- much to the chagrin of her current husband, Gary Merrill. Though one would expect a musical with Astaire and Reynolds in the cast, THE PLEASURE OF HIS COMPANY is actually a light non-musical comedy -- and a pleasant one -- based on the play by Cornelia Otis Skinner and Samuel A. Taylor. Astaire does dance, but only casually -- with Reynolds at a party.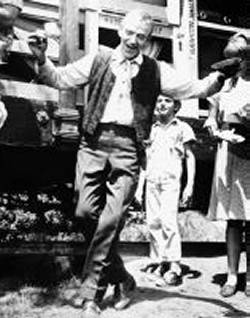 FINIAN'S RAINBOW (1968) was Fred's last major movie musical. Also featuring Petula Clark, this fantasy about a transplanted Irishman (Fred) whose leprechaun comes to life in the American South dealt with the issue of racial injustice. And though as a Broadway musical in the late 1940s, it was considered ahead of its time, the film version was rather dated when it appeared 20 years later. Disappointed with his physical appearance in the film and its overall poor reception by critics and audiences, Astaire gave up dancing shortly after the film was released -- at the age of 70.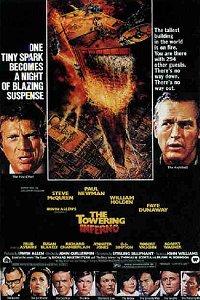 In 1974, Astaire earned his first and only Oscar nomination for his supporting role as a charming con-artist trapped in Irwin Allen's star-studded disaster epic, THE TOWERING INFERNO. Starring Steve McQueen, Paul Newman and such distinguished supporting players as William Holden, Jennifer Jones, Faye Dunaway, Robert Wagner and even football star O.J. Simpson, THE TOWERING INFERNO was the biggest blockbuster of the year and over time has earned a reputation as one of the greatest disaster films ever made. Winning three Oscars for its editing, cinematography and song ("We May Never Love Like This Again"), out of such a distinguished cast, Astaire nevertheless received the film's only acting nomination.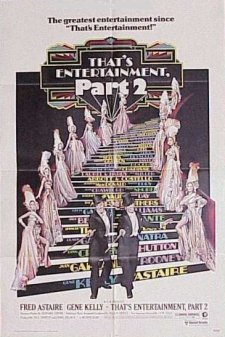 Also in 1974, producer Jack Haley, Jr. put together a nostalgic compilation of moments from the great MGM musicals of the 1920s-1950s released as THAT'S ENTERTAINMENT! Astaire appeared in the film as one of several star hosts (including Mickey Rooney, Gene Kelly, Frank Sinatra, Bing Crosby, Debbie Reynolds, Elizabeth Taylor, Jimmy Stewart, Liza Minnelli, Peter Lawford and Donald O'Connor) who introduced the film clips. Then in 1976, Astaire and Gene Kelly teamed up to host the sequel, THAT'S ENTERTAINMENT, PART II, featuring more film clips -- this time from some of MGM's comedies and dramas as well. Although this second outing was criticized for a lack of cohesion, it was nevertheless followed by THAT'S DANCING (1985) and THAT'S ENTERTAINMENT, PART III (1994) neither of which featured Astaire in person, but both of which featured still more clips of his many memorable screen moments.
Main Page | Page 2 | Page 3 | Page 4 | Page 5 | Page 6
Biography | Filmography | Awards | Articles | Bibliography | News | Links | Image Credits | Screen Teams: Ginger and Fred | FUNNY FACE