Fred Astaire
Biography | Filmography | Awards | Articles | Bibliography | News | Links | Downloads | Image Credits | Screen Teams: Ginger Rogers and Fred Astaire | FUNNY FACE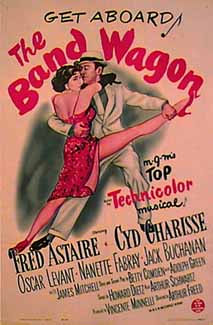 Returning to top form the following year, Astaire next made the first of his two films with MGM's long-legged dance phenom Cyd Charisse, THE BAND WAGON (1953). Directed by Vincente Minnelli and featuring Oscar Levant, Nanette Fabray and Jack Buchanan in supporting roles, THE BAND WAGON is perhaps the best musical of Astaire's long career at MGM -- and one of the most complex. Fred plays a fading movie star who decides to try his luck on Broadway, and Charisse (below) is the ballet dancer chosen to play his leading lady. Conflict -- professional and romantic -- arises, but instead of functioning as typical song-and-dance breaks in the action, the musical numbers in THE BAND WAGON are impressively integrated into both the plot and characterization as well as the overall structure of the film. These subtleties are not apparent right off though, making this a movie which improves with each viewing.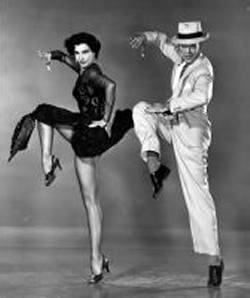 Among THE BAND WAGON's many memorable musical numbers are Astaire's solo "Shine on Your Shoes" and "The Girl Hunt Ballet" (right), a twelve-minute musical spoof of Mickey Spillane's popular detective novels.

"That's Entertainment" (clip) sung with Nanette Fabray, Jack Buchanan and Oscar Levant (a .MP3 file courtesy Rhino Records).


"Triplets" (clip) sung with Nanette Fabray and Jack Buchanan (a .AU file courtesy Rhino Records).
(For help opening these files, visit the plug-ins page.)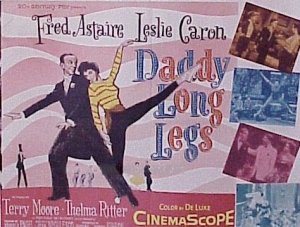 Astaire next teamed with MGM's French import, Leslie Caron, in DADDY LONG LEGS (1955), about an American millionaire who anonymously sponsors the education of a French orphan, until they finally meet and fall in love. Luckily, the film acknowledges the significant age difference between Astaire and his co-star (over 30 years his junior), but despite a few dance highlights and one good song ("Something's Gotta Give," which earned Johnny Mercer and Oscar nomination), Fred begins to show his age in this picture. Incidentally, this 1955 version marked the fourth time Jean Webster's story had been filmed. Previous versions starred Mary Pickford (1919), Janet Gaynor (1931) and Shirley Temple (as CURLY TOP in 1935).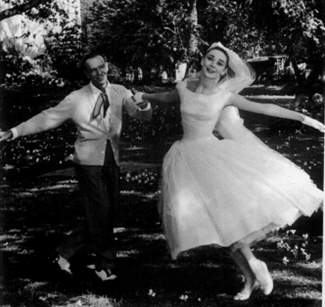 Once again 30 years older than his leading lady, Fred became the fourth in a long line of "mature" men who played opposite Audrey Hepburn when they appeared together in Stanley Donen's FUNNY FACE (1957). Playing magazine photographer Dick Avery and dancing with his bookworm-turned-fashion-model Audrey, Fred was almost sixty years old when he made FUNNY FACE, but the Gershwin songs and Givenchy fashions make this film delightful despite the romance strained by years.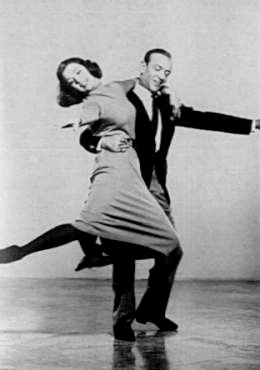 Also released in 1957, SILK STOCKINGS was a musical remake of Greta Garbo's triumphant comedy NINOTCHKA (1939), and re-teamed Astaire with his THE BAND WAGON co-star, Cyd Charisse. Shot in Cinemascope, SILK STOCKINGS' failed to recapture the wit of the original film, but musical highpoints include "All of You'' and "Stereophonic Sound" as well as Charisse's "I've Got the Red Blues." Incidentally, Fred and his sister Adele had performed in Cole Porter's Silk Stockings in their early Broadway days (although the film barely resembled the preceding stage version).

"Stereophonic Sound" from SILK STOCKINGS sung with Janis Paige (a .MP3 file courtesy Rhino Records). (For help opening this file, visit the plug-ins page.)
Go to the next page.
Main Page | Page 2 | Page 3 | Page 4 | Page 5 | Page 6