Fred Astaire
Biography | Filmography | Awards | Articles | Bibliography | News | Links | Downloads | Image Credits | Screen Teams: Ginger Rogers and Fred Astaire | FUNNY FACE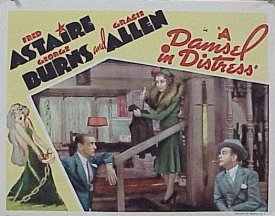 In 1937 while Ginger Rogers was off making a non-musical picture, Fred teamed with RKO ingénue Joan Fontaine for A DAMSEL IN DISTRESS, which also showcased comedy duo George Burns and Gracie Allen. Although bolstered by some memorable Gershwin songs and a few light laughs, DAMSEL's leading lady Fontaine (neither a singer nor a dancer) hardly filled Ginger's shoes, and the film was not the success Astaire hoped for.
More Memorable Quotations:
"You know, there's a difference between dancing and wrestling. In dancing, the main idea is to keep your partner's shoulders off the floor." --as Bake Baker in FOLLOW THE FLEET (1936).
"Gosh, you're glad to see me." --as Bake Baker in FOLLOW THE FLEET (1936).
"Say, will you guys let me forget I was once a hoofer?" --as Bake Baker in FOLLOW THE FLEET (1936).
"I don't often try to apologize 'cause I seldom make any mistakes. " --as Bake Baker in FOLLOW THE FLEET (1936).
"When I dislike someone for no reason, I always find it more enjoyable." --as "Lucky" Garrett in SWING TIME (1936).
"May I come in just long enough to tell you how happy I am you're not divorcing me?" --as Pete "Petrov" Peters in SHALL WE DANCE (1937).
"Oh, I see. Your father explained to you why you slapped me." --as Jerry Halliday in A DAMSEL IN DISTRESS (1937).
"We all try to escape reality. We all want to be something entirely different from what we really are." --as Dr. Tony Flagg in CAREFREE (1938).
"Remember, you never know who might be out there -- so give." --as Johnny Brett in BROADWAY MELODY OF 1940 (1940).
"When success goes to a dancer's feet, it's alright. When it goes to his head, he's top heavy." --as Johnny Brett in BROADWAY MELODY OF 1940 (1940).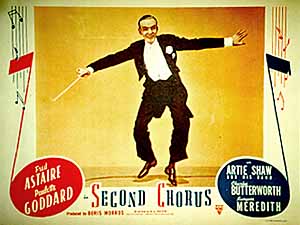 After his series of films with Ginger ended, Fred moved around to various studios and made films with a variety of leading ladies. SECOND CHORUS with Paulette Goddard and Burgess Meredith, which Fred made for Paramount in 1940, is often considered the worst film of his career -- mostly because of the weak song list, weak plot, and the fact that Goddard was no Ginger Rogers either.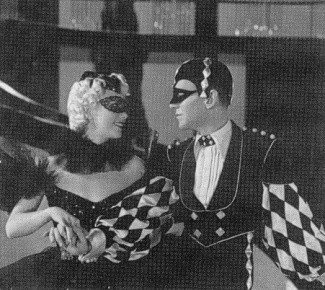 Things improved considerably with his next film however, the mostly impressive BROADWAY MELODY OF 1940 which Fred made with MGM tap-talent Eleanor Powell. Though the plot exists primarily to string the musical numbers together, there are some fabulous black-and-white costumes in the "I Concentrate on You" number (right), and the show-stopping rendition of Cole Porter's "Begin the Beguine" at the end makes sitting through the rest of the movie worthwhile.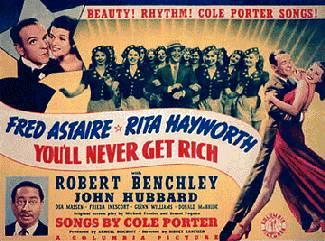 Rita Hayworth, at the height of her World War II pin-up popularity, displayed form and face as well as dancing skills and proved a competent partner for Astaire in two musicals at Columbia, YOU'LL NEVER GET RICH (1941) with music by Cole Porter, and YOU WERE NEVER LOVELIER (1942) scored by Jerome Kern.
Go to the next page.
Main Page | Page 2 | Page 3 | Page 4 | Page 5 | Page 6