Debbie Reynolds
Biography | Filmography | Awards | Bibliography | Gallery | News | Downloads | Links | Image Credits | SINGIN' IN THE RAIN
An all-American girl who could sport Helen Rose gowns as easily as she could romp in blue jeans, pert, perky, peppy Debbie Reynolds radiated vim, verve, vigor, vivacity and spunk in a series of light musicals and romantic comedies (primarily for MGM) throughout the 1950s and early 1960s. Though not blessed with any innate singing or dancing faculties, Debbie had a knack for comic expression and an indefatigable energy which allowed her to "sell" musical numbers, hold her own among weightier co-stars, and even carry a few films by herself. At only 5'1", she could still play teenagers and young adults well into her 30s, making her one of Hollywood's most enduring ingénues. And in the end, it was filmmaking and the industry around her that changed, never her enthusiasm.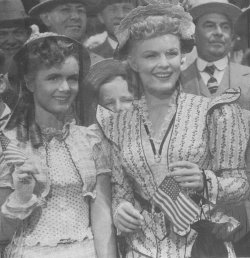 Signed by Warner Bros. at the age of 16, Debbie made her film debut in the studio's Bette Davis - Robert Montgomery comedy JUNE BRIDE (1948) in a bit part as a teenage extra, and then sat idly by for the better part of a year before landing another small role, this time as June Haver's younger sister (left) in THE DAUGHTER OF ROSIE O'GRADY (1950) where she tossed off a few laugh lines. Though appreciative of her ebullience, Warners had little opportunity to make use of Debbie, as young, untrained and inexperienced as she was, and after just two films, the studio failed to renew her contract.
Based on the reports of a talent scout, MGM was quick to pick up where Warners had left off and hired Debbie to appear as Helen Kane, the original "boop boop ee doop" girl, in the studio's musical biopic of tin pan alley songwriters Bert Kalmar and Harry Ruby, THREE LITTLE WORDS (1950), starring Fred Astaire, Red Skelton, Vera-Ellen and Arlene Dahl. (In the lobby card at right, Debbie is the girl in the black wig and sailor suit.)

Though her boop-boops and brief rendition of "I Wanna Be Loved By You" were voiced by the real Helen Kane, Debbie's brief appearance (and engaging talent for pulling out Carleton Carpenter's shirttail) charmed studio executives, and MGM quickly signed her to a long-term contract. Having made an investment in her future, the studio set to work grooming Debbie for stardom -- ballet lessons, tap lessons, acting lessons, voice lessons, diction lessons -- teaching her the business of moviemaking and her role in it.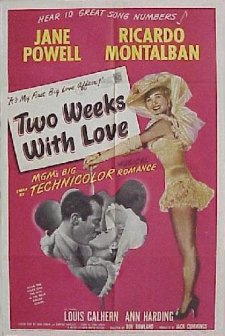 Debbie's first assignment as a member of MGM's stable of aspiring stars was the part of Melba Robinson in the studio's second- tier musical romance TWO WEEKS WITH LOVE (1950) starring Jane Powell and Ricardo Montalban. Set in the early 1900s and centered around a family vacation in the Catskills, the film's plot regrettably evolves into a silly moralistic tale about parents not wanting their children to grow up. But Debbie steals the picture as Powell's brash, outspoken younger sister who is constantly disrupting her older sister's unfolding romance and foiling her attempts to act more grown up. Though an inch taller than Powell, Debbie gives the most convincing juvenile performance in the film -- and delivers (with her own voice) its most lively musical numbers, including "Aba Daba Honeymoon" (sung with Carleton Carpenter) which became a certified gold record. (*1)
Music Clip from TWO WEEKS WITH LOVE (1950):
"Aba Daba Honeymoon" (clip) sung with Carleton Carpenter and chorus (a .MP3 file).
(For help opening the above file, visit the plug-ins page.)
Footnotes:
Go to the next page.
Main Page | Page 2 | Page 3 | Page 4 | Page 5 | Page 6 | Page 7