Ginger Rogers and Fred Astaire
Filmography | Lyrics | Articles | Awards | Downloads | Bibliography | Goofs | Statistics | Rankings | Links | Image Credits | Ginger Rogers | Fred Astaire
CAREFREE (1938)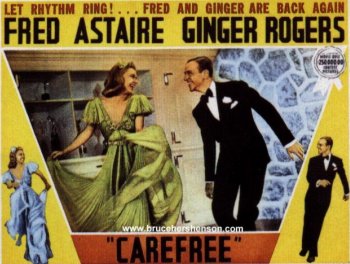 Let Rhythm Ring! ... Fred and Ginger Are Back Again
Studio: RKO
Director: Mark Sandrich
Music by: Victor Baravalle and Irving Berlin
Choreographer: Hermes Pan
Cast including: Ralph Bellamy, Luella Gear, Jack Carson, Hattie McDaniel.
Musical Numbers including:

"Since They Turned 'Loch Lomond' into Swing" (formerly known as "Carefree") danced by Fred;
"I Used To Be Color Blind" sung by Fred, danced by Ginger and Fred;
"The Night is Filled With Music" (instrumental);
"The Yam" sung by Ginger, danced by Ginger and Fred;
"Change Partners" sung by Fred, danced by Ginger and Fred.

Music Clips:

"The Yam" (clip) (a .WAV file courtesy Rhino Records);
"Any Bonds Today" (clip) (a .WAV file)

Lyrics:
CAREFREE (1938) is a different kind of Rogers-Astaire film in many ways. First, it is the shortest of the series (running about 80 minutes) and features only four musical numbers. Second, it has one of the most straight-forward plots of all their films. Third, it is more a screwball comedy than a musical. And fourth, this time Ginger (not Fred) is the star of the show. All these departures from the norm both add and detract from the film in their own way, making CAREFREE perhaps the funniest of Ginger and Fred's combined efforts, but lacking the musical charm we've come to expect.
To put the film into its proper historical context, it was, in a way, a "comeback" film for the famous dancing duo -- their first musical together in over a year. Apart, Ginger had scored big in the non-musical comedy/drama STAGE DOOR (1937) with Katharine Hepburn, while Fred's Ginger-less musical effort (in which she was replaced by the very non-musical Joan Fontaine), A DAMSEL IN DISTRESS (1937), faltered despite a rich Gershwin score. There are lots of hypotheses as to why they split to begin with, but the best general explanation is that both were wary of being type-cast only as part of the pair. Each wanted to prove his/her career didn't depend on the other. The reason they returned? Simple: together, they were still one of Hollywood's biggest box-office attractions.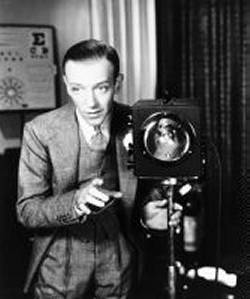 Astaire relished CAREFREE as a break from what had become his standard character in the films, a musical entertainer. This time he plays a psychiatrist, not a dancer or entertainer, a former dancer or entertainer, nor even an aspiring dancer or entertainer -- not that that stops him though.
There are a lot of production notes that explain why CAREFREE became the film it did, but first the plot: Ginger plays a radio star named Amanda Cooper who keeps wavering on whether or not she is ever going to marry her fiancé Steve (played by Ralph Bellamy). In desperation, Steve makes an appointment for her with his old friend Tony Flagg, a psychiatrist, in hopes that Tony will be able to cure her of whatever it is that's holding her back. Open-minded at first about the whole psychoanalysis thing, Amanda quickly changes her mind when she overhears Dr. Flagg refer to her as "just another maladjusted woman" and becomes quite a difficult patient. She refuses to open up to Tony or answer his questions, and even sits in his chair. "I wish you'd please understand that I'm only trying to help you find yourself," Tony explains. "Well, if I ever get lost, I'll call on you," Amanda retorts on her way out the door.
Steve is not one to give up however, and he invites Tony to the Medwick Country Club for a bike ride, golf and dinner. For Steve's sake, Amanda finally agrees to give it another try, and Tony prescribes a variety of bizarre food combinations (seafood cocktail with whipped cream, cucumbers and buttermilk, etc.) that are supposed to help her dream. She does dream that night, but not about Steve. When she shows up at Dr. Flagg's office the next day, she's too embarrassed to tell Tony that she dreamed about him, so she makes up a wonderfully comic adventure about how she was both Little Red Riding Hood and the wolf, and was chased by everything from squirrels to numbers. Tony prescribes an anesthetic to release her inhibitions, and one of the funniest sequences in the movie occurs when she escapes from his office and gets into all kinds of "uninhibited" mischief. Later he hypnotizes her and she goes tearing around the country club with a shotgun trying to shoot him.
During all this mayhem, Tony finds out not only that she's in love with him, but (by psychoanalyzing himself in a mirror) that he's in love with her. Steve is not about to let Tony take Amanda away from him however, and when a wedding date is set, the race is not to see who will manage to beat off the other for the role of the groom (since we've always known who that will be), but rather how Tony will manage it.
There's a reason the musical numbers in the film are not integrated into the story summary -- they are not really integrated into the plot of the film either. Fred's customary solo takes place at the driving range to an instrumental called "Since They Turned 'Loch Lomond' into Swing," and while the golf skills he displays are impressive (dancing while still managing to legitimately drive a half-dozen golf balls all teed-up in a row), it's probably his least exciting dance solo in all the films -- and the harmonica doesn't help. Similarly, while "Change Partners" is a nice song and the hypnotic-style choreography of the dance with Ginger is creative, it too lacks spirit and seems almost abruptly stuck into the film.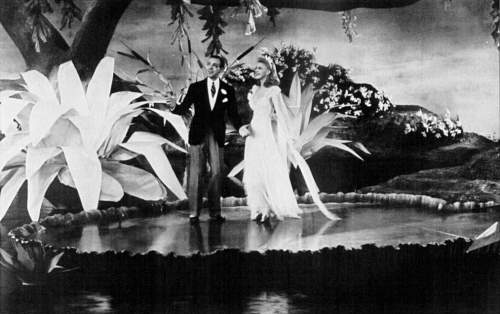 "I Used to be Color Blind," but since the film is in black-and-white, it's hard to tell the difference.
The remaining two numbers are what make this a Fred-and-Ginger film however. First there's "I Used To Be Color Blind" which takes place during Amanda's dream. The story goes that CAREFREE was originally to be shot in Technicolor (some claim that parts of it actually were), but at the last minute the additional cost was too great and the RKO production executives (namely studio head Pandro S. Berman) decided to stick with black-and-white. For the rest of the film, it's fine, but in the dream sequence, the difference that color could have made becomes painfully clear. First, there are Berlin's lyrics:
"I used to be color blind/ But I met you, and now I find/ There's green in the grass, there's gold in the moon/ There's blue in the sky ... I never knew there were such lovely colors/ And the big surprise/ Is the red in your cheeks, the gold in your hair/ The blue in your eyes."
Second, there's a wonderfully exotic dreamland background which obviously doesn't have the effect it might have, had it appeared in color. Despite this however, the "Color Blind" dance is another Rogers-Astaire original masterpiece, less famous than most, perhaps because it is buried in this film instead of featured in one of their bigger hits. Its novelty stems from the fact that it takes place in slow motion. Ginger wears a beautiful, flowing white gown, and whether Fred lifts her or she leaps on her own, she spends much of this number in the air. It's spectacular. The sequence is also ended with a Fred-and-Ginger first -- a romantic kiss, intriguingly drawn out by the slow motion photography as well.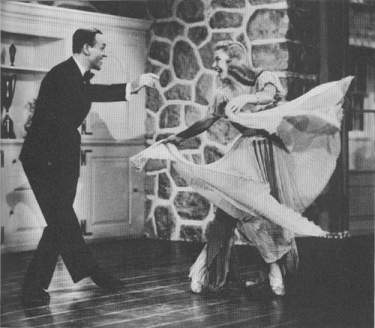 Fred and Ginger doing "The Yam."
The other great dance number is "The Yam" (

). As a song, it's pretty random. Ginger sang it in the film because (like "The Piccolino" in TOP HAT) Fred didn't like it and handed it down to her. The dance is a different story however. In some senses, it attempts to be the film's big finale production number (as "The Continental" and "The Piccolino" had been in the earlier films), but that aspect is really only hinted at by the facts that other couples in the dining room join in for a spell and the dance travels more-or-less all over the country club. For these reasons, as a major production number it's nothing spectacular. The ending is what makes "The Yam" worth special note however. Whether Ginger or Hermes Pan deserves credit for the idea has been debated, but the dance ends with a series of magnificent lifts in which Fred puts his right leg up on the nearest table top and then swings Ginger over it. Another table, another lift -- and around the dining room they go. Unique, to say the least.
It's hard to point to exactly what's wrong with this film. The supporting characters (mainly Ralph Bellamy, Luella Gear and Jack Carson) don't add quite as much humor as the old standards like Edward Everett Horton, Helen Broderick and Eric Blore do in the others. Also, for some reason Ginger's costumes seem a little off the mark sometimes. (Why all the huge floppy hats, for example?) And way too much of this film takes place at the Medwick Country Club -- the white wood and fieldstone just don't have the atmosphere the big white, art deco sets used to. But the biggest problem with CAREFREE is probably that there's just too little of what's good in it. The comic scenes are as funny, if not funnier, than any others from the previous films (taking advantage of Ginger's comic talents to an extent that no Rogers-Astaire film had before), and musical numbers like "I Used to Be Color Blind" and "The Yam" (

) prove that sparks of Ginger and Fred's pre-separation magic were still there to be capitalized upon. But it's almost as if budget problems kept this film from expanding those aspects and making this a musical of the caliber we're used to. (I don't have any factual support for that statement -- it's just conjecture.) Or perhaps the storyline simply couldn't have supported much more than it already had without things getting too outrageous.
A few other notes about CAREFREE: First, it's generally considered the first film to come out of Hollywood spoofing Freud and his theories of psychoanalysis that had gradually filtered into mainstream American culture since the 1920s. Second, the working title was "Change Partners," but that was dropped for fear it might imply that Ginger and Fred didn't dance together. Third, from a technical standpoint, "The Yam" was supposedly one of the most difficult Astaire-Rogers dance numbers ever filmed because all the flying around Ginger did kept messing up her hair, requiring an ever-present hair dresser and the splicing together of a large number of takes. Finally, there are reports that a production number called "Let's Make the Most of Our Dream" was filmed and later cut from the final release of the picture, but as Ginger stated in her autobiography, "... if there was such a number, I must have shot it while dreaming. The only numbers that were ever done for Carefree are in the released film."(*11) So there (I guess). One last random aside: during World War II, Irving Berlin adapted the lyrics to "The Yam"(

) (Any yam today?) and made a popular war bond song out of it: "Any Bonds Today?" (

).
Footnotes:
Go to the next page.
Main Page | 1 | 2 | 3 | 4 | 5 | 6 | 7 | 8 | 9 | 10