Hattie McDaniel
Biography | Filmography | Awards | Bibliography | Downloads | Links | Image Credits | SHOW BOAT (1936) | GONE WITH THE WIND | CAREFREE | THEY DIED WITH THEIR BOOTS ON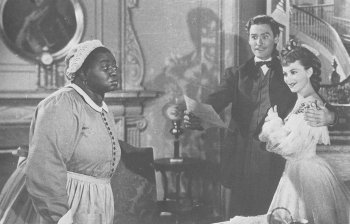 When she signed to play the role of Mammy in GONE WITH THE WIND (1939), Hattie was put under personal contract to producer David O. Selznick, alongside the likes of Swedish actress Ingrid Bergman and British director Alfred Hitchcock, both recent arrivals to Hollywood. Selznick had championed the campaign to win Hattie her Academy Award and was determined to see her play roles more befitting her new status as an Oscar-winner. The producer was soon frustrated at the lack of prestigious opportunities for his newest contract player however. Starring vehicles for black actors among major studio productions at the time were virtually non-existent, and Selznick eventually conceded to allowing Hattie to return to the servant roles that had made her famous. Through a special shared-contract arrangement between Selznick and Warner Bros., Hattie played Bette Davis' protective housemaid in THE GREAT LIE (1941), and Olivia de Havilland's loyal (and charmingly superstitious) southern maid Callie in THEY DIED WITH THEIR BOOTS ON (right), de Havilland's eighth and final co-starring vehicle with Errol Flynn. Hattie received co-star billing below the title and ample screen time in both films.
Music Clip from THEY DIED WITH THEIR BOOTS ON (1941) :
"Main Title - West Point" (clip) by Max Steiner (a .MP3 file courtesy Marco Polo).
(For help opening any of the multimedia files, visit the plug-ins page.)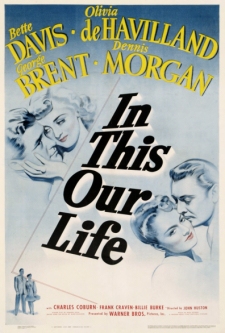 The following year, also for Warner Bros., Hattie appeared in one of the most significant films to deal with race relations in the early 1940s, IN THIS OUR LIFE (1942) about a spoiled, headstrong young woman (Bette Davis) who not only runs away with her sister's husband, but also frames a young black law clerk for a hit-and-run which she committed. In this, her fourth film alongside Olivia de Havilland (whom Hattie had beaten for the Best Supporting Actress Oscar in 1939), Hattie again plays a domestic, but this time is granted the opportunity to care for and worry about a child of her own (the law clerk, played by Ernest Anderson), not just for the children of the white household. Loosely based on Ellen Glasgow's Pulitzer Prize- winning novel, IN THIS OUR LIFE provided Hattie with her most significant dramatic role since GONE WITH THE WIND, and though Davis' histrionic performance dates the film somewhat, it is still entertaining and a significant turning point in the evolving depiction of blacks on the film during World War II.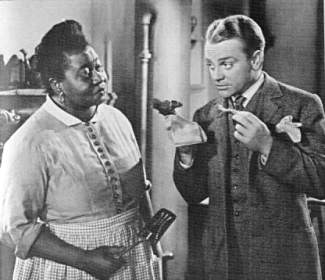 In yet another film for Warner Bros., Hattie plays Aida, the cook and housekeeper for a small-town widow and newspaper publisher trying to rid the town of corruption in JOHNNY COME LATELY (1943), a turn-of-the-century story starring James Cagney (tasting Aida's pork chops at right) alongside stage star Grace George (as the publisher) and small-town character actress Marjorie Main.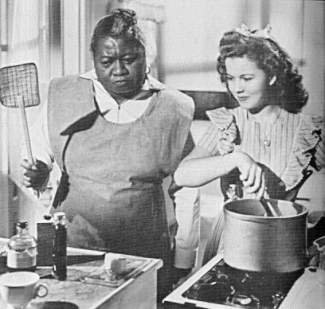 In the most prestigious production of her post-GONE WITH THE WIND career, Hattie plays Fidelia, the devoted housekeeper of Claudette Colbert's war-disrupted family in Selznick's homefront epic SINCE YOU WENT AWAY (1944), co-starring Shirley Temple (with Hattie at left), Jennifer Jones, Joseph Cotten and Robert Walker. This overblown attempt to make a patriotic and touching American homefront drama in the vein of William Wyler's MRS. MINIVER (1942) has its moments, but lacks its predecessor's humor and, at almost three hours long, begins to try the audience's patience for continuous idealized sentiment and repeated tear-jerking. Though the performances are all commendable, Hattie brings more to her role through the loyalty and honesty of her established screen persona than through any particular element of her performance that might have made the role uniquely her own. For all its prestige and screen time, the character of Fidelia simply wasn't a part with much potential. Although SINCE YOU WENT AWAY was only the fourth film of Hattie's career to receive an Academy Award nomination as Best Picture, after its completion, she bought out her contract with Selznick and returned to the roles she chose for herself.
Music Clip from SINCE YOU WENT AWAY (1944):
"Since You Went Away" (clip) by Max Steiner (a .MP3 file courtesy RCA/Victor).
(For help opening any of the multimedia files, visit the plug-ins page.)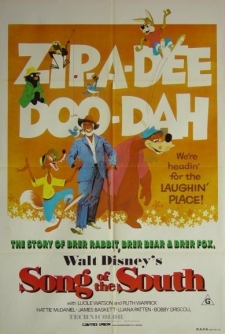 In one of the last major films of her career, Hattie plays a Mammy-style nursemaid to young Bobby Driscoll in Walt Disney's SONG OF THE SOUTH (1946), the first feature-length Disney picture to integrate animation fully with live actors in a dramatic storyline. This collection of three animated Uncle Remus stories about the adventures of Brer Rabbit, Brer Fox and Brer Bear is framed within a larger plotline about a little boy visiting his grandmother's plantation while his parents struggle with marital problems. And though Hattie received her usual co-star billing below the title, her character takes secondary significance to that of James Baskett, the radio actor of "Amos 'n Andy" fame who plays Uncle Remus in the film and even earned a special (non-competitive) Academy Award for his performance.
Though SONG OF THE SOUTH was a box-office success in both its initial and subsequent releases up through 1986, its critical reception has always been mixed. By not specifying a time period for the frame story, the producers left audiences to decide for themselves whether the portrayal of plantation blacks was meant to depict them before or after the Civil War -- i.e. as slaves or free. Although universally laudatory toward Disney's technical achievements in combining the live action and animation, critics who interpreted the black characters as slaves complained that the film did not accurately portray the harsh circumstances in which slaves lived and worked prior to the Civil War. Those who interpreted the black characters as freedmen complained their speech, dress and manner were too slave-like. Still other (primarily black) publications felt that any19th century portrayal of blacks was detrimental to the modern cultural advancement of the black people. The Walt Disney Company has repeatedly defended its film over the years by pointing out that in spite of his lack of education and ragged costume, Uncle Remus is the most sympathetic adult character -- white or black -- in the entire film, and the only one who understands and makes an effort to reach out to the troubled little boy.
Owing to the ongoing controversies surrounding it, SONG OF THE SOUTH, unlike the other major features in Disney's library, has not been re-released since 1986, nor has it ever been released in any home video format in the American market. For Hattie McDaniel, the ongoing controversies and constant criticism from the black intelligentsia surrounding each subsequent film she made frustrated her to the point that in the late 1940s, she turned her attentions primarily to the radio career which she had pursued off and on for more than three decades. She appeared on the big screen for the last time in the 1949 auto-racing drama THE BIG WHEEL starring Mickey Rooney.
Page 1 | Page 2
Biography | Filmography | Awards | Bibliography | Downloads | Links | Image Credits | GONE WITH THE WIND | CAREFREE | THEY DIED WITH THEIR BOOTS ON