Judy Garland
Biography | Filmography | Awards | Gallery | Downloads | Image Credits | THE WIZARD OF OZ | MEET ME IN ST. LOUIS
Page 2
A publicity shot with Tom Drake and Margaret O'Brien for MEET ME IN ST. LOUIS (1944), the film in which Judy introduced the song "Have Yourself a Merry Little Christmas," now a holiday classic.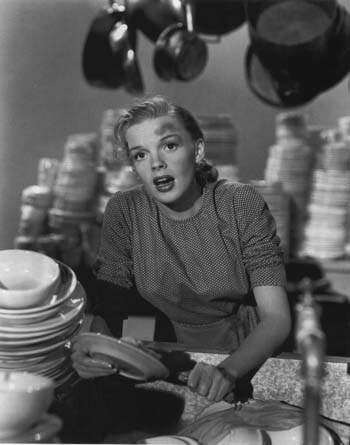 Judy washing dishes and singing "Look for the Silver Lining" in TILL THE CLOUDS ROLL BY (1946). This musical biography of songwriter Jerome Kern featured a host of MGM stock talent, including Angela Lansbury, Lena Horne, Kathryn Grayson, Virginia O'Brien, Cyd Charisse, Frank Sinatra, June Allyson, Tony Martin and Dinah Shore.
Memorable Quotations:
"Life begins at half past one." --as Penny Morris in BABES ON BROADWAY (1941).
"You'll never be big time because you're small time in your heart." --as Jo Hayden in FOR ME AND MY GAL (1942).
"I realize there's a practical world and a dream world. I know which is which. I shan't mix them." --as Manuela in THE PIRATE (1948).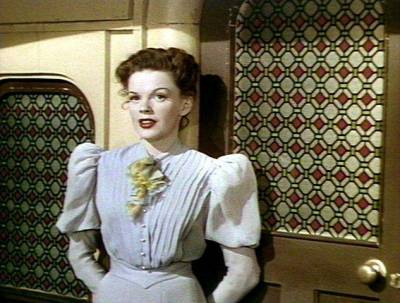 Singing "In the Valley Where the Evening Sun Goes Down" in THE HARVEY GIRLS (1946). This fun MGM western musical also featured Ray Bolger, John Hodiak, Marjorie Main and Angela Lansbury.


Hear a clip of Judy singing the Academy Award winning Best Song of 1946 "On the Atchison, Topeka and the Santa Fe" from THE HARVEY GIRLS (an .AU file courtesy Rhino Records).
(For help opening this file, visit the plug-ins page.)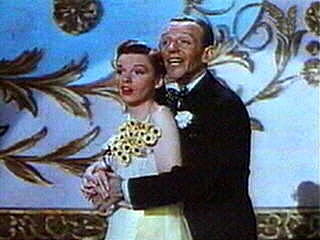 Singing "Snooky Ookums" with Fred Astaire in EASTER PARADE (1948).
Audio Clips from EASTER PARADE (1948):
"I Love a Piano" (clip) sung by Judy (an .MP3 file courtesy Rhino Records).
"A Couple of Swells" (clip) sung by Judy and Fred Astaire (an .MP3 file courtesy Rhino Records).
"Easter Parade (End Title)" (clip) sung by Judy:
(For help opening these files, visit the plug-ins page.)