Jean Arthur
Biography | Filmography | Awards | Article | Bibliography | Downloads | Links | Image Credits | MR. SMITH GOES TO WASHINGTON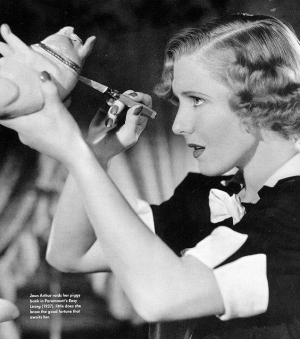 Scraping for every penny in EASY LIVING (1937), a Preston Sturges comedy in which Arthur, as working girl Mary Smith, hard on her luck, suddenly finds a mink coat fall in her lap. This fun romantic comedy co-stars Ray Milland and Edward Arnold as well as such Sturges stock character actors as William Demarest and Franklin Pangborn.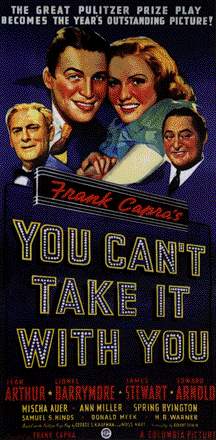 A poster from Frank Capra's screwball romantic comedy YOU CAN'T TAKE IT WITH YOU (1938), once again featuring Arthur as a down-to-earth working girl, this time opposite Jimmy Stewart along with supporting cast Lionel Barrymore and Edward Arnold. This was the 68th film of Arthur's career and her only film to win an Academy Award for Best Picture.

See the "Screaming at the dinner table" scene from YOU CAN'T TAKE IT WITH YOU featuring Arthur and Jimmy Stewart (a .MOV file).
(For help opening this file, visit the plug-ins page.)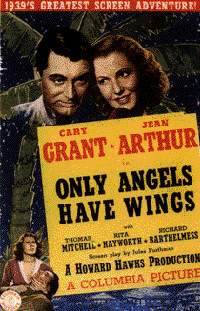 Next in a string of major commercial and critical successes in Arthur's career came Howard Hawks' ONLY ANGELS HAVE WINGS (1939), featuring Arthur as Bonnie Lee, a show girl who gets mixed up with the pilots of an airmail service in South America. This film, whose special effects earned an Oscar nomination, co-stars Cary Grant, along with Rita Hayworth, Thomas Mitchell and silent star Richard Barthelmess in the waning years of his career.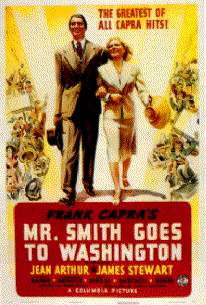 Arthur's third and final film with Capra, MR. SMITH GOES TO WASHINGTON (1939), reunited her with YOU CAN'T TAKE IT WITH YOU co-stars Jimmy Stewart and Edward Arnold and earned an Oscar nomination as Best Picture of the year. Also starring Claude Rains and Thomas Mitchell, MR. SMITH again featured Arthur as a worldly-wise working girl with a heart of gold buried under a sharp, cynical wit.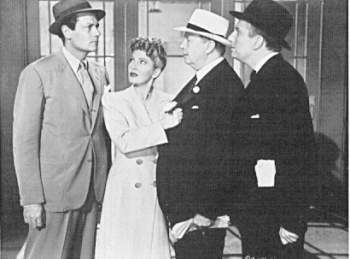 With Joel McCrea, Charles Coburn and Richard Gaines in THE MORE THE MERRIER (1943), a George Stevens comedy about a working girl (surprise, surprise) who patriotically sublets half her apartment to an older gentlemen during Washington D.C.'s wartime housing shortage only to find out he's a mischievous, meddling matchmaker.
More Memorable Quotations:
"Forty-two is a very safe, sane age. When a man has reached forty-two, he knows something." --as Constance Mulligan in THE MORE THE MERRIER (1943).
"I couldn't take one man's bag on another man's honeymoon." --as Constance Mulligan in THE MORE THE MERRIER (1943).
"Don't you shush me! You've been shushing me for 22 months. Now you've shushed your last shush!" --as Constance Mulligan in THE MORE THE MERRIER (1943).
"I'm not the kind of person anything happens to." --as Constance Mulligan in THE MORE THE MERRIER (1943).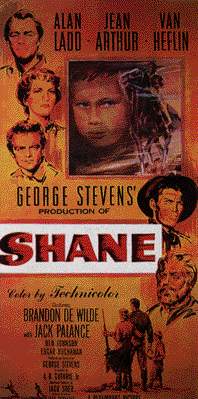 After the mid-1940s, Arthur essentially abandoned her film career to pursue other interests, including some stage work and several academic pursuits. After a lauded appearance in Billy Wilder's successful comedy A FOREIGN AFFAIR (1948), Arthur disappeared from the screen again before returning for one final film, SHANE (1953), directed by George Stevens and also starring Alan Ladd and Van Heflin. Although reaction to Arthur's performance as a frontier wife was mixed, this western was nominated for six Academy Awards in 1953 including Best Picture, and won its only award for Best Cinematography. Incidentally, this was Jean Arthur's only film to be shot in color.
Page 1 | Page 2
Biography | Filmography | Awards | Article | Bibliography | Downloads | Links | Image Credits | MR. SMITH GOES TO WASHINGTON