Charlton Heston
Filmography | Awards | Downloads | News | Image Credits | Links | BEN-HUR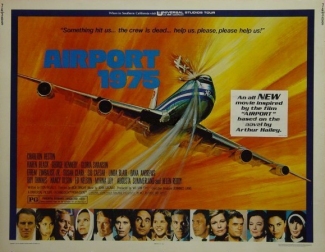 During the 1970s, star-studded disaster movies were very popular at the box office, and Heston appeared in his fair share. In AIRPORT 1975 (1974), a 747 filled with the likes of Gloria Swanson, Myrna Loy, Nancy Olson and Martha Scott collides with a small plane in mid-air, disabling the jet and seriously injuring the pilot. It is up to Heston to help those left aboard land the plane safely.
More Memorable Quotations:
"Take your stinking paws off me, you dirty ape!" --as Col. George Taylor in THE PLANET OF THE APES (1968) (a .WAV file).
"I'm a seeker too. But my dreams aren't like yours. I can't help thinking that somewhere in the universe there has to be something better than man. Has to be." --as Col. George Taylor in THE PLANET OF THE APES (1968).
"I'm not Billy Graham, mind you, but I'm no satyr." --as Stewart Graff in EARTHQUAKE (1974).
(For help opening any of the multimedia files, visit the plug-ins page.)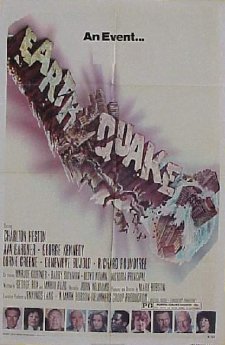 In another disaster movie, EARTHQUAKE (1974), Heston plays a construction engineer unhappily married to Ava Gardner and carrying on an affair with Geneviève Bujold when a massive earthquake strikes Los Angeles and threatens to wipe most of the city off the map. The film was nominated for four technical Academy Awards including cinematography, sound and editing.
Further Reading:
In the arena: an autobiography by Charlton Heston (New York: Simon & Schuster, c1995).
Charlton Heston's Hollywood: 50 Years in American Film by Charlton Heston (Good Times Publishing Corporation, 1998).
The actor's life: journals, 1956-1976 by Charlton Heston; edited by Hollis Alpert (New York : E.P. Dutton, c1978).
Beijing diary by Charlton Heston; introduction, photographs, and captions by Lydia Clarke Heston (New York: Simon and Schuster, c1990).
Charlton Heston: the epic presence by Bruce Crowther (London: Columbus Books, 1986).
Charlton Heston by Michael Munn (New York: St. Martin's Press, c1986).
To Be a Man: Letters to My Grandson by Charlton Heston (1987).
Charlton Heston Presents the Bible edited by Charlton Heston (Good Times Publishing Corporation, 1997).
55 Days at Peking by Charlton Heston.
Page 1 | Page 2 | Page 3 | Page 4
Filmography | Awards | Downloads | News | Image Credits | Links | BEN-HUR