Charlton Heston
Filmography | Awards | Downloads | News | Image Credits | Links | BEN-HUR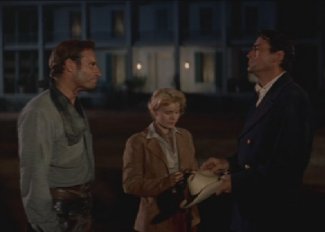 Heston challenges Gregory Peck to a fight in front of Carroll Baker in William Wyler's western THE BIG COUNTRY (1958), a fascinating statement on bravery, violence and revenge made all the more impressive by Wyler's shot selection, Franz Planer's cinematography and Jerome Moross' lyrical score.
Heston's character, Steve Leech, occupies only a supporting role in the film and, although worthy of his talents, the part did not befit his rising star status in Hollywood at this point in his career. He accepted the role on the advice of his agent however, in order to work with William Wyler who was already one of Hollywood's legendary directors, and a year later the effort paid off, when Wyler gave Heston the lead role in BEN-HUR (1959).
THE BIG COUNTRY marked the first of ten films in which Heston would perform alongside an Oscar-nominated musical score, an indicator of the unusual number of big-budget, stirring epic stories in which he appeared over the course of his career.
Music Clips from THE BIG COUNTRY (1958):
"The Big Muddy" (clip) by Jerome Moross (a .MP3 file).
"The Welcoming" (clip) by Jerome Moross (a .MP3 file).
"Main Title" (clip) by Jerome Moross (a .MP3 file).
(For help opening any of the above files, visit the plug-ins page.)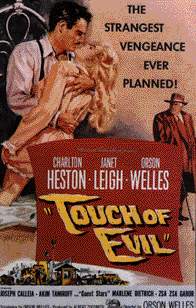 The film-noir classic TOUCH OF EVIL (1958) has been called the best 'B' movie ever made (although with stars like Heston, Janet Leigh, Marlene Dietrich and Orson Welles, it would hardly qualify as a 'B' movie). Directed by Orson Welles at Heston's request, TOUCH OF EVIL was eventually severely re-edited by the studio (Universal) before its original release and proved a commercial failure. With Heston's help, a restored and re-edited version of the film, true to Welles' original conception, debuted in 1998 to world-wide critical plaudits. Read an article on "Restoring the Touch of Genius to a Classic".

"Main Title" (clip) by Henry Mancini (removed from the opening titles of the film in the 1998 re-edited version) (a .AU file courtesy Rhino Records).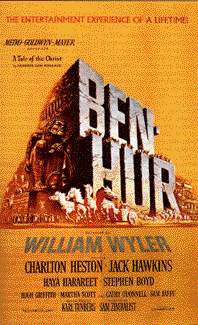 "The Entertainment Experience of a Lifetime!" heralds this poster introducing one of Heston's most famous roles, Judah Ben-Hur in William Wyler's Roman epic BEN-HUR (1959), based on the 19th Century novel by Lew Wallace about a Jewish prince who wages a personal rebellion against Roman authority in Judea during the time of Christ. Heston won his only Best Actor Oscar for his combined dramatic and athletic performance in this film, doing most of his own stunts during the grueling chariot race scene which has become one of the most celebrated action sequences in movie history.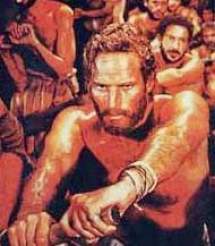 Heston as a prisoner and oarsman during the famous Roman naval battle in the film. The most decorated movie in film history, BEN-HUR won an incredible eleven out of the twelve Academy Awards for which it was nominated, among them statuettes for cinematography, costumes, sound, scoring, special effects and of course, Best Picture. The one award it didn't win? Best Screenplay based on material from another medium. That award went to Neil Paterson for ROOM AT THE TOP.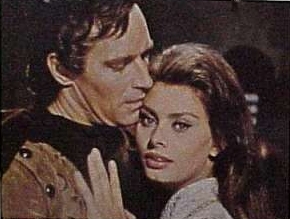 Heston with Sophia Loren in another of the historical epics for which he is best know, EL CID (1961) directed by Anthony Mann and based on the life story of Rodrigo Díaz de Bivar, the inspirational 11th-century Spanish military leader who struggled to maintain his honor while driving the Moors from Spain and wooing the woman he loved.
Multimedia Clips from EL CID (1961):
"Overture" (clip) by Miklos Rozsa (a .MP3 file courtesy Koch Classics).
"Fight for Calahorra" (clip) by Miklos Rozsa (a .MP3 file courtesy Koch Classics).
"El Cid March" (clip) by Miklos Rozsa (a .MP3 file courtesy Koch Classics).
"Love Theme" (clip) by Miklos Rozsa (a .MP2 file courtesy Rhino Records).
"For Spain" with Sophia Loren (courtesy Miramax).
(For help opening any of the above files, visit the plug-ins page.)