Joseph Cotten
Downloads | Image Credits | Links | SHADOW OF A DOUBT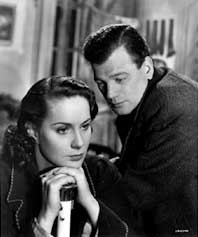 In 1949 Cotten was reunited with Orson Welles for their fifth of eight films together, THE THIRD MAN. This collaboration between director Carol Reed and screenwriter Graham Greene also starred the alluring and mysterious Alida Valli (with Cotten at left), and is an unconventional film-noir classic. It received three Oscar nominations in 1949 and featured a unique zither score by Anton Karas.
Multimedia Clips from THE THIRD MAN:
"Theme from THE THIRD MAN" (clip) by Anton Karas (a .MP3 file).
"Original Theatrical Trailer" with Orson Welles and Alida Valli (a .MOV file).
"Sewer Chase" with Orson Welles and Trevor Howard (a .AVI file).
(For help opening these files, visit the plug-ins page.)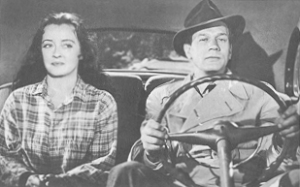 Also in 1949, Cotten played small-town doctor Louis Moline who is cheated on by his unsatisfied, conniving wife (Bette Davis) in BEYOND THE FOREST. Not one of his better films, Cotten definitely plays second fiddle to some first rate histrionics by Davis in this picture, which incidentally, isn't one of her better films either.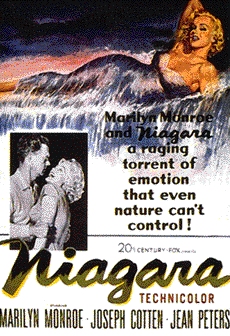 After a string of lackluster films in the early 1950s, Cotten achieved commercial success opposite Marilyn Monroe in 20th Century-Fox's Technicolor film-noir thriller NIAGARA (1953), about newlyweds whose relationship begins to fall apart during their Niagara Falls honeymoon. Featuring some spectacular location shots of the falls, NIAGARA was billed as "Marilyn Monroe and Niagara, a raging torrent of emotion that even nature can't control!"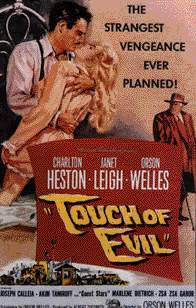 Orson Welles' TOUCH OF EVIL (1958) was another significant film-noir staple of the 1950s and told the story of a Mexican narcotics investigator who clashes with a corrupt cop during a murder investigation in a border town. Starring Charlton Heston, Janet Leigh, Welles himself and Marlene Dietrich, TOUCH OF EVIL featured significant unbilled cameos by Ray Collins, Mercedes McCambridge and Cotten in a small role as a police surgeon.
Read an article about the extensive restoration work performed on this film in 1998, as historians attempted to go back and re-edit the film as Welles originally intended.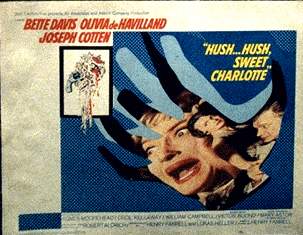 In 1964, Cotten was reunited with Bette Davis in Robert Aldrich's campy but fun horror thriller HUSH... HUSH, SWEET CHARLOTTE, also featuring Olivia de Havilland, Cecil Kellaway and Mary Astor. It also marked the fifth and final time that Cotten appeared onscreen with Agnes Moorehead, one of his fellow Mercury Players performers who had also come to Hollywood with Orson Welles for CITIZEN KANE in 1941.
Further Reading:
Vanity will get you somewhere by Joseph Cotten (San Francisco: Mercury House, c1987).

Laid back in Hollywood: remembering by Patricia Medina Cotten (Los Angeles: Belle Pub., c1998).

Bad boys: the actors of film noir by Karen Burroughs Hannsberry (Jefferson, N.C.: Farland, 2003).
Page 1 | Page 2 | Page 3
Downloads | Image Credits | Links | SHADOW OF A DOUBT