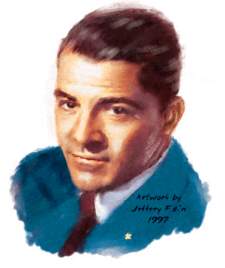 This portrait of Dana Andrews was done by Jeffery Fain and appears here with his permission.
CARVER DANA ANDREWS was born on New Year's Day 1909 in Don't (a small town outside Collins), Mississippi to Rev. Charles Forrest Andrews, a Baptist minister, and his wife Anice. Shortly after his birth, Andrews' family moved to Louisville, Kentucky and later to Huntsville, Texas where he attended high school and later Sam Houston State Teachers College. After a brief stint as an accountant for Gulf Oil in Austin, Andrews hitch-hiked to Los Angeles to become a singer. (Incidentally, Andrews was one of thirteen children, and his brother William Forrest Andrews later followed him to Hollywood and became the actor known as Steve Forrest.)
Singing didn't appear to be in the cards however, and Andrews ended up studying acting at the Pasadena Playhouse, working at a filling station in suburban Van Nuys to help pay his way. At the Playhouse, Andrews met and married Janet Murray in 1932 and they had one son, David, before Murray died in 1935. In October 1938, a scout for Samuel Goldwyn spotted Andrews and the producer gave him a contract for $150 a week, but permitted him to continue studying at the Playhouse.
His first film role came as a supporting character in William Wyler's THE WESTERNER (1940) with Gary Cooper and Walter Brennan. After playing a few more minor parts and B-picture roles, 20th-Century Fox bought half of Andrews' contract with Goldwyn, and in 1941 cast him as Captain Tim in John Ford's TOBACCO ROAD.
Andrews' film career peaked in the 1940s after his portrayal of a lynch mob victim in THE OX-BOW INCIDENT (1943) with Henry Fonda and Jane Darwell, which many consider the best performance of his career. Other successes included the film-noir masterpiece LAURA (1944) with Gene Tierney, A WALK IN THE SUN (1945), the Best Picture of 1946, William Wyler's THE BEST YEARS OF OUR LIVES with Fredric March, Myrna Loy, and Teresa Wright, and Elia Kazan's BOOMERANG (1947) in which he played an unflinchingly honest district attorney.
With the exception of a few films like ELEPHANT WALK (1954) with Elizabeth Taylor and THE LAST TYCOON (1976) most of Andrews' films after his peak in the forties weren't very successful, and he began making a few films abroad in Britain and Italy. Although he did serve as president of the Screen Actors Guild in 1965, he spent much of the late 1960s promoting the National Council on Alcoholism. (He had had an acknowledged drinking problem since his career took off in the forties which he attributed to the pressures of his job, but he eventually won his personal battle with the bottle.) Andrews even starred in a soap opera called "Bright Promise" in 1969.
Toward the end of his life, Andrews suffered from Alzheimer's. He finally died of pneumonia on December 17, 1992 in California, leaving behind the memory of those average-Joe, leading men of the 1940s (sometimes disillusioned but usually honest) he had played so well. Though the death of his son David preceded his own (1964), Andrews was survived by a son and two daughters from his second marriage to actress Mary Todd, whom he had wed on November 17, 1939.
Biographical information from The Times, Cinemania '95, The Daily Telegraph, and U.P.I.