Ginger Rogers and Fred Astaire
Filmography | Lyrics | Articles | Awards | Downloads | Bibliography | Goofs | Statistics | Rankings | Links | Image Credits | Ginger Rogers | Fred Astaire
THE GAY DIVORCEE (1934)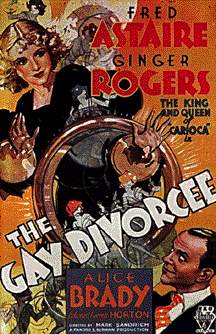 The King and Queen of 'Carioca'
Studio: RKO
Director: Mark Sandrich
Music by: Samuel Hoffenstein, Herb Magidson, Cole Porter, Harry Revel, Kenneth S. Webb, Con Conrad.
Choreographer: David Gould
Cast including: Alice Brady, Edward Everett Horton, Erik Rhodes, Eric Blore, Betty Grable.
Musical Numbers including:

"Don't Let It Bother You" sung by chorus, danced by Fred;
"A Needle in a Haystack" sung and danced by Fred;
"Let's K-nock K-neez" sung by Betty Grable, danced by Betty Grable, Edward Everett Horton and chorus;
"Night and Day" sung by Fred, danced by Ginger and Fred;
"The Continental" sung by Ginger, Erik Rhodes and Lillian Miles, danced by Ginger and Fred.

Music Clips:
Lyrics: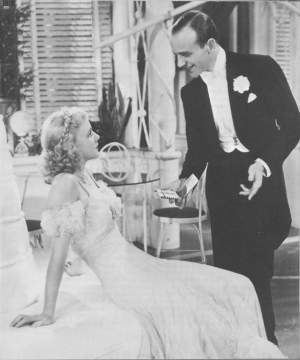 "Chance is the fool's name for fate."
Guy offers Mimi a cigarette after luring her in to dance "Night and Day" (

). Incidentally, whereas Fred's characters frequently smoked in the films, Ginger (an ex-smoker after age 25 in real life) only smokes in ROBERTA (1935).
The first of the series to feature Ginger and Fred as the main attraction, THE GAY DIVORCEE (1934) is also one of their films with a more-creative-than-average plot stringing the musical numbers together -- and it's especially interesting today as a look back at the way marriage laws used to work. Fred plays Guy Holden, an American dancer on vacation in England who falls for Mimi Glossop (Ginger) at first sight in a train station. Her skirt gets caught in one of her trunks and Guy (enjoying the predicament) attempts to help her. "I just had the most disagreeable experience," Mimi reports as her aunt (Alice Brady) comes to fetch her. "A man tore my dress off." As it turns out, Mimi is trying to get a divorce from her geologist husband and, with the help of Guy's blundering attorney friend, Egbert Fitzgerald (Edward Everett Horton), has hired a "co-respondent" (played by Erik Rhodes) to feign an illicit affair with her. In what was to become a typical Fred-and-Ginger case of mistaken identity, Guy is mistaken for the co-respondent and romantic comedy ensues -- even if some of the comedy parts seem a little too slowly paced at times.
Yes, THE GAY DIVORCEE has its fair share of weaknesses. First of all, Alice Brady's pursed-lip giggle gets annoying after a while. Secondly, there are two real dud musical numbers which fail to entertain adequately, the first being the opening number, a chorus girls' rendition of "Don't Let It Bother You" sung in pitiful French accents (though the little dolls they play with in the number are a cute addition). Fred dances to a reprise of this number shortly after the girls sing it, and all of a sudden (without lyrics or accents) the song improves immensely. The second less-than-exciting number is "Let's K-nock K-nees" sung mostly by Betty Grable and danced by Grable, the chorus and Horton. There's a reason you won't see Horton sing or dance again in any of the subsequent films of the series. Even as comedy, it doesn't work.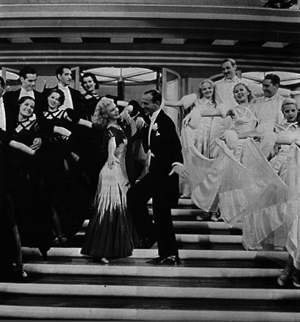 Ginger, Fred and the chorus dance to the Academy Award-winning Best Song of 1934, Con Conrad and Herb Magidson's "The Continental." Beautiful music... Dangerous rhythm...
Despite the slow points however, THE GAY DIVORCEE does feature an above-par song list, including "A Needle in a Haystack," Fred's solo dance on the hearth of his hotel room fireplace, as well as Cole Porter's "Night and Day" (

) dramatically and seductively danced by Ginger and Fred. And one mustn't leave out the Oscar-winning Best Song of 1934, "The Continental," which is the subject of an incredible twenty-two-minute production number featuring an enormous chorus dressed in black and white to contrast with the huge, white outdoor-ballroom set (complete with revolving doors). It earned the film an Oscar nomination for Best Art Direction, and the film's other three nominations included one for Best Picture (which went to Frank Capra's IT HAPPENED ONE NIGHT).
Incidentally, Fred's opening dance steps to the bugle call at the beginning of "Don't Let It Bother You" were reportedly the result of clowning during rehearsals, and became an inside joke in later Rogers-Astaire films -- most notably ROBERTA (1935) and FOLLOW THE FLEET (1936). Also, THE GAY DIVORCEE was based on a musical Fred had done on Broadway called The Gay Divorce, but the Hays Office (the film industry's censorship body) required the name change because it didn't like the sentiment which the play's title implied. Supporting characters Erik Rhodes and Eric Blore had also appeared with Astaire in the stage version.
Go to the next page.
Main Page | 1 | 2 | 3 | 4 | 5 | 6 | 7 | 8 | 9 | 10