Meet Me in St. Louis (1944)
Cast | Crew | Awards | Lyrics | Gallery | Downloads | Links | Image Credits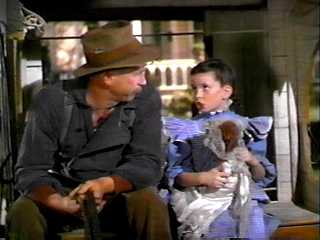 Tootie rides on the ice truck with Mr. Neeley (Chill Wills) and explains to him that her doll, Margareta, has four fatal diseases. Margaret O'Brien was only seven years old when the film was released but had already appeared in half-a-dozen films for MGM, and she received second billing behind Garland, stealing scene after scene.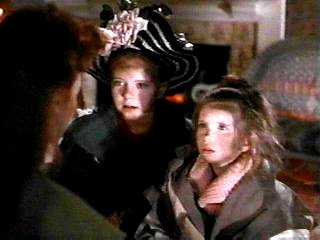 Autumn arrives, and Tootie and her older sister Agnes (Joan Carroll) prepare for the evening's Halloween activities. Tootie dresses up as a ghost who died of a broken heart, and Agnes is a drunken ghost. Although at first, the other children consider her too young to participate, Tootie soon proves she is the "most horrible" when she "kills" the evil Mr. Brockoff by throwing flour in his face.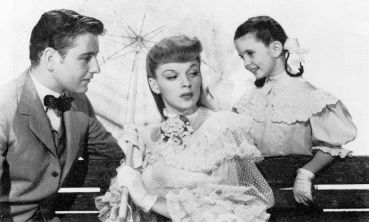 MEET ME IN ST. LOUIS was one of six films featuring screen newcomer Tom Drake which were released in 1944. His clean-cut good looks and mild manner made him the ideal boy-next-door in ST. LOUIS, but the image eventually developed into a typecasting problem for Drake, and his career faltered because of it in the early 1950s.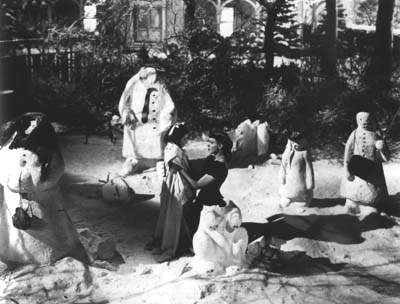 One winter day, Esther's father comes home and announces that he's moving the family to New York where he has a better job offer. No one wants to go, but the decision seems to have been made, so the family prepares itself to leave after Christmas. Tootie has an especially hard time accepting this and despairs over all the dolls she has buried in the cemetery and the snow people she will have to leave behind. Esther comforts her by singing the now-classic "Have Yourself a Merry Little Christmas," originally written for this film. Judy Garland later recorded it for Decca Records along with "The Trolley Song" and both made the best-seller charts. (Read the Lyrics to "Have Yourself a Merry Little Christmas" by Martin and Blane.)
Music Clip:

"Have Yourself a Merry Little Christmas" (clip) sung by Judy Garland (a .MP3 file courtesy Rhino Records).
(For help opening this file, visit the plug-ins page.)
A Little MEET ME IN ST. LOUIS Trivia:
This movie marked the film debut of Lucille Bremer, a former Radio City Rockette.
Van Johnson was originally slated for the John Truett role, but was replaced by Tom Drake at the last moment.
The movie was based on a series of tales entitled "The Kensington Stories," by Sally Benson, which appeared in The New Yorker in between 1941 and 1942. MGM bought the stories for a reported $40,000.
Producer Arthur Freed dubbed Leon Ames' voice for the "You and I" number
The film's sets, designed by Lemuel Ayers and including broad streets, gabled, gothic homes, large lawns, bay windows, and filigreed woodwork, cost MGM more than $200,000--then a staggering amount--but they were subsequently used many times over.
Continuity mistake: In the "Under the Bamboo Tree" number, Tootie's house shoes change from pink to blue.
Mary Astor, who played Mrs. Anna Smith, also played Judy's mother in LISTEN, DARLING (1938).
A year after the film's release, Judy Garland married director Vincente Minnelli.
Main Page | Page 2
Cast | Crew | Awards | Lyrics | Gallery | Downloads | Links | Image Credits